Featured Image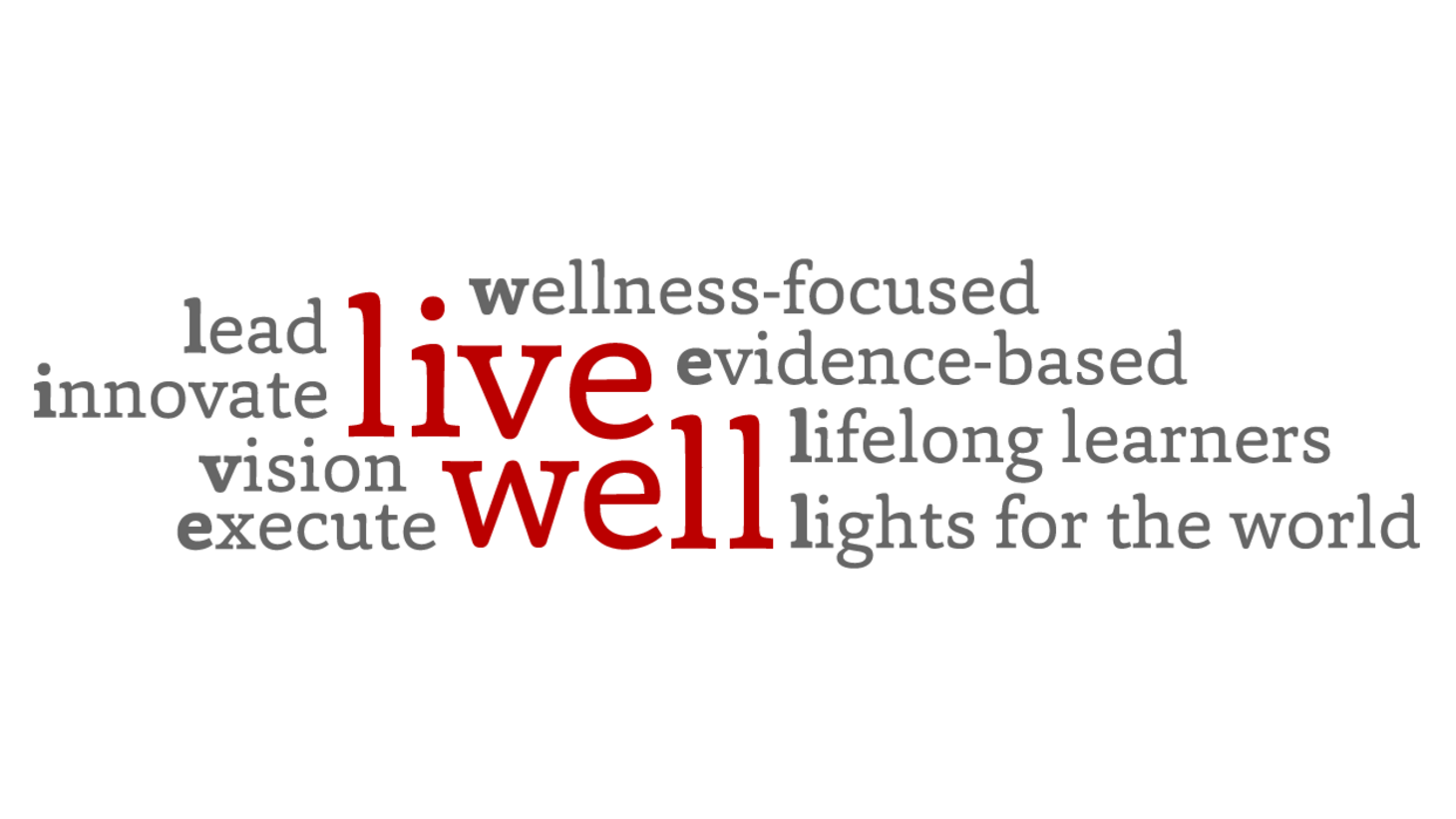 LIVE WELL Student Leadership Award
We recognize excellence.
Our LIVE WELL Student Leadership Award program was designed to honor outstanding student achievement within the College of Nursing. The program is designed to highlight students who best exemplify LIVE WELL and who create a positive impact on their community.
Nominators must submit a short survey explaining why the student is deserving of this award. College faculty, staff and students can nominate a student for outstanding leadership and can nominate multiple students each month. Nominees' leadership and engagement must exemplify at least one characteristic of LIVE WELL.
A college-led committee will select one winner each month based on nominations. Monthly winners will be recognized throughout the college and be eligible for the Outstanding Leadership scholarship. The Outstanding Leadership scholarship is a $500 scholarship given to one of the monthly winners at the end of the academic year.
We encourage the entire College of Nursing community to nominate deserving students and join together to appreciate our student leaders. The first of every month nominations will close for that month's winner. Our first winner for the academic year will be selected in October.
If you have any questions about the program please contact Gina Taff (Taff.6@osu.edu).
---
Past monthly winners

March Award Winner – Aarhea Hope

Aarhea Hope (she/her) is a founder and the Vice President of the Nursing Students of Color organization. Hope is the chair of her mentorship program, which aims to increase Black, Indigenous and non-Black students of color's success at the College of Nursing. Within The Ohio State University's community, Hope plans student events that promote study tips and overall health. Hope demonstrates leadership by promoting wellness for herself and others. Within the Columbus community, Hope volunteers and completes biometric screenings and educates people about their hemoglobin, A1C and cholesterol levels. She also spends time volunteering for Black Impact, which aims to improve the health of African American men. Her dedication to giving back to the Ohio State and Columbus communities make her well-deserving of this recognition.

February Award Winner – Brittany Silverman

Brittany Silverman (she/her) is a Grad-Entry student ('23) at the College of Nursing. Silverman is the Graduate Studies Committee Student Representative for her cohort. As a representative of her cohort, she fosters open communication between students, the committee and faculty. In this position, Silverman exhibits leadership qualities through complex group projects and cohort-wide efforts. Before her transition to nursing, Silverman was a respiratory therapist for many years. She is particularly interested in how she can improve the quality of mental health in her patients. Her leadership and passion to improve the quality of mental health in her patients make her well-deserving of this recognition.

January Award Winner – Maddie Ward

Maddie Ward (she/her) is a senior BSN student at the College of Nursing. Ward is very actively involved. She is the student liaison for NSPIRE student organization. Ward is also a team captain for the Nurses For The Kids BuckeyeThon team where she spent countless hours attending BuckeyeThon meetings, recruiting new members and organizing fundraising efforts. With Ward's leadership and dedication, the Nurses For The Kids BuckeyeThon team was one of the top fundraising teams for Nationwide Children's Hospital last year. Her passion to support the fight in ending childhood cancer makes her well-deserving of this recognition.

December Award Winner – Faith Metlock

Faith Metlock (she/her) is a fourth-year BSN student at the College of Nursing. She is an active member of the Epsilon Chapter of Sigma Theta Tau Nursing Society at the College of Nursing and the Columbus chapter of the Oncology Nursing Society. Metlock is the founding member and now president of the Nursing Students of Color organization (NSC). Her professors and peers describe her as a "constant advocate for and leader of students at Ohio State." Metlock's desire to eliminate health disparities has driven her to create a health promotion platform called Black Health Explained designed to increase health literacy and accessibility in the Black community. Her platform was granted first-time student funding from the office of Community Engagement and Outreach. During her spare time, Metlock volunteers at food banks in the Cleveland and Columbus area.

November Award Winner – Alicia Angelo

Alicia Angelo (she/her) is a DNP student at the College of Nursing ('22). Her peers describe her as thoughtful, genuine and an exercise advocate. She shares the importance of having a work-life balance with her fellow DNP students and encourages them to participate in meditation, yoga and exercise. Angelo created a group on POLO, a video chat application, encouraging her fellow DNP students to practice mindfulness. Her peers view her as a role model and someone who thoroughly embraces a wellness-focused and evidence-based mindset.

October Award Winner – Patrick Azzari

Patrick Azzari ('23) is a Graduate Entry Program student at the College of Nursing. He started the program in summer 2020 and is pursuing the FNP track. Azzari is also an active member on the Ohio State campus. He is the treasurer and co-founder of the Out in Nursing student organization. While pursing full-time graduate school, he works full-time as a Patient Care Associate at the James Cancer Hospital. His peers value his mentorship and feedback on ideal care. Azzari is also pursuing a degree in Public Health from another institution. His outstanding leadership and passion to continue his education make him well-deserving of this recognition.