Featured Image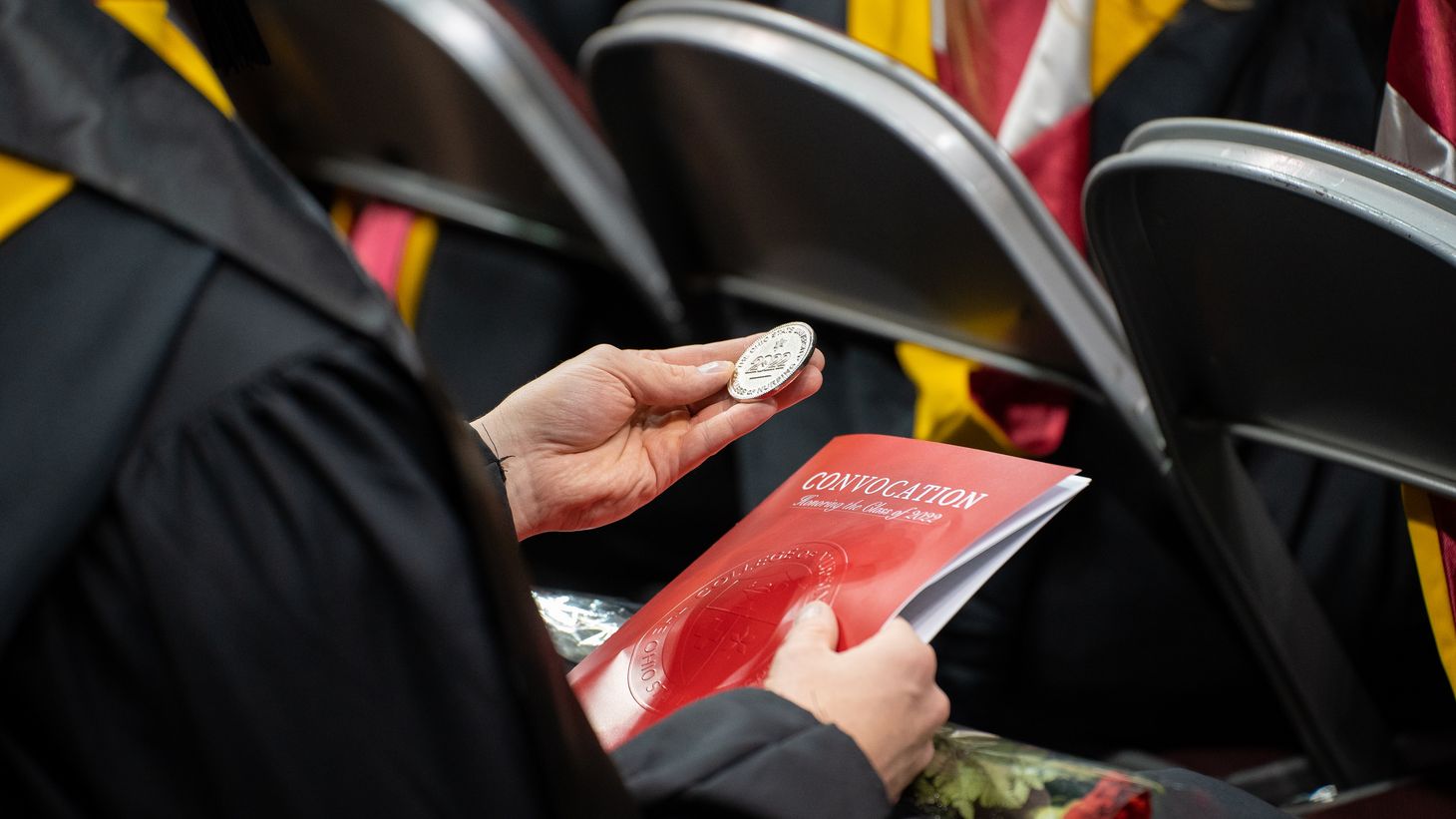 Graduation and Convocation
Friday, May 3, 2024
2-4:30 p.m. (student and faculty registration and lineup begin at 1 p.m.)
The Schottenstein Center
Timeline for receiving official invitations to the 2024 Convocation Ceremony:
Graduate Students: The College of Nursing will email a formal invitation to students who applied to graduate around week 7 of the Spring semester.
Undergraduate Students: The College of Nursing will email a formal invitation to students who applied to graduate around week 11 of the Spring semester.
The timeline for receiving an official invitation is based on the deadline to apply to graduate and the required processing time of each application per University and Graduate School policy. The formal invitation will be sent to eligible students using their name.#@osu.edu email address.
About Convocation and Commencement:
As you near the end of your studies, you should begin to think about applying to graduate, commencement and convocation. The Office of Student Affairs and Success has developed summaries and answers to frequently asked questions to guide you. We hope this information provides clarity to the graduation process and the graduation and convocation ceremonies.
"Commencement" and "graduation" are typically used to describe the same ceremony—during which students receive diplomas and PhD students are hooded. The university president presides over this ceremony and there is usually a keynote speaker. 
"Convocation" is a ceremony hosted by the College of Nursing (CON) to celebrate and recognize the accomplishments of graduates from CON degree programs. 
Students should wear graduation regalia to both ceremonies. 
Please note that masters and doctoral level students technically graduate from the Graduate School, as opposed to the College of Nursing. The Graduate School, therefore, communicates information related to the graduation ceremony (including line-up), graduation rehearsal date and time, and regalia information that includes the color of the gown, cap and hood and the ordering process. An email containing this information is typically sent to eligible students by the Graduate School 2-3 months prior to the Commencement ceremony. You can reach out directly to the Graduate School with any questions you may have or if you did not receive the email notification at Grad-SchoolGraduationServices@osu.edu.
Below are a few important points to help distinguish between the two ceremonies. 
Convocation is:
Presided over by the CON dean 
A formal ceremony
An opportunity for all students attending the in-person ceremony to have their name announced 

Only DNP and PhD students will be called onto stage and hooded
Master's and undergraduate student names will be announced. The announcement of names may not align with when that student crosses the stage.

Your name will be printed in the Convocation program based on your primary, legal name listed in your student record through BuckeyeLink. Please make sure your name appears correctly, as changes to the convocation program will not be made after February 28. To verify your primary name, log onto BuckeyeLink and click on the "Names" link found under the "Personal Information" category. Your legal name will be listed as the Primary Name Type.
Although the primary, legal name will be printed in the Convocation program, students in attendance, may request to have their preferred name announced during the ceremony. Students can indicate their preferred name the day of the event by updating the registration card they will receive as they enter the arena.

PLEASE NOTE: Name changes entered through the Student Center in Buckeye Link will NOT change the name printed in the Convocation program. To officially change your name on your academic record, you must submit a Request for Change of Record form online along with appropriate documentation verifying your name change by the date listed above.

When CON awards are announced and presented
Open to family and guests of graduates to attend
Visit the convocation page for more detailed information about what to expect at convocation and how to prepare. 
Commencement is: 
What is typically thought of as the graduation ceremony
Presided over by the university president 
When diplomas are given out; not at convocation
When (per university policy), only PhD candidates are hooded 
When only the names of PhD candidates are announced (the university will not announce the names of graduates from the DNP, Master's or undergraduate programs)
When there will be a keynote speaker
All questions about commencement must be directed to the university.
FAQ:
Who wears cords at graduation?

Students who earned Latin Honors:  Scarlet and gray
Students who completed Banding Together for Wellness:  White
Students who were involved with Sigma Theta Tau International (STTI):  Purple 
BSN Honors students:  Teal

Will my minor be on my diploma?

No. Minors and certificates are designated on transcripts, but are not listed on diplomas.  

What do BSN Honors students receive at convocation? 

BSN Honors students receive a special Honors pin in addition to the Nursing pin at convocation. Students who successfully complete the program also graduate with Honors Research Distinction.

Are there special cords for those who graduate from the BSN Honors Program?

No, BSN Honors students do not receive cords.  Instead of cords, BSN Honors students will receive a Honors pin in addition to the Nursing pin at convocation.

Can I lose Latin honors in my final semester or drop down a level?

No. Latin honors are assigned after Autumn term of a student's final year. Spring term grades do allow a student to rise up to the next highest honor level, if applicable, but a student will not lose Latin honors or move down an honor level due to final term GPA. 

Latin honors status will not be printed in the convocation program. Latin honors status is not finalized until the end of the semester and programs must be sent to print by mid-Spring semester. 

Are there different cords for different levels of Latin honors?

No. All students receiving any level of Latin honors receive the same scarlet and gray cord.

What are the GPA cutoffs for Latin honors? Is there any rounding?

The Latin honors GPA requirements are below. There is no rounding. In addition to the GPA requirement, students are only eligible for Latin honors if they have completed 60 or more credits at The Ohio State University.

cum laude: (3.5-3.69)
magna cum laude: (3.70-3.89)
summa cum laude: (3.90+)

How many Ohio State credit hours are needed in order to be eligible for Latin honors?

Per University rules, students must have completed at least 60 credit hours at Ohio State in order to be eligible for Latin honors.

What is Research Distinction? Is it the same as Honors Research Distinction?

Students who wish to complete undergraduate research may participate in the Research Distinction Option. The Research Distinction Option recognizes students who complete a minimum of six credits hours in Nursing 4999 and an independent research project culminating in a thesis. Students completing the Research Distinction Option will graduate with "Research Distinction." These students did not complete the BSN Honors Research Program.

The Honors Research Distinction is specific to students in the BSN Honors Research Program. Students in the Honors Program who complete their projects and thesis will graduate with "Honors Research Distinction in Nursing" from the College of Nursing, the highest distinction an undergraduate student can attain at The Ohio State University.

When and how do I apply for graduation?

A student can apply for graduation as soon as he/she receive an email from his/her advisor with the information to do so. The deadline to apply for graduation is the 10th Friday of the student's final semester. This is a firm university deadline and there are no exceptions.

Students can visit this link to apply once he/she has received the necessary information via email. 

How do I know if I'm on track to graduate?

If a student is not sure if he/she is on track to graduate, he/she should make an appointment to speak with his/her academic advisor. If the student is enrolled in his/her final semester of courses he/she can confirm progress using his/her degree audit. He/she should see "All requirements complete, some courses in progress" at the top of the audit. Students need to meet the 120-credit hour requirement and fulfill all parts of his/her degree audit.

What if I can't attend Commencement?

Students unable to attend the commencement ceremony need to complete a Commencement Excused Form and return it to the College of Nursing. The deadline to submit this form is the 10th Friday of the semester.

I graduate next semester, what should I do now to prepare?

Run your degree audit to make sure you are completing all requirements. Questions about items on the degree audit can be directed to your academic advisor. 
Apply to graduate at go.osu.edu/nursingapptograd.
Verify name and degree accuracy as it is on file with the College of Nursing here.
Update your permanent address in BuckeyeLink.
Check your Ohio State email regularly and monitor your spam folder. Even if you forward your email messages, make sure you are checking your @osu.edu email directly to ensure you are not missing important information due to forwarding issues.  
In your final semester, look into the proper graduation regalia and what you need to do to rent or purchase.
Graduate Students
Do graduate students receive Latin honor cords?

The Graduate School does not award Latin honors. This honor is given only to undergraduate students.

Will my specialization be on my diploma?

No. Specializations are designated on transcripts, but are not listed on diplomas.