Featured Image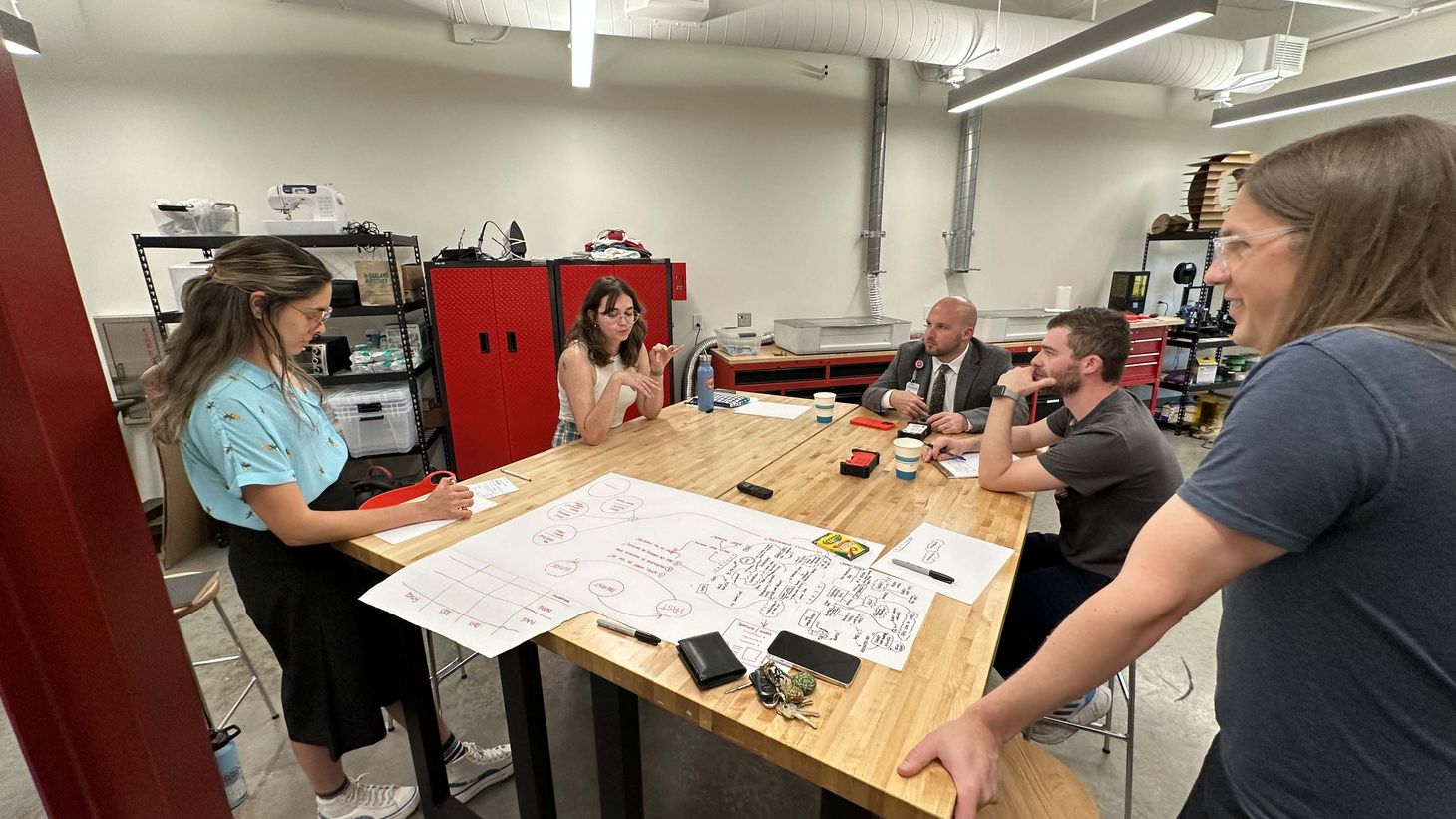 The Innovation Studio is open now at our new location at the Connie Hahn Sharpe and Gary Sharpe Innovation Center in 230 Jane E. Heminger Hall. Our mobile studio location will be opening at the Fisher College of Business in October. To schedule a time to meet or ask a question, feel free to reach out at any time to sanderson.152@osu.edu.
The mission
The Innovation Studio exists to foster interprofessional collaboration in creating healthcare solutions. If you have an idea for a healthcare product, service or software and would like help developing it into a commercial reality, we have resources, mentors and tools to help. Don't have an idea? Come share your knowledge, network and partner up with a team that needs your support.
The space
The Innovation Studio is a unique maker space open to all students, faculty and staff, which houses an array of prototyping tools, including 3D printers, laser cutters and various hand tools. The studios host workshops with topics such as product design, pitch development, interprofessional collaboration and maker skills, and provides project mentors and daily technical support. The moveable Innovation Studio travels across campus to help foster interprofessional collaboration while the Innovation Studio at the Sharpe Innovation Center resides at a permanent location in Heminger Hall.
The people
Too often in academia, students, faculty and staff with great skills and ideas get siloed off in their own disciplines. We'd like to change that. Maybe you have research you think might make a great healthcare product, but you need a software engineer. Or you want use your business, engineering, marketing or maker skills to help develop a healthcare product idea from concept to commercialization. The Innovation Studio exists to bring people together, from across campus and from the community as well.
Funding is available for interprofessional projects
We encourage students, faculty and staff from all areas of the University to try their hands at inventing and innovating healthcare solutions together. To reward collaboration across disciplines, projects from interprofessional teams are eligible to enter competitions in which top performers will receive funding for future development. Once funding is awarded, those teams will have the opportunity to apply for additional funding cycles to help them incubate their idea. Submit an Innovation at go.osu.edu/myinnovations.
Questions?
Zach Sanderson, Innovation Studio Manager at sanderson.152@osu.edu
The Inspiration
The Innovation Studio was made possible by a gift from an inspiring Ohio State College of Nursing alumna, Connie Hahn Sharpe ('69), and her husband Gary, who together built Health Care Logistics, Inc., a company that specializes in healthcare innovations. Read more about them here.
Making a Difference Through Healthcare Innovation
Healthcare solutions developed at the Innovation Studio are eligible for seed funding to further incubate their innovation, provided they are created by:
a team of two or more Ohio State students, faculty or staff
from different disciplines/professions
have disclosed their invention to TCO (when applicable).
Challenge Track
Develop any product, solution or service that will help eliminate mental health stigma.
Open Track
Develop any product, solution or service that will improve the health and wellness of others.
Awarding of Funds
Collaborators will present their products, solutions or services at The Innovation Showcase. Top innovations will be awarded seed funding from the Innovation Studio. Teams who receive funding will be invited to subsequent Innovation Showcases to demonstrate their progress. Teams that meet set milestones and demonstrate maturation of their innovation will continue to be eligible for additional, larger grants from the Innovation Studio. To submit an innovation for the Innovation Studio, please complete the following form: go.osu.edu/myinnovations (step 1). To prepare your presentation, you should utilize the Innovation Studio Pitch Deck (step 2).
Interested in hosting an event at the Innovation Studio? Do you want The Innovation Studio to visit your location? Contact Zach Sanderson, Innovation Studio Manager at sanderson.152@osu.edu.
Recent News
Fellowship focuses on fostering culture of innovation, enhancing well-being The Ohio State University College of Nursing's
Program hosted by National League of Nursing focuses on simulation education Stephanie Justice, DNP, RN, CHSE, an assistant professor o