Nursing Government Affairs Advocates (NGAA)
The strategic goals of both The Ohio State University and The Ohio State University Wexner Medical Center include attracting and developing a diverse and talented team as well as providing high-quality professional development. Government affairs staff support Ohio State through the pursuit of public policy outcomes that strategically benefit the university.
The creation of the Nursing Government Affairs Advocates (NGAA) is a collaboration of our academic and medical center nursing and government affairs leadership. Its mission is to address policy, regulatory and legislative issues that impact nursing at Ohio State and to mobilize nurses to become active in government and community affairs.
Key to this collaboration is communicating the effect that proposed policies and laws will have on our nurses and their patients and profession; our students and their training and education; and our medical center and its health care professionals and operations. We offer quarterly Town Halls with guest speakers, publish updates in nursing and other newsletters, and send e-mails to inform our nursing faculty, staff and students of current matters of interest.
For more information on the NGAA and to receive its communications, please email obrien.140@osu.edu.
2022 Fellowship Applications being accepted for Nursing Government Advocacy Program
The executive sponsors of the Nursing Government Affairs Advocates are pleased to announce the continuation of The Ohio State University Fellowship for Nursing Government Advocacy. Applications for the 2022 fellowship closed in September. Please check this page in the coming months for information and a link to the application form for next year's program.
The fellowship was created in 2018 as a priority for the NGAA, and the inaugural fellow was selected in 2019. The fellowship reflects the goal of providing an opportunity for nurses at Ohio State to experience the full spectrum of advocacy and to further develop our health professionals into informed and skilled champions of the nursing profession and of Ohio State.
The Office of Government Affairs will mentor and guide the fellows through a 12-month period of educational programming, shadowing Government Affairs staff and developing and implementing projects such as a panel discussion between nurses and legislators on the nursing experience. The fellows will be exposed to the administrative and legislative branches of the federal, state and local levels of government, with the opportunity to engage directly with appointed and elected officials.
Selected candidates from the application review will be asked to participate in a brief interview prior to final selection. The 12-month fellowship will run from October 2022 through September 2023.
The NGAA includes all Ohio State nurses—nursing students and nurses in both academic and medical center positions. It serves a tripartite purpose of:
Educating the nursing team and the community we serve regarding the impact of health care legislation and policy;
Monitoring, initiating and reviewing legislative and regulatory activities as they apply to the practice of nursing and Ohio State; and
Implementing activities that enhance the practice of nursing while promoting a healthy community.
Executive Sponsors of NGAA
The Nursing Government Affairs Advocates are supported by the following leaders:
Bernadette Mazurek Melnyk, PhD, APRN-CNP, FAANP, FNAP, FAAN
Dean, Ohio State College of Nursing
Karen Rose, PhD, MS, RN, FGSA, FAAN
Vice Dean, Ohio State College of Nursing
Stephanie Milburn
Associate Vice President, Government Affairs, Wexner Medical Center & Health Sciences
Kris Kipp, MSN, RN
Executive Director of Clinical Services & Chief Nursing Officer, James Cancer Hospital
2021 Ohio State Fellowship for Nursing Government Advocacy
March 11, 2021: The executive sponsors of the Nursing Government Affairs Advocates (NGAA) are pleased to share that Justin Kelly, MHI, BSN, RN, staff nurse for The James Medical Intensive Care Unit, has been selected as 2021 Fellow for Nursing Government Advocacy.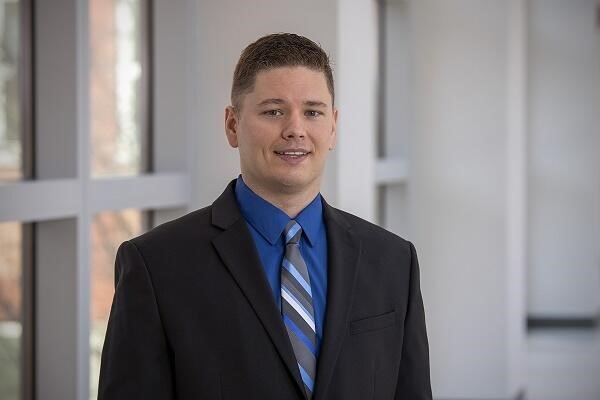 Justin Kelly's active involvement in key committees and ability to engage other nurses were seen as great attributes. He also demonstrated a strong interest in continuously improving the patient experience, fostering meaningful change and informing legislators on the work of a practicing bedside nurse.