Featured Image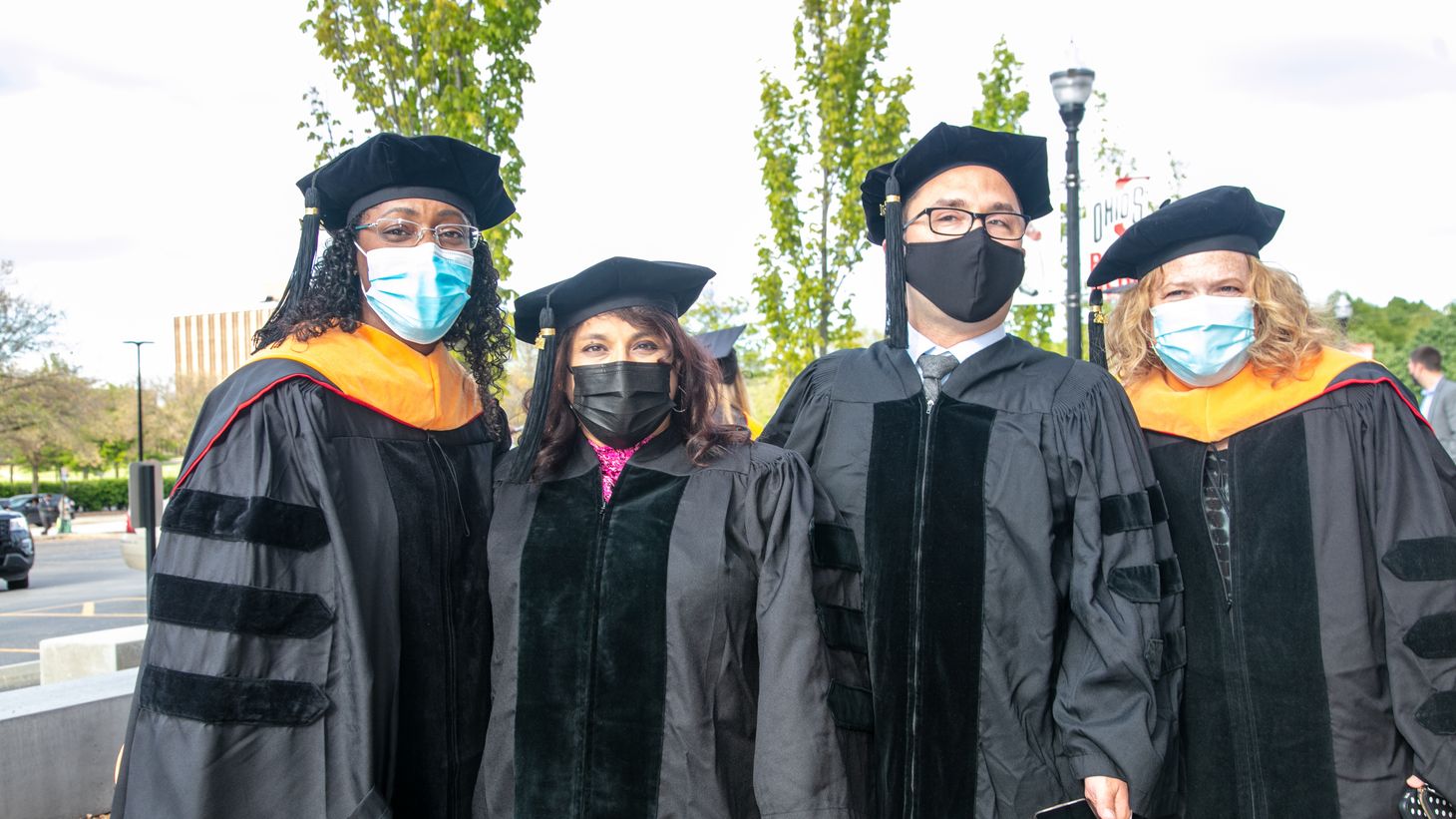 Friday, May 3, 2024
2 - 4:30 p.m. (student and faculty registration and lineup begin at 1 p.m.)
Schottenstein Center

What happens during the ceremony? 
During the ceremony, "Pomp and Circumstance" will cue faculty to process into the arena. Once faculty reach the stage, students will enter the arena. Once all students are situated at their chairs, Dean Rose will welcome everyone to the ceremony and provide opening remarks. 
At the end of the opening remarks, special guests and faculty will be invited to the stage to announce the college's award winners. Then, the names of graduates who attend the ceremony in-person will be announced. 
The PhD and DNP candidates will be invited to stage along with their faculty advisor. Doctoral candidates will be hooded during the ceremony by their faculty advisor.
Following the doctoral candidates, graduating graduate students will be invited to cross the stage and then undergraduate students. All names of those in attendance will be announced by a faculty speaker. Announced names may not align with when each named student crosses the stage. 
Dean Rose will present graduates with gifts:
PhD and Doctoral students will receive a special gift from the Dean in addition to be hooded on stage
Graduating graduate students and HWIH students will receive a special gift from Dean Rose as they cross the stage
Undergraduate nursing students will receive the nursing pin as they cross the stage
Undergraduate BSN honors students will receive the honors pin and nursing pin as they cross the stage.
The ceremony concludes once the names of all those attending the ceremony have been announced and Dean Rose provides closing remarks. Faculty will lead the processional out of the arena. Graduates should meet their families and guests outside of the Schottenstein Center.
The announcement and printing of names
Your name will be printed in the Convocation program based on your primary, legal name listed in your student record through BuckeyeLink. Please make sure your name appears correctly, as changes to the convocation program will not be made after February 28. To verify your primary name, log onto BuckeyeLink and click on the "Names" link found under the "Personal Information" category. Your legal name will be listed as the Primary Name Type.
Although the primary, legal name will be printed in the Convocation program, students in attendance, may request to have their preferred name announced during the ceremony. Students can indicate their preferred name the day of the event by updating the registration card they will receive as they enter the arena.
PLEASE NOTE: Name changes entered through the Student Center in Buckeye Link will NOT change the name printed in the Convocation program. To officially change your name on your academic record, you must submit a Request for Change of Record form online along with appropriate documentation verifying your name change by the date listed above.