Featured Image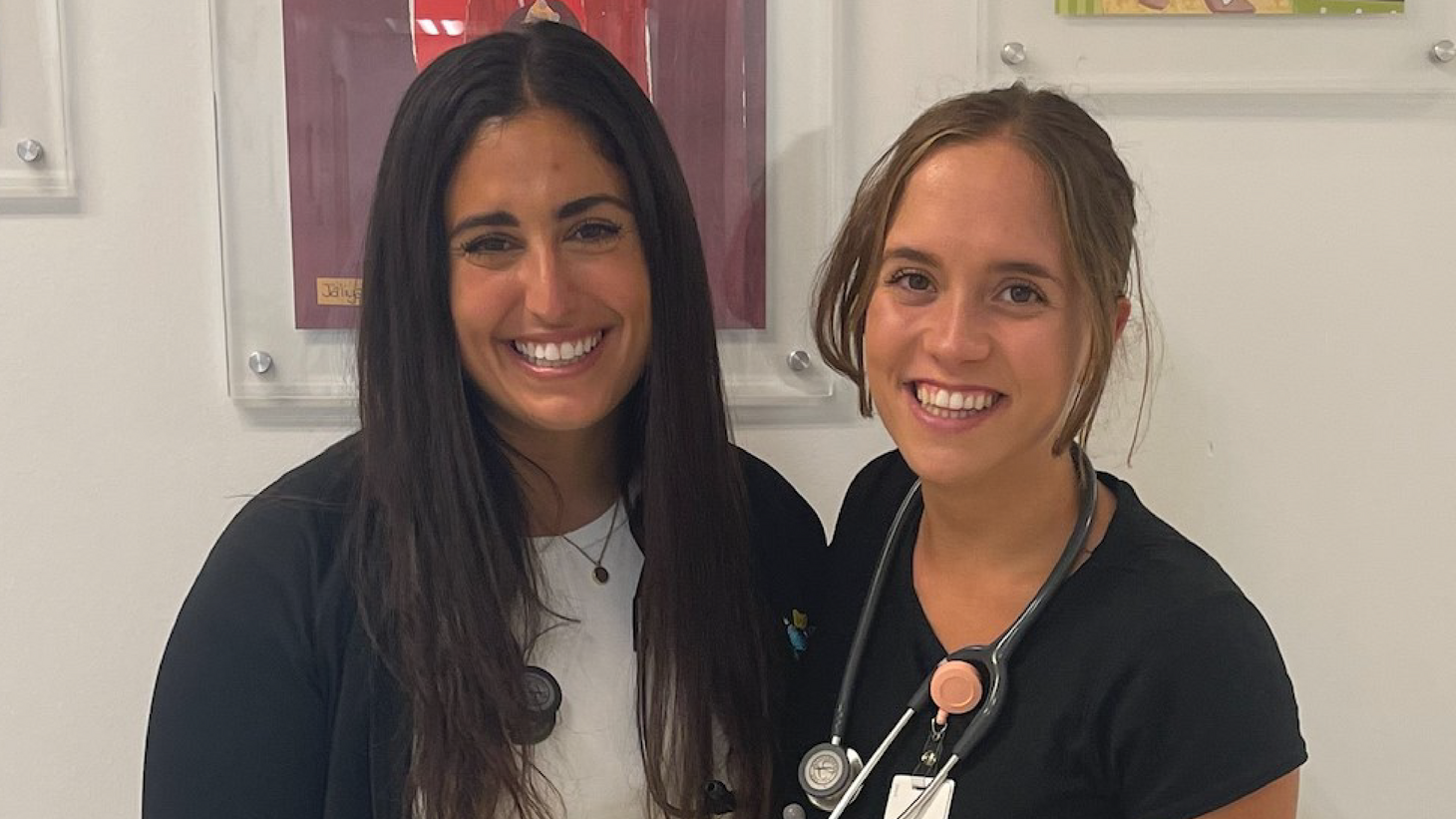 Pictured above is Preceptor Amanda Hadad, CPNP-PC (pictured left) with student Megan Saelinger (pictured right). She works at Nationwide Children's Hospital.
Amanda is such an amazing role model– she leads by example and always takes the time out of her busy schedule to go the extra mile for her patients and families. Amanda pushes me to ask questions, problem solve and step outside of my comfort zone every day I'm in clinicals. Because of this, I have grown tremendously in confidence and knowledge in just a few short months. Amanda deserves to be recognized and celebrated!
– Megan Saelinger, Student
It is an honor. I thoroughly enjoy precepting students. As an alumna from the College of Nursing, I am personally familiar with the curriculum and work required to succeed in becoming a pediatric nurse practitioner. My own clinical experiences were invaluable in that learning and growth. I hope to provide a comfortable yet challenging environment where my students can connect with patients and families while learning. It has been a privilege to be able to support my students as they grow in clinical knowledge and experience.
I graduated with a Bachelor of Science from The Ohio State University with an honors degree in Biology with minors in Human Nutrition and Human Development and Family Science. I attended The Ohio State University College of Nursing Graduate Entry Program with a Primary Care Pediatric Nurse Practitioner specialty. While in school, I worked at The James Cancer Hospital as a patient care associate (PCA) on the acute leukemia unit. I then became a registered nurse and began working at Nationwide Children's Hospital (NCH) Primary Care Network. Once I became a nurse practitioner, I started working in the NCH Primary Care Network as a pediatric nurse practitioner in 2017. I enjoy the challenges of the primary care setting. Every day is different and an opportunity to learn something new. I enjoy working with patients from a variety of cultural backgrounds. As a nurse practitioner, I believe we have a vital role in educating our patients and advocating for them in the promotion of their health.
– Preceptor and Alumna ('17) Amanda Hadad, CPNP-PC
Past Spotlights
Cheri Bourne, MS, APRN-CNP

July 2022

Cheri Bourne is a preceptor where I spent fall semester and part of spring semester. She is absolutely wonderful. I cannot say enough good things about her. She creates the perfect learning environment, is always open to answering questions and is an incredible role model. I have thoroughly enjoyed my time with her and wish all my fellow classmates could have had this opportunity to learn from her.

– Nicole Fisher, Student

Pictured below is Preceptor Cheri Bourne, MS, APRN-CNP. She works at The Ohio State University's Wexner Medical Center at the Primary Care Thomas Rardin location.

I have worked as a family nurse practitioner (FNP) preceptor for 4 years now in family and community medicine. I absolutely love working as a preceptor and working directly with students, as it brings variety to my work life and allows me to continue to grow and learn clinically and professionally. I love giving back to learners by precepting when I can because I remember being so overly grateful for all of my amazing preceptors going through school and knowing it was difficult [for them] to carry the load of teaching while running a clinic, but how much I aspired to do the same one day.

I really enjoy helping others realize their potential and all of the opportunities we have available to us in our career path as advanced practice providers (APP). I try to precept as often as I can, while maintaining a balance. My experience with Ohio State's students has been outstanding, and they have exceeded my expectations therefore it's easy to invite them back. We have also recruited many students into our APP Fellowship program which makes me very proud as an Ohio State graduate myself.

I went to Ohio State for undergrad and graduate school, and I grew up in Columbus, so I have always called it home. I have been with Ohio State's Family and Community Medicine since 2010. I am married to my husband Chris, have two kids Cooper and Chloe and a cockapoo Eddie. Professionally, I have special interests in women's health and mental health. Generally, I love providing care for all members of a family and building relationships with them, which can promote better overall health for their entire family.


– Preceptor Cheri Bourne, MS, APRN-CNP

Anna F. Etzler and JoAnn McDorman, DNP

June 2022

Pictured above are Anna F. Etzler (student) with preceptor/future co-worker (JoAnn McDorman, DNP)
Lima Memorial Health System Family Care in Lima, Ohio

I am incredibly thankful for The Ohio State University College of Nursing and its Clinical Placement office. Going to graduate school at a university that provided clinical placements was very important to me, and Ohio State has gone above and beyond to ensure that students are placed in clinical settings that are both interesting and beneficial to them. I am from Lima, and I am so grateful that I was placed at clinical sites near my home. This semester, I started my clinical placement as a student, and I have finished it as a soon-to-be nurse practitioner in the clinic I precepted in. The high-quality education and training I have received at Ohio State prepared me for this opportunity and has given me the skills I need to transition to practice and begin my career as a family nurse practitioner.

My preceptors have also been instrumental in my success and have helped me navigate how to translate knowledge of our profession into real-life practice. They have mentored me and have taught me how to care holistically for patients – in body, mind and spirit. I have been inspired by their knowledge of nursing, compassion for their patients and commitment to our profession. I am excited to carry the lessons I have learned from them forward as I begin the next chapter of my career as a family nurse practitioner.

– Anna Etzler

Dani Wadkins and Adrienne Stanley

Pictured above are Dani Wadkins (right) and Adrienne Stanley (left).

I precept because I believe in the value of nurses and the role we play as healthcare evolves — I believe in the services we provide, the value of our holistic approach to patient-centered care, and that nursing is paving the way forward into the future of healthcare. Most importantly, though, I love precepting because I learn something new every day from the people around me. Nursing is such a diverse profession, and interacting with student nurse practitioners opens my eyes to the world, and so many different experiences and perspectives. If we want to see change in the world around us, and in the work we do, we have to start that change by listening and learning every day. Precepting is one of the ways I work towards that goal.

– Danielle (Dani) Wadkins, CNP
   (she/her/hers)
   OPG OhioHealth OBGYN

I cannot imagine taking this part of my journey to receive my advanced nursing degree without having Dani as my guide. She is an exemplary model of how to treat patients as the individual person each one is. If I could find a way to describe her care for every patient, it would be: "I see you. I hear you. You matter. You deserve quality care. And I am on your side." And Dani shares that model of care for everyone regardless of race, ethnicity, gender, or background.

Dani also has a gift for meeting patients where they are to help them reach their highest, best self. From the moment she introduces herself to them, she is compassionate and inclusive, and she creates comfortable, nonjudgmental spaces for each patient. She understands the value of care without judgment in giving patients the opportunity to open up freely, if they choose to, so that she can devise the most effective plan for their health.

Dani also transfers that same compassionate care into teaching others. Her unwavering support as a preceptor boosted my confidence in my own knowledge and skills. Dani has helped me develop a model of partnership with each patient to implement a plan that feels good to them. It helps patients have a sense of participation and control in their healthcare decisions.

And I noted one unique key to Dani's success as a women's health nurse practitioner. It is the way she talks to people—the way she interacts with everyone. Dani is an outstanding communicator. She translates her clinical knowledge clearly while remaining open and respectful.

I have no doubt that my time under Dani's leadership will influence my path as a nurse practitioner. I, too, believe that patients deserve the best and most compassionate care and Dani's lessons will guide me with each and every one of them.

– Adrienne Stanley
  (she/her/hers)
  WHNP student