Featured Image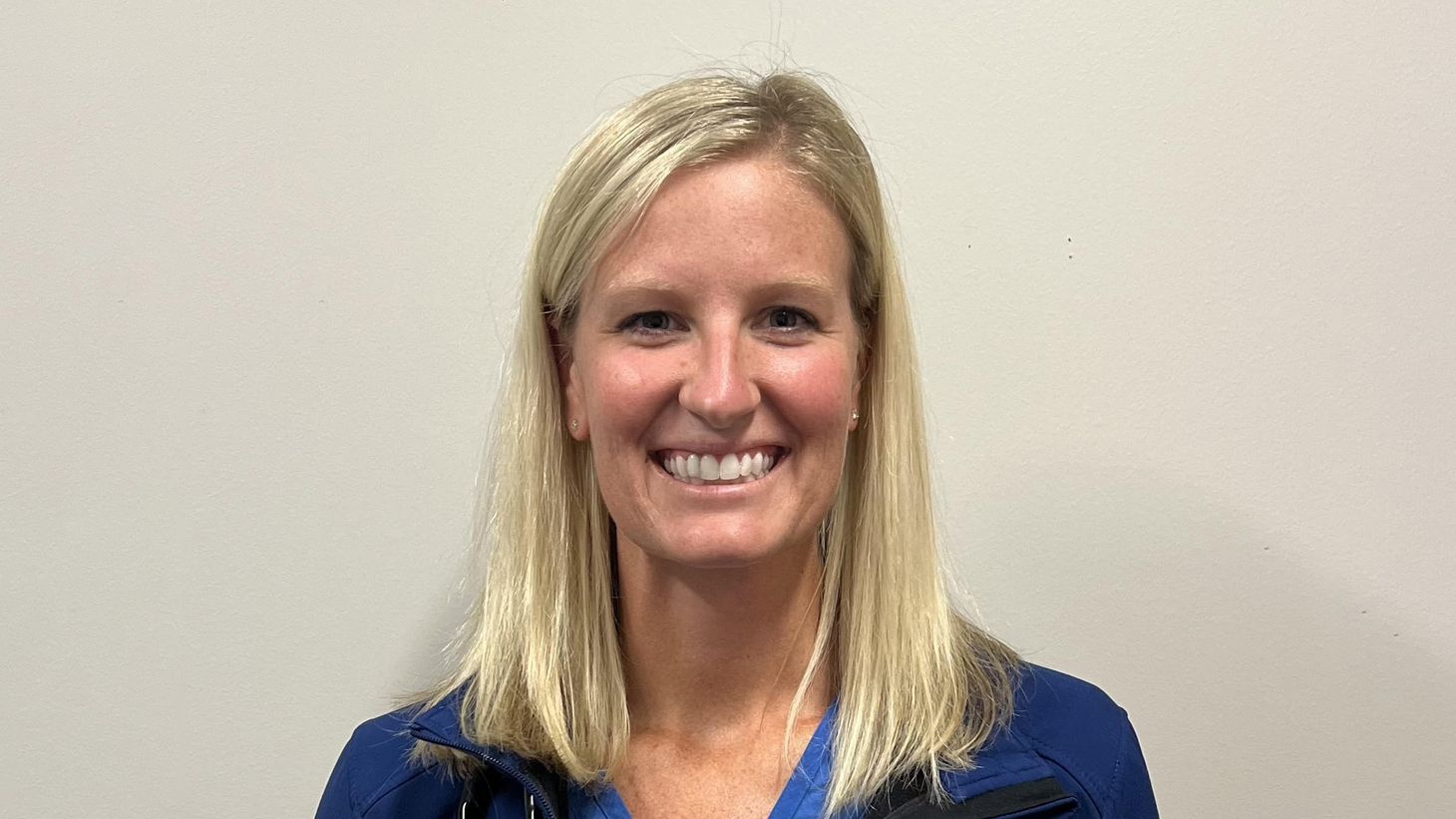 Julia Kurz, MS, APRN-CNP
ACNP student Ally Burwell nominated her preceptor, Julia Kurz, who is part of our MedOne Externship. This is what Ally shared:
"Julia is an amazing preceptor! She is enthusiastic to teach and provides a safe space to ask questions. I appreciate how she finds multiple opportunities for me to strengthen my patient assessment skills, discuss case studies and learn specifics with charting. I feel confident I will be a strong provider thanks to her expertise."
This is what Julia shared about her background, her own experience with preceptors and how she approaches her mentorship with students:
I have been a nurse practitioner now for nine years, with eight of them spent with my current hospitalist group, MedOne Healthcare Partners. I am a blessed mom to four amazing children who keep me very happy and busy outside of this rewarding career. I enjoy the vast patient population and array of diagnoses that hospitalist medicine has to offer. I still feel myself growing in my own career and knowledge base every day in my current role.
I had incredible preceptors during my own preparation. I truly appreciated the extra time and effort they put into helping me get the most out of my time with each of them. I knew that I wanted to do what I could to provide that same gift to the future generation of nurse practitioners. Clinical hours are so valuable, as students get to apply all the information they are learning into real-life patient scenarios. I try my best to make sure my students feel they are getting a range of experiences during our time together, and to help them know the tools and resources needed for the transition into their own personal practice. I really have always enjoyed taking students, as it not only brings back the excitement I had starting my own career, but it also helps me to stay up-to-date on the latest guidelines and changes in medicine. I love watching how students grow in their confidence and comfort levels throughout the semester. I also enjoy the personal connections I have gained with students through being a preceptor.
Over the past year, my practice has partnered with Ohio State's NP program to develop an externship for students. Through this externship, I have been privileged to encounter several truly amazing students. They have all been hard-working and self-motivated and have set a standard like no other. It has been an honor to be a part of their future success, and I look forward to more connections with future students through this program.
Past Spotlights
Dawn Denton, APRN-CNP, AOCNP and Jillian Garrick, APRN-CNP

Angela Alston, DNP, MPH, APRN-CNP, who serves as director of the women's health specialization and the college's chief diversity officer, describes the preceptorship program:

"Women's health oncology is a specialty area within the scope of practice for the women's health nurse practitioner (WHNP). We are grateful for our partnership with the James Cancer Hospital and Solove Research Institute to provide a semester-long preceptorship program for WHNP students who are interested in breast or gynecology (GYN) oncology after graduation."

WHNP student Margot Duffy nominated Dawn and Jillian for this spotlight. This is what Margot shared:

"I split my week with both of them at the James/Stefanie Spielman Comprehensive Breast Center, and boy, have I learned so much with these two ladies. They and their team have been so welcoming and have created such a positive environment. The way they treat their patients is equally as important as how they treat their colleagues. There have been some patients nervous or skeptical of the healthcare system from past experiences and have left their appointments at the breast clinic with relief and a little bit more trust in the healthcare team. They did this because of how Dawn and Jill have conducted their care, listened to their concerns and have used evidence-based shared decision-making to make their patients feel more in control. Cancer is a very scary subject for patients, and having Dawn and Jill as their providers have brought even an ounce more comfort to them."

This is what Dawn shared about her experiences in precepting and in patient care:

"The pathway to earning the privilege to care for others is via education. Along the way, most of us have had the opportunity to learn from other members of the healthcare system whose experience was greater than our own. If we are insightful, we have the unique opportunity of both mentoring those newer to the healthcare field as well as learning from the students to whom we are entrusted. I have frequently learned of new communication strategies, techniques and other fantastic ideas from students. This is what motivates me to serve as a preceptor. I graduated from a small nursing diploma program in 1990 and practiced as a bedside nurse in an oncology unit. I ultimately transitioned to critical care and continued to work toward additional certifications and degrees. I have been a certified advanced practice nurse for seven years, and it has been an exceptional experience. It has been remarkable to witness the advances in professional nursing practice, as well as the increase in available therapies and supportive treatments. I am a member of the Oncologic Nursing Society. The aspect I enjoy most in clinical practice is educating patients to become partners in their healthcare so they can effectively work towards the most well version of themselves."

This is what Jillian shared about why she became a WHNP:

"I became a WHNP because I am passionate about helping and empowering women. I went to Miami University for undergraduate school and received my Master's in Nursing from The Ohio State University College of Nursing in 2009. I have worked at the James/Stefanie Spielman Comprehensive Breast Center since 2011. I appreciate the multidisciplinary approach to care that our patients receive and understand the importance of our role in caring for patients through the stress of breast cancer work up and diagnosis. During my clinical rotations, I had incredible preceptors who not only taught me clinical skills and knowledge, but also about the art of compassion. I precept so that nursing students can learn about a variety of breast conditions, both benign and malignant. I enjoy reviewing evidence-based guidelines with my students, guiding them through difficult discussions with patients and watching them grow in confidence. I have been fortunate to have highly motivated students who will make fantastic advanced practice providers in the future."

Allison M. Levering, MS, APRN-CNP, EFM-C

This month's preceptor spotlight is Allison M. Levering, MS, APRN-CNP. Allison works as a Family Nurse Practitioner at the OB/GYN Clinic at McCampbell Hall at The Ohio State University Wexner Medical Center and is an alumna of our college.

WHNP student Siena Cordial nominated Allison for this spotlight. This is what Siena shared:

"I would like to nominate my WH preceptor, Allison Levering, at Ohio State. She was absolutely wonderful is helping me to learn and become a future WHNP. She was always willing to go above and beyond to ensure I was learning and getting the most of my clinical experience. I am so grateful for her and will absolutely remember her and how she treated her students and colleagues in the future as a Nurse Practitioner."

This is what Allison Levering shared about her background and her experience precepting:

"I am a busy NP and lucky mom of four amazing kids! I graduated with my Master of Science at Ohio State and obtained my FNP certification in 2010. I started out working in the first Ohio State retail clinic and also had my hand in an outpatient family practice setting. My deep love and purpose has been in working with women and infants. My first job in OB/GYN was at a private outpatient setting. After a couple of years there, I followed my passion and began working at the Ohio State OB/GYN Resident Clinic, which is where I have been for the last eight years! Since starting out, I have been able to build my template and role within the clinic in a very rewarding way. We have a very diverse and challenging patient population, and I feel I am always learning something new. I really enjoy sharing my experience and knowledge with students. I love seeing their growth along the way and witnessing their confidence build throughout their clinical rotation. I truly believe through helping others (students, colleagues, patients, etc.), I continue to learn and grow so much within myself and the understanding I have about life. Students help me stay accountable to the profession and keep me on my toes! I have built so many great connections with the students I have precepted and love seeing their careers flourish along the way. There really is no better gift than giving back to others!"

Michelle Aquillo, APRN-CNP

February 2023

 

This month's preceptor spotlight is Michelle Aquillo, APRN-CNP. Michelle works as a Family Nurse Practitioner and Lead Advanced Practice Provider at OhioHealth Urgent Care and is an alumna of our College.

Student Sarah Mustric nominated Michelle for this spotlight. This is what Sarah shared:

"Michelle is a truly exceptional preceptor because she created a very comfortable learning environment in a fast-paced clinical setting, yet she always made time for learning opportunities, even on the busiest days! Michelle challenged me to learn independently and continuously asked many questions to help me think about my clinical approach.

She celebrated alongside me after I was able to successfully perform my first suture procedure and should be commended for her welcoming spirit, expertise in the Urgent Care setting and passionate approach to teaching students. I wish Michelle could be a preceptor for every student in the Family Nurse Practitioner program because the time I spent with her was truly invaluable. I hope to be the kind of provider and preceptor in the future that Michelle is today."

This is what Michelle Aquillo shared about her experience precepting:

"I graduated from Ohio State University with my Bachelor of Science in Nursing in 2010 and with my Master of Science in Nursing in 2017. I was a bedside nurse in the Ross Heart Hospital for four years, then I worked in clinical informatics at The Ohio State University Comprehensive Cancer Center – Arthur G. James Cancer Hospital and Richard J. Solove Research Institute for three years while in graduate school. I have been with OhioHealth for four of my five years as a nurse practitioner where I am now the Lead Advanced Practice Provider for two of the urgent cares. I love the diversity of the patients and health problems I care for in urgent care.

I remember the stress of going through graduate school while working full time like it was yesterday. I was lucky to have fantastic preceptors, and I was aware of how difficult it was for every student to be placed with someone. I like to think of precepting as giving back to the college that gave me great experiences.

I like to provide a stimulating clinical experience for the students while being flexible regarding their schedule. Life balance and good mental health are crucial to a student's success. I enjoy watching the students grow more confident and independent over the course of the semester. Ohio State students are always very bright individuals and motivated, quick learners."

Kristina Fitch, APRN-CNP

December 2022

Pictured above is student Andrea Cottrell (Left) with Preceptor Kristina Fitch, APRN-CNP (Right). Preceptor Kristina Fitch, APRN-CNP works at MetroHealth and helps precept our Neonatal Nurse Practitioner students.

Graduate Entry student Andrea Cottrell nominated Kristina Fitch for this spotlight. This is what Andrea shared:

 "Kristina has gone above and beyond my expectations for what a preceptor should be like. Not only is she gracious and shows patience with students and the learning process that comes with clinicals, but she also always creates a learning environment that truly feels like a safe place. She makes sure that I feel comfortable asking questions and learning to be in an Advanced Practice Registered Nurse (APRN) role. She goes far beyond her job description by making me feel welcome and really part of the team. She has made sure I have the best learning opportunities by advocating for me to be more involved in different care experiences.

Once I graduate with my APRN license, I want to follow in her footsteps and precept other students so that they can feel the same hospitality that Kristina has been so gracious to give to me. I truly feel that I could never repay her. She deserves to be recognized."

This is what preceptor Kristina Fitch shared about precepting:

"I am so fortunate to truly love what I do day in and day out for these babies and their families. I love having the opportunity to be able to share my passion for the profession with students! We are in a unique situation where miracles do happen; and we watch the sickest and tiniest babies go on to not only survive- but thrive and go home with their parents and families!"

Catherine (Cathy) Hreachmack, RN, BSN, MA, AHNP-BC, ACNP-BC

October 2022

 

Cathy works as an Acute Care Nurse Practitioner (NP) at The Ohio State University Comprehensive Cancer Center - Arthur G. James Cancer Hospital and Richard J. Solove Research Institute (the OSUCCC - James).

One of the students she precepts, Holly Poling, shared this about Cathy:

"Cathy is a role model to everyone. The patience and kindness she extends to all her patients and colleagues is admirable. She always takes the time to sit down and listen to her patient's concerns. As a preceptor, she was my biggest cheerleader. She created a safe learning environment that made it easy for me to be confident in my learning and ask questions. Cathy was my first preceptor in the graduate program and helped me build a strong foundation. She demonstrated what it means to be a compassionate provider and educator. Cathy deserves to be recognized and celebrated!"

Cathy shared:

"I was a floor nurse from 1983-2006 when I completed my master's degree and became an adult NP. I relocated to Ohio to work in the Oncology department and later completed my post-master's degree.

I found the transition to the role of nurse practitioner was very challenging, and I struggled with imposter syndrome. Therefore when I precept students today, I provide encouragement, a welcoming environment and a safe place to alleviate anxiety. I welcome their questions and concerns and strive to create an environment that ensures a culture of success.

As I enter the final 8 years of my career in nursing, I want to share the reality, the challenges and the rewards of working with oncology patients. In our role, you know you make a difference in peoples' lives and you cannot help but feel inspired."

Megan Saelinger and Amanda Hadad, CPNP-PC

August 2022

Pictured above is Preceptor Amanda Hadad, CPNP-PC (pictured left) with student Megan Saelinger (pictured right). She works at Nationwide Children's Hospital.

 

"Amanda is such an amazing role model– she leads by example and always takes the time out of her busy schedule to go the extra mile for her patients and families. Amanda pushes me to ask questions, problem solve and step outside of my comfort zone every day I'm in clinicals. Because of this, I have grown tremendously in confidence and knowledge in just a few short months. Amanda deserves to be recognized and celebrated!"

– Megan Saelinger, Student

 

"It is an honor. I thoroughly enjoy precepting students. As an alumna from the College of Nursing, I am personally familiar with the curriculum and work required to succeed in becoming a pediatric nurse practitioner. My own clinical experiences were invaluable in that learning and growth. I hope to provide a comfortable yet challenging environment where my students can connect with patients and families while learning. It has been a privilege to be able to support my students as they grow in clinical knowledge and experience.

I graduated with a Bachelor of Science from The Ohio State University with an honors degree in Biology with minors in Human Nutrition and Human Development and Family Science. I attended The Ohio State University College of Nursing Graduate Entry Program with a Primary Care Pediatric Nurse Practitioner specialty. While in school, I worked at The James Cancer Hospital as a patient care associate (PCA) on the acute leukemia unit. I then became a registered nurse and began working at Nationwide Children's Hospital (NCH) Primary Care Network. Once I became a nurse practitioner, I started working in the NCH Primary Care Network as a pediatric nurse practitioner in 2017. I enjoy the challenges of the primary care setting. Every day is different and an opportunity to learn something new. I enjoy working with patients from a variety of cultural backgrounds. As a nurse practitioner, I believe we have a vital role in educating our patients and advocating for them in the promotion of their health."

– Preceptor and Alumna ('17) Amanda Hadad, CPNP-PC

Cheri Bourne, MS, APRN-CNP

July 2022

Cheri Bourne is a preceptor where I spent fall semester and part of spring semester. She is absolutely wonderful. I cannot say enough good things about her. She creates the perfect learning environment, is always open to answering questions and is an incredible role model. I have thoroughly enjoyed my time with her and wish all my fellow classmates could have had this opportunity to learn from her.

– Nicole Fisher, Student

Pictured below is Preceptor Cheri Bourne, MS, APRN-CNP. She works at The Ohio State University's Wexner Medical Center at the Primary Care Thomas Rardin location.

I have worked as a family nurse practitioner (FNP) preceptor for 4 years now in family and community medicine. I absolutely love working as a preceptor and working directly with students, as it brings variety to my work life and allows me to continue to grow and learn clinically and professionally. I love giving back to learners by precepting when I can because I remember being so overly grateful for all of my amazing preceptors going through school and knowing it was difficult [for them] to carry the load of teaching while running a clinic, but how much I aspired to do the same one day.

I really enjoy helping others realize their potential and all of the opportunities we have available to us in our career path as advanced practice providers (APP). I try to precept as often as I can, while maintaining a balance. My experience with Ohio State's students has been outstanding, and they have exceeded my expectations therefore it's easy to invite them back. We have also recruited many students into our APP Fellowship program which makes me very proud as an Ohio State graduate myself.

I went to Ohio State for undergrad and graduate school, and I grew up in Columbus, so I have always called it home. I have been with Ohio State's Family and Community Medicine since 2010. I am married to my husband Chris, have two kids Cooper and Chloe and a cockapoo Eddie. Professionally, I have special interests in women's health and mental health. Generally, I love providing care for all members of a family and building relationships with them, which can promote better overall health for their entire family.


– Preceptor Cheri Bourne, MS, APRN-CNP

Anna F. Etzler and JoAnn McDorman, DNP

June 2022

Pictured above are Anna F. Etzler (student) with preceptor/future co-worker (JoAnn McDorman, DNP)
Lima Memorial Health System Family Care in Lima, Ohio

I am incredibly thankful for The Ohio State University College of Nursing and its Clinical Placement office. Going to graduate school at a university that provided clinical placements was very important to me, and Ohio State has gone above and beyond to ensure that students are placed in clinical settings that are both interesting and beneficial to them. I am from Lima, and I am so grateful that I was placed at clinical sites near my home. This semester, I started my clinical placement as a student, and I have finished it as a soon-to-be nurse practitioner in the clinic I precepted in. The high-quality education and training I have received at Ohio State prepared me for this opportunity and has given me the skills I need to transition to practice and begin my career as a family nurse practitioner.

My preceptors have also been instrumental in my success and have helped me navigate how to translate knowledge of our profession into real-life practice. They have mentored me and have taught me how to care holistically for patients – in body, mind and spirit. I have been inspired by their knowledge of nursing, compassion for their patients and commitment to our profession. I am excited to carry the lessons I have learned from them forward as I begin the next chapter of my career as a family nurse practitioner.

– Anna Etzler

Dani Wadkins and Adrienne Stanley

Pictured above are Dani Wadkins (right) and Adrienne Stanley (left).

I precept because I believe in the value of nurses and the role we play as healthcare evolves — I believe in the services we provide, the value of our holistic approach to patient-centered care, and that nursing is paving the way forward into the future of healthcare. Most importantly, though, I love precepting because I learn something new every day from the people around me. Nursing is such a diverse profession, and interacting with student nurse practitioners opens my eyes to the world, and so many different experiences and perspectives. If we want to see change in the world around us, and in the work we do, we have to start that change by listening and learning every day. Precepting is one of the ways I work towards that goal.

– Danielle (Dani) Wadkins, CNP
   (she/her/hers)
   OPG OhioHealth OBGYN

I cannot imagine taking this part of my journey to receive my advanced nursing degree without having Dani as my guide. She is an exemplary model of how to treat patients as the individual person each one is. If I could find a way to describe her care for every patient, it would be: "I see you. I hear you. You matter. You deserve quality care. And I am on your side." And Dani shares that model of care for everyone regardless of race, ethnicity, gender, or background.

Dani also has a gift for meeting patients where they are to help them reach their highest, best self. From the moment she introduces herself to them, she is compassionate and inclusive, and she creates comfortable, nonjudgmental spaces for each patient. She understands the value of care without judgment in giving patients the opportunity to open up freely, if they choose to, so that she can devise the most effective plan for their health.

Dani also transfers that same compassionate care into teaching others. Her unwavering support as a preceptor boosted my confidence in my own knowledge and skills. Dani has helped me develop a model of partnership with each patient to implement a plan that feels good to them. It helps patients have a sense of participation and control in their healthcare decisions.

And I noted one unique key to Dani's success as a women's health nurse practitioner. It is the way she talks to people—the way she interacts with everyone. Dani is an outstanding communicator. She translates her clinical knowledge clearly while remaining open and respectful.

I have no doubt that my time under Dani's leadership will influence my path as a nurse practitioner. I, too, believe that patients deserve the best and most compassionate care and Dani's lessons will guide me with each and every one of them.

– Adrienne Stanley
  (she/her/hers)
  WHNP student