Featured Image

The second biennial national EBP summit
by Susan Neale
A veteran's hospital at the epicenter of the opioid crisis implemented an evidence-based strategy that dramatically reduced overdoses among resident patients.
Using an evidence-based strategy, a hospital reduced treatment time in its labor and delivery unit for mothers with hypertension.
A nurse observed that inaccurate weight estimation of emergency room patients often resulted in overmedication, and resolved to do something about it using EBP.
A researcher alarmed by the rate of nurse suicide found an evidence-based solution that reduced suicide rates at her facility to almost none.
A nurse followed her passion for influencing evidence-based policy and became a politician and activist.
These are some of the many success stories from "Transforming Healthcare Through Evidence-based Practice," the second biennial national summit on evidence-based practice (EBP) presented by the Helene Fuld Health Trust National Institute for EBP in Nursing and Healthcare. More than 350 speakers, presenters and attendees gathered at the Hilton Columbus at Easton in November to celebrate recent advances in EBP. They shared a passion for changing the world of healthcare through championing evidence-based strategies, creating policy change and making the best evidence-based care available to all.
Many attendees were nurses: some in military uniform, some hospital and primary care clinicians, others with careers as educators, legislators and administrators. Others in attendance included physicians and faculty from The Ohio State University Colleges of Dentistry and Pharmacy, both of which recently added EBP to their accreditation process. Several attendees presented their EBP initiatives at 60 breakout sessions and in poster presentations throughout the summit. The excitement and drive of this community dedicated to changing healthcare through evidence-based practice made for an energized, informative and inspiring summit.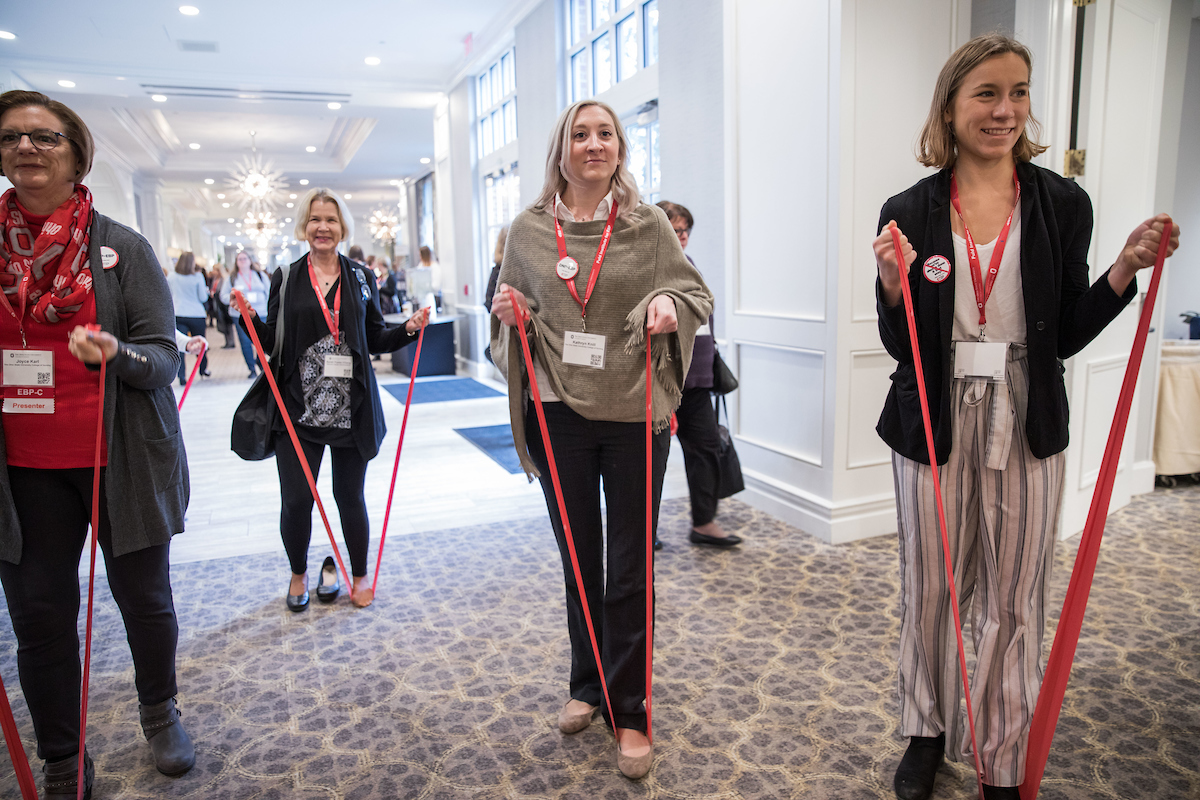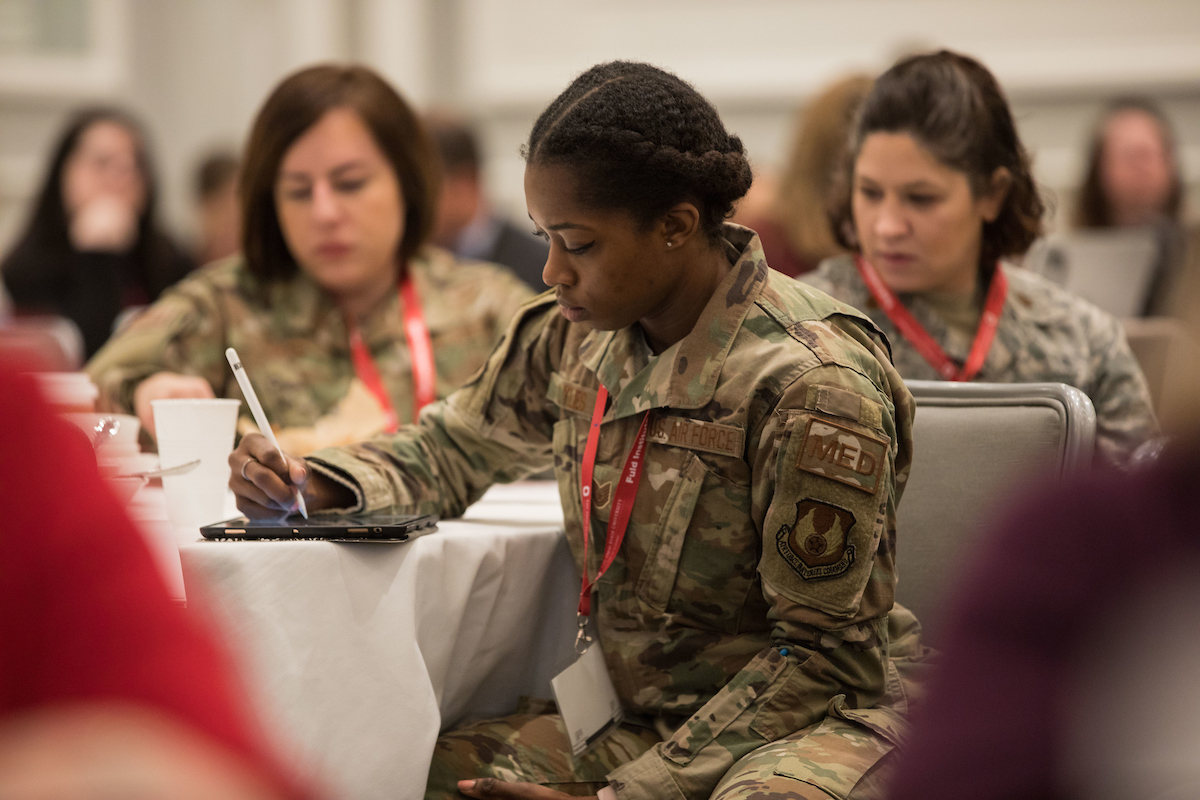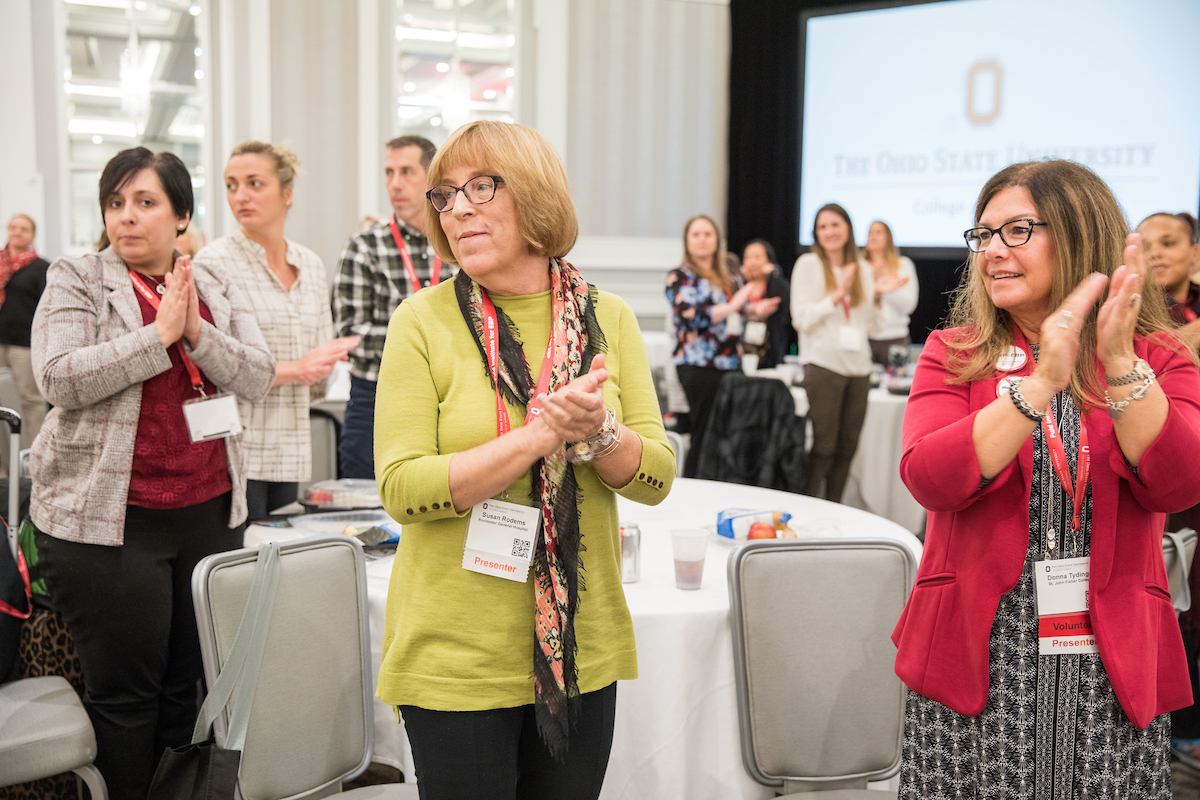 The summit's highlights included a moving keynote address by Victor Montori, MD, professor of medicine at Mayo Clinic, calling for a return to compassionate care; a presentation by Judy Davidson, DNP, RN, FCCM, FAAN, nurse scientist from University of California, San Diego Health about the latest research findings on nurse suicide; and a reception honoring Distinguished EBP Trailblazers.
Montori made a deep impression and set the stage for a theme that wove throughout the conference: how to put caring back into healthcare. Caring is part of human nature, Montori said: "Only humans can care. Only humans can love." However, modern industrialized healthcare can be cruel and impersonal to patients and doctors. The way forward, he said, is to stand in solidarity against greed in medicine, and to be driven by integrity rather than regulations and incentives.
Compassionate care is human touch. It's knowing that I don't want the short version. I want to hear the whole thing. We really have the ability to be there and be present. We have to slow it down.

— Michael Forbes, MD
The plenary session on shared decision making continued this theme. "We have all had the experience of being a patient and being hurried along," nursing instructor Paula Dunham, BSN, MS, ND, RN-BC, related. Michael Forbes, MD, FCCM, FAAP, of Akron Children's Hospital added, "Compassionate care is human touch. It's knowing that I don't want the short version. I want to hear the whole thing. We really have the ability to be there and be present. We have to slow it down." Forbes pointed out that for many patients, the healthcare provider may be the only person who cares for them.
Another plenary session focused on how the Dayton Veteran's Administration hospital implemented a strategy based on the best evidence that greatly improved opioid-related outcomes in their drug-treatment facility. In another session, North Carolina House Representative Gale Adcock, MSN, FNP-BC, FAANP, FAAN, spoke about how to work with local state representatives to create evidence-based healthcare change in your community. "You need the same data when dealing with legislators as you do with patients as a clinician," she said, and advocated for presenting that data in the form of a story so that the legislator can understand and engage with it.
Lynn Gallagher-Ford, who spoke on the relationship between EBP and QI, pointed out the importance of culture in relationship to change. "The spotlight we shine on evidence-based practice is not only about treating one patient; it's about creating a culture in which this approach can thrive and truly improve healthcare," she said. "Organizations that can build a sustainable culture to support EBP will see improvements in quality, safety, population health, cost control and clinician satisfaction." The Fuld Institute for EBP, now three years old, had many things to celebrate at this event: It honored EBP grant winners and the first 50 recipients of its new EBP-C certificate, updated attendees on its many initiatives, including a recent EBP immersion simulcast to 18 facilities and honored EBP trailblazers, including three of its leaders.
Executive Director of the Fuld Institute for EBP Bernadette Melnyk closed the summit with evidence-based strategies to address clinician burnout and well-being. "The health of clinicians needs to be improved and healthcare systems have major responsibility to do that," she said, advocating for nurses and other clinicians to prioritize good self-care. "We also have to be proactive and change 'sick care' to 'well care,' because the majority of chronic disease can be prevented with a few healthy lifestyle behaviors."
---
The Fuld Institute for EBP honored exceptional pioneers and leaders of the EBP movement in the United States with the inaugural Distinguished EBP Trailblazers Award. Each EBP Distinguished Trailblazer awardee also received an honorary certificate of added qualification in EBP (EBP-C).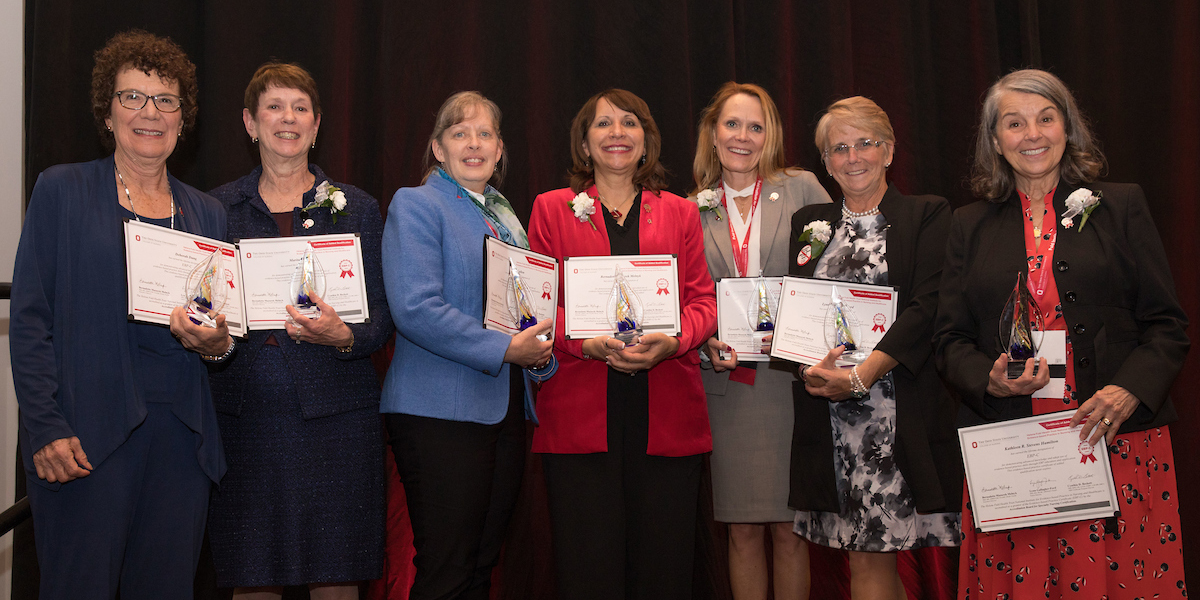 Trailblazers, from left to right:
Deborah Dang, PhD, RN, NEA, BC
Senior Director of Nursing Inquiry and Research, Johns Hopkins Health System
Chief Nursing Director for Well-being, Johns Hopkins Medicine
Marita Titler, PhD, RN, FAAN
Founder and Director, National Nursing Practice Network
Laura Cullen, DNP, RN, FAAN
Evidence-based Practice Lead, University of Iowa Hospitals and Clinics
Bernadette Mazurek Melnyk, PhD, APRN-CNP, FAANP, FNAP, FAAN
Vice President for Health Promotion, University Chief Wellness Officer, Dean and Professor, College of Nursing
Founder and Executive Director, Fuld Institute for EBP, The Ohio State University
Sharon Tucker, PhD, APRN-CNS, NC-BC, EBP-C, FNAP, FAAN
Grayce Sills Endowed Professor in Psychiatric-Mental Health Nursing
Implementation Science Core Director, Fuld Institute for EBP, The Ohio State University
Lynn Gallagher-Ford, PhD, RN, EBP-C, NE-BC, DPFNAP, FAAN
Senior Director and Clinical Core Director, Fuld Institute for EBP The Ohio State University
Kathleen R. Stevens Hamilton, EdD, RN, ANEF, FAAN
Founding Director, Academic Center for EBP, University of Texas at San Antonio College of Nursing
Not pictured:
Robin P. Newhouse, PhD, RN, NEA-BC, FAAN
Dean and Distinguished Professor, Indiana University School of Nursing
Ellen Fineout-Overholt, PhD, RN, FNAP, FAAN
Mary Coulter Dowdy Distinguished Nursing Professor, University of Texas at Tyler College of Nursing and Health Sciences
Alyce A. Shultz, PhD, RN, FAAN
Director, Center for Nursing Research and Quality Outcomes at Main Medical Center
Former Clinical Professor and Associate Director, Center for EBP, Arizona State University
EBP study trains bystanders to be lifesavers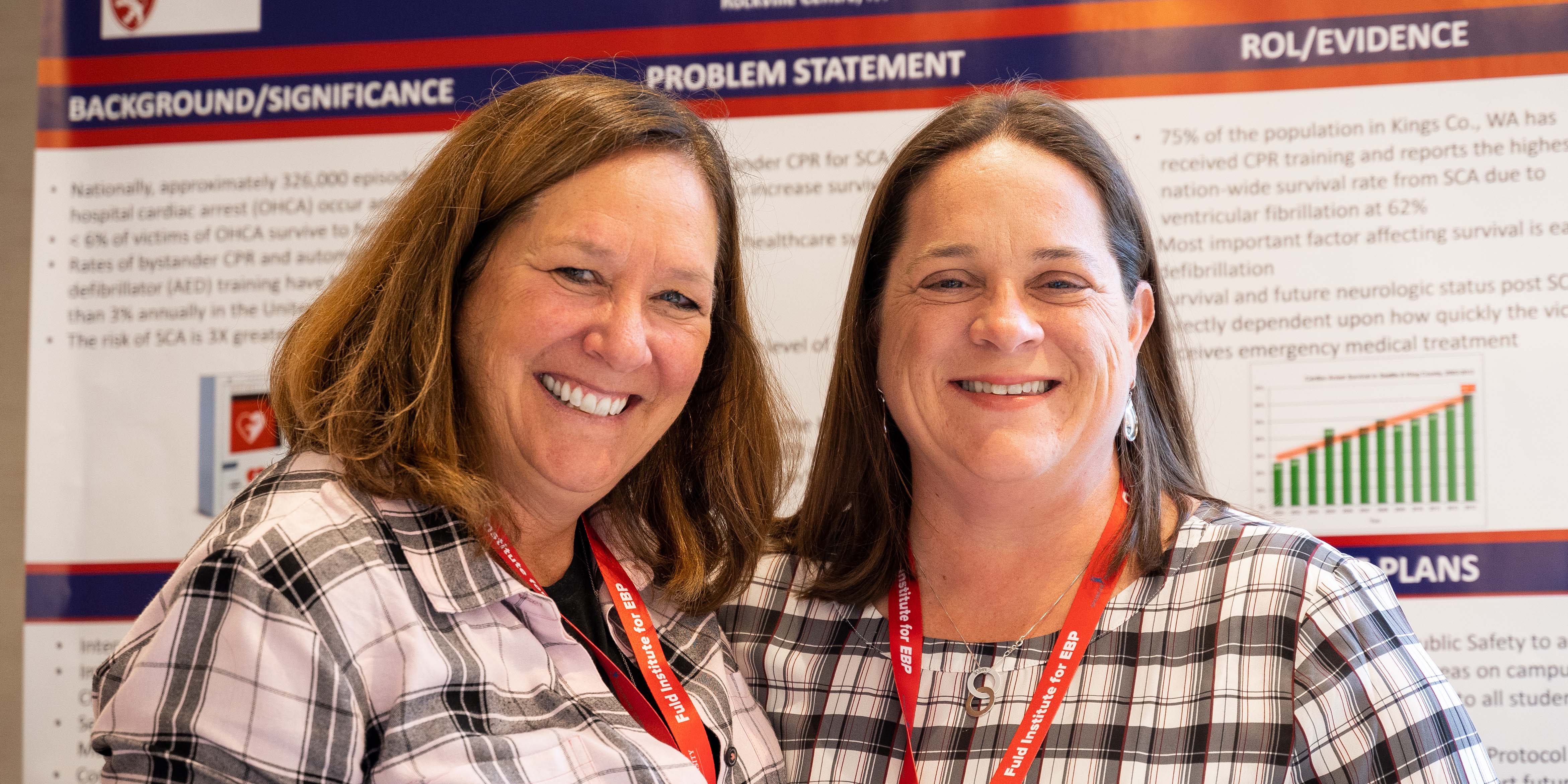 Kendra Hoepper, DNP, APRN, PNP-BC, Mary McCormack, DNP, APRN, FNP-C and Carol Zarcone, DNP, APRN, AANP-C, of Molloy College conducted an evidence-based initiative with the goal to increase bystander awareness and comfort level with performing CPR during out-of-hospital cardiac arrests (OHCA).
Their poster presented some alarming facts: Rates of bystander CPR and automatic external defibrillator (AED) training are reported at less than 3% in the United States. Nationally, approximately 326,000 episodes of OHCA occur annually, but less than 6% of victims survive to hospital discharge. "We want to improve awareness that the faster you can [get] CPR, the better the outcome," said Hoepper.
They provided CPR and AED training to over 200 participants at Molloy College and in the community. As a result, participants had improved knowledge of AED locations on campus and felt more comfortable performing hands-only CPR if they were to witness an OHCA.