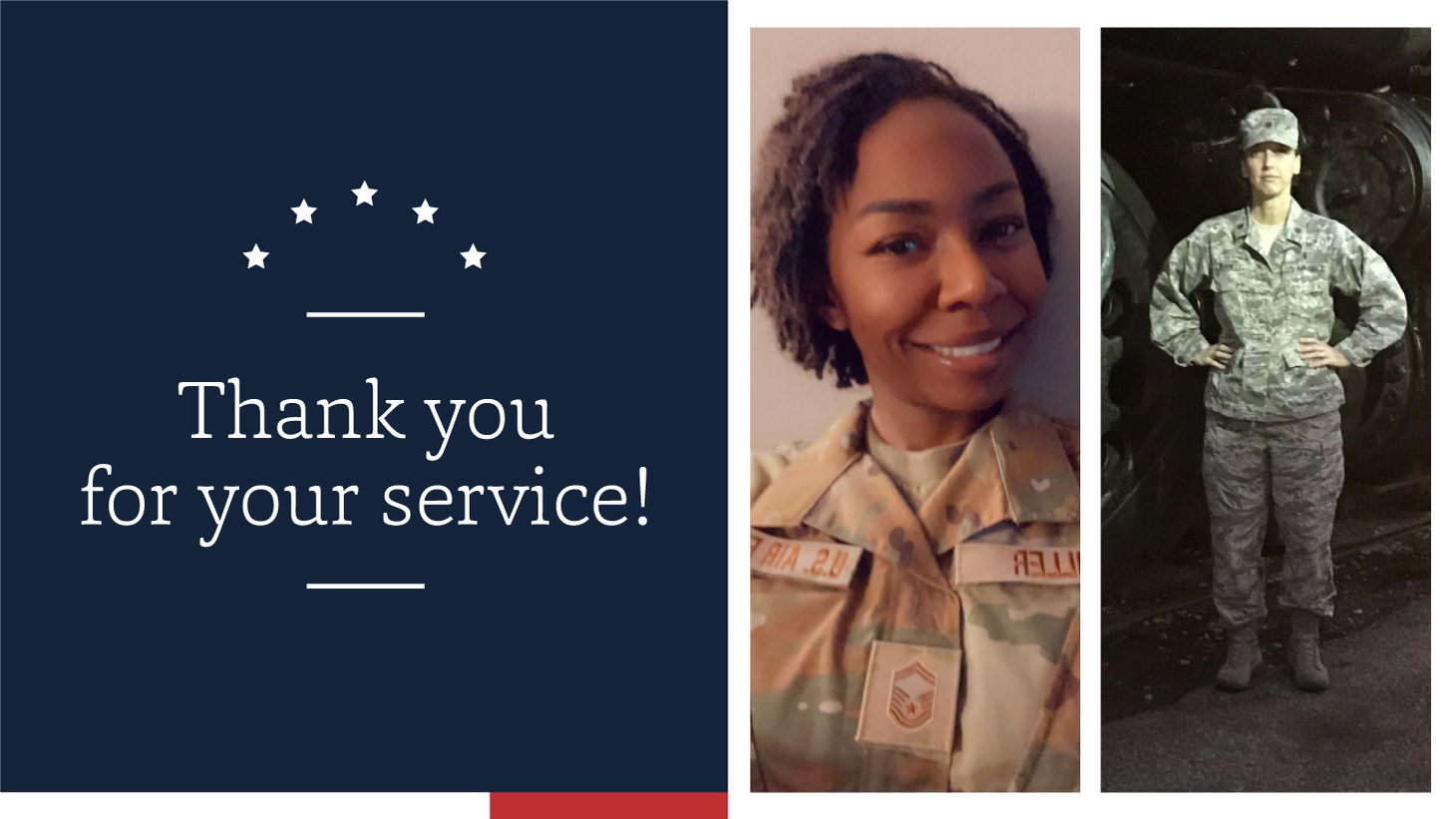 Two Air Force Veterans Pursue Research Interests in PhD Program
First, meet Senior Master Sergeant Emika Miller (on the left of the photo above), an Air Force veteran and current Reservist pursing a PhD in nursing and investigating hospice underutilization in African American communities. 

Can you tell us about your background and what led you to pursue your PhD in nursing?
I was raised in Cleveland, Ohio and joined the military right out of high school. My mom and dad were both Army veterans and thought serving would be good for me. My mom had recruiters coming to the house and to school! I had an uncle that was in the Air Force and decided that was the branch I wanted to join. 
I served in active duty for 11 years. During my second deployment to Iraq, I worked in aeromedical transport and transported injured soldiers. I was completely fascinated by the flight nurses. I thought they were the bee's knees and wanted to do what they were doing.
After running into scheduling issues trying to go to nursing school while on active duty, I separated to the Air Force Reserves in 2013, got my BSN and started working as a civilian nurse in various ICUs. 
I graduated from Ohio State with my master's with a specialization in Adult-Gerontology Acute Care – I just really enjoy older people. In my current job, I do home health visits for seniors to identify gaps in care. The hardest part is staying on schedule. So many of them are so eager to talk and I love to hear what they have to say. 
Ultimately, my interest was in palliative care, though, and I decided to continue on to a PhD with a goal of improving access to quality palliative care for minorities. There's so much miscommunication between providers, patients and families during end of life conversations that are filled with emotion. 

What similarities did you find in clinical nursing and military service?
Both of them require dedication and the willingness to serve. It's about service to others. Interestingly, a lot of Reservists are in a medical or law enforcement fields. Sacrifice and service.

What sets the Ohio State College of Nursing's PhD program apart from the rest? 
It's Ohio State! But really, so much. 
Dr. Karen Moss is the reason I'm in this program. She's absolutely amazing and my favorite person in the College of Nursing. She focuses on advanced care planning in minority patients and since I'm interested in end of life issues she's a great mentor. 
I had no idea that all of the people would be so supportive. In undergraduate programs there's a lot of competition. But not here. Not only are the faculty great, but I have the very best cohort. We have a WhatsApp chain. The program is tough. If I ever feel like giving up, I remember my great cohort. I couldn't ever leave them!
Everyone is invested in helping you succeed. I'm a T32 fellow and the college really helped guide that process. I was actually deployed the first semester of my master's degree and my professors were so understanding. It's a great school for veterans. 

Anything else you'd like to share? 
It's amazing how much your thinking about thinking is broadened in this program. How important it is to be clear and define what you're talking or writing about. Not believing everything you see or read – actually digging into the research and taking the time to critically analyze things. It's not something I expected. 
-------------
Next, Meet Major Shawnice Shankle (RET) (on the left of the photo above), an Air Force veteran pursuing a PhD in nursing and investigating long-term health outcomes for veterans. 
Can you tell us about your background and what led you to pursue your PhD in nursing? 
I grew up in Appalachian Ohio and joined the Army right out of high school. I was the class salutatorian and wanted to go to medical school, but had no money and no idea how to get there. No one in my family had ever gone to college. 
I served eight years in the Army as a medic. When it was time to go to school, I realized I didn't really want to be a physician. I was interested in the caring side of nursing. Ultimately spent some time as an oncology nurse where I was able to support patients and families through really hard times. 
After getting my bachelor's degree in nursing, I swapped branches and joined the Air Force where I served as a nurse. 
I retired from the Air Force in 2020 after serving for 24 years and moved back to Ohio to begin my PhD because I had questions that didn't seem to have solid answers. Why was my body breaking down faster than that of my non-military friends? What long-term health outcomes are at play for women in the military? What about for military women from Appalachia? I decided it was time to go figure it out myself. 

What similarities did you find in clinical nursing and military service?
I've only ever been a nurse in the Air Force. I don't have any civilian nursing experiences. My experience with nursing and the military are completely intertwined. What I loved about being a nurse in the military is that we sincerely believed in the team way of getting things done. Everyone is on the same team and committed to completing the mission – getting the patient well and back to their mission as fast as possible. 

What sets The Ohio State University College of Nursing's PhD program apart from the rest? 
The quality of the education and the location appealed to me, but what's blown me away are the people. 
My mentors and advisors, Dr. Sonia Duffy and Dr. Laureen Smith, as well as my wonderful professors have been amazing. Nurses can be a competitive group, but there's none of that nonsense in the PhD program at the College of Nursing. I've never attended a school so dedicated to student success. They're dedicated to you making it – willing to walk with you every step of the way and make time to support you. 
And my cohort! We're like a little raft of ants all supporting each other on top of a big lake—we're friends. Despite no two people having exactly the same research interests, we talk to and learn from each other as much as we do from our professors. 
The veterans support at Ohio State has been second to none. I'm funded through the VA's
Veteran Readiness & Employment vocational rehabilitation program and Ohio State's Military and Veterans Services Office has taken care of everything with the VA. I haven't had to worry about anything. On top of that, Dr. Pickler has kept me abreast of several non-profit scholarships specific to veteran health. 

Anything else you'd like to share? 
Everyone says once you have a PhD, you'll never think the same way again. The military is like that, too. And that's a good thing. Being a veteran and becoming a nurse scientist are accomplishments for which I will always hold my head up high.