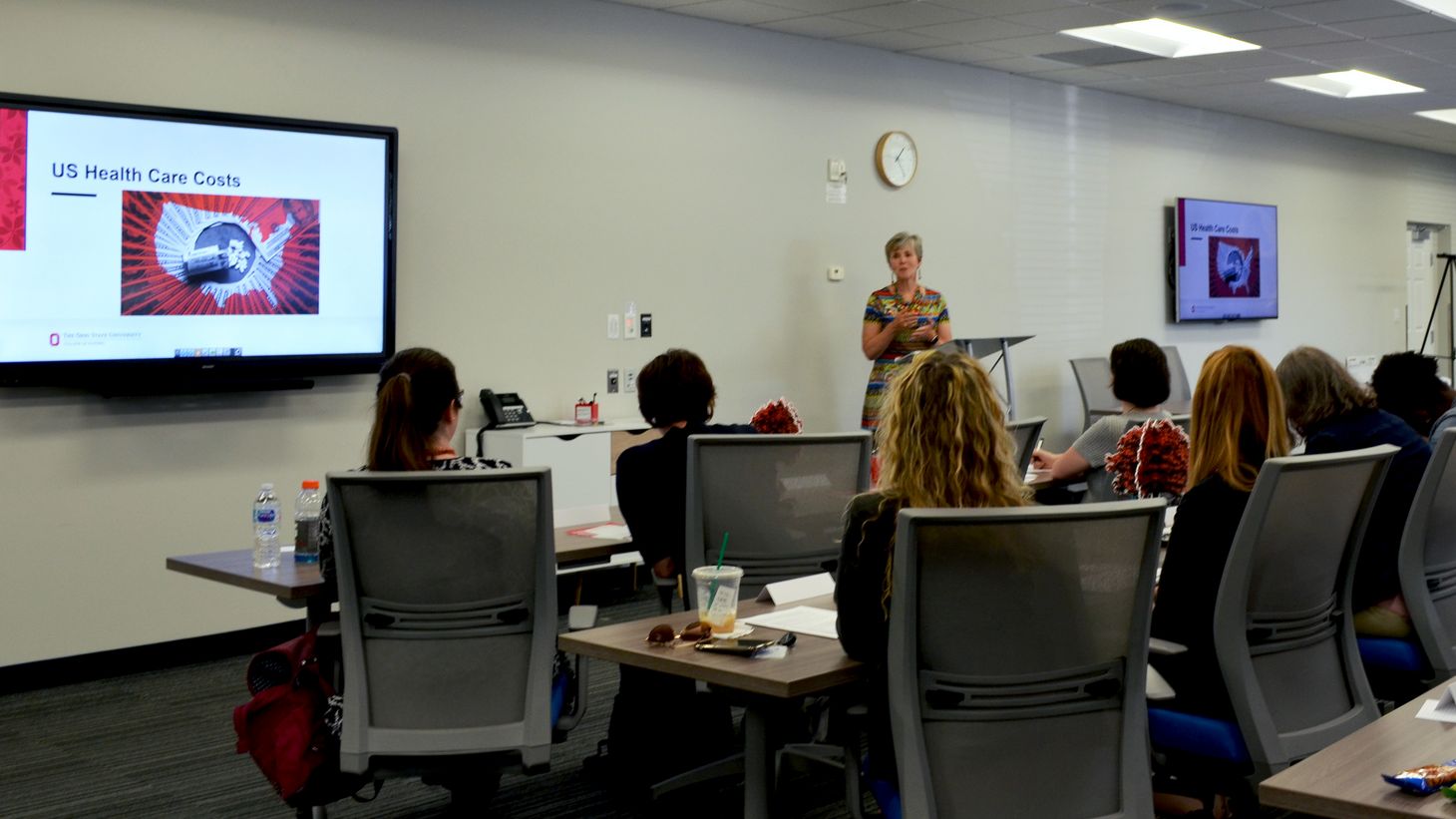 The Ohio State University College of Nursing Leads the Charge to Expand Critical Nursing Roles in Primary Care
College of Nursing launches new programs to educate RNs for primary care settings
The Ohio State University College of Nursing hosted an event for current and future registered nurses (RNs) on Thursday to promote new programs aimed at preparing RNs for enhanced roles in primary care settings.
The college is leading the charge in the movement to expand opportunities for current and future RNs to receive the education they need for these roles. The Registered Nurses in Primary Care Certificate for current working nurses (offered 100% online) – along with a companion residency program to build confidence in the new skills RNs are learning – and the Primary Care Academic Certificate for BSN and RN-to-BSN students at Ohio State were developed to enhance the role of the registered nurse in several areas, including:
Episodic and preventative care
Triage
Chronic disease management – including mental health and substance use disorders
Hospital transition management
Health coaching
Quality improvement
Leadership
"We spend $3.3 trillion on healthcare in the United States, more than any other developed country. The majority of that (90%) goes to treat chronic and mental health conditions," said Margaret Graham, PhD, APRN-CNP, FAANP, FAAN, vice dean and associate professor in the College of Nursing. "Sixty percent of our population has one chronic disease; 40% has two or more.
"While there has been an increase in nurse practitioners, we really don't have enough providers in Ohio to meet the demand," Graham continued. "Across the country, only about 10% of RNs are currently working in primary care."
Simple Google searches show dozens of job openings across central Ohio for nurses interested in working in primary care settings. Healthcare organizations large and small are searching for nurses prepared to practice at the top of their license to provide patients with quality care in community-based settings.
The demonstrated need is clear. Several recent media stories highlight the critical need for well-qualified and well-prepared nurses. The 2019 Health Value Dashboard from the Health Policy Institute of Ohio ranked the state 46th on health value, a composite measure of Ohio's performance on population health outcomes and healthcare spending. Causes for this low ranking include issues with access to care and insufficient spending on prevention. At the same time, demand for primary care RNs in Ohio is expected to grow substantially because of changes in healthcare delivery models, increased insurance coverage and an aging population. RNs represent the largest healthcare workforce in the country, with 222,200 in the state of Ohio alone.
Registered nurses attending the "Enhanced and Innovative Role of the RN in Primary Care" event had many reasons to consider a shift to primary care, from work-life balance to seeking new opportunities.
"Maybe this is another door, an avenue for something different," said one RN.
Others already engaged in the program are using their new knowledge and skills to make an impact in the primary care setting.
"Through the certificate program, I have been able to educate my team on healthcare bias," said current student Melynda Iles. "We allow the patient to be at the center of their care. We listen to them, meet them where they are and refer them in the right direction."
"I wanted to learn something new," said Kieonna Stewart, care coordinator for Primary One Health. "The residency program was an eye-opener and gave me a chance to bounce ideas off other students. I also have more confidence in myself and feel that I have a voice as an RN." 
The Registered Nurses in Primary Care certificate program – which aims to enroll and educate at least 100 current RNs in Ohio over four years based on grant funding from the federal Health Resources and Services Administration (HRSA) – will help build foundational support for primary care intervention and proactive approaches to create a healthier population in Ohio. This is the College of Nursing's first HRSA grant dedicated to RN education. Tuition assistance is available through the grant to enroll in the RN in Primary Care certificate program.