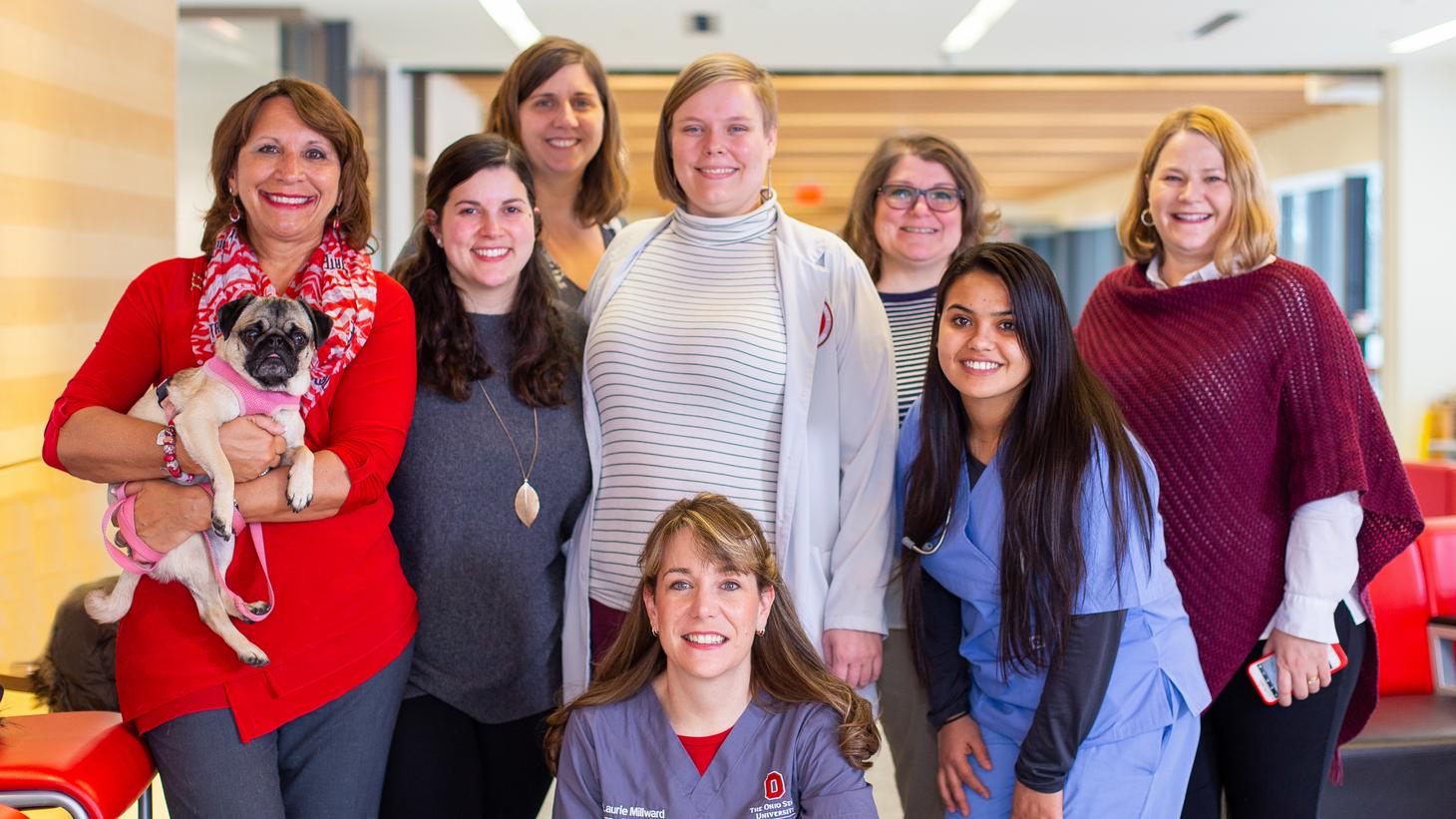 The Ohio State University Colleges of Nursing, Veterinary Medicine, Social Work launch new "POP Care" healthcare model to improve health of homebound adults and their pets
Rita & Alex Hillman Foundation funds pilot of first-of-its-kind program targeting well care for pet owners and pets
COLUMBUS, Ohio – Both human and animal patients stand to benefit from an innovative new model of healthcare launched today by leaders of The Ohio State University Colleges of Nursing, Veterinary Medicine and Social Work.
The POP (Pet Owner and Pet) Care pilot program is funded through a Rita & Alex Hillman Foundation Emergent Innovation grant. It joins the knowledge and service of three academic colleges to transition a pattern of reactive sick care into proactive, holistic well care for homebound adults with multiple chronic conditions and their pets.
"As a pet owner and mother of a future veterinarian, this project is near and dear to my heart," said Bernadette Mazurek Melnyk, PhD, RN, APRN-CNP, FAANP, FNAP, FAAN, vice president for health promotion, university chief wellness officer and dean of the College of Nursing, who is the creator and principal investigator for this grant. "When we talk about transforming health and transforming lives, this innovative strategy is the type of creativity so needed in today's healthcare system. This collaborative partnership among our health sciences colleges has great potential to change the face of well care, not only for the population of people and pets in our own community, but also to serve as a national model for the country to emulate."
The POP Care program borrows from the "One Health" concept endorsed by the Centers for Disease Control and Prevention, which suggests that the health of people can be directly connected to the health of the animals and environment around them. The program creates a nurse practitioner-led, inter-professional team of a nurse practitioner, veterinarian, and social worker to address the health needs of people and their pets, with the goal of improving health outcomes for both.
"We know from research that the human-animal bond – especially for our older neighbors who live by themselves – is beneficial to both parties' well-being," said Laurie Millward, DVM, MS, DACVP, assistant professor in the College of Veterinary Medicine who also leads outreach efforts for the college. "It's true that when you improve care for a pet, you also improve outcomes for the humans who love them."
Participating students and faculty from the College of Social Work will assess social determinants of health, including access to nutritious food, transportation, and opportunities to connect to other socially in order to connect patients to resources that can help address those needs.
"This program can change the way we educate students and care for underserved populations in our communities," said Holly Dabelko-Schoeny, PhD, associate professor in College of Social Work, whose research and expertise include testing innovative interventions to support the well-being of older adults. "We are very excited about learning how both students and patients benefit from this experience so that this approach can be scaled more broadly."
This interdisciplinary approach will engage students and supervising faculty from each of the three participating colleges. Students will be assigned individual patients to visit at the patients' homes and provide home care once a week for four weeks. Approximately 60 students from the Colleges of Nursing, Veterinary Medicine and Social Work will be engaged to assess 60 households during this pilot program. A final data analysis based on surveys and health outcomes is expected in December of this year.