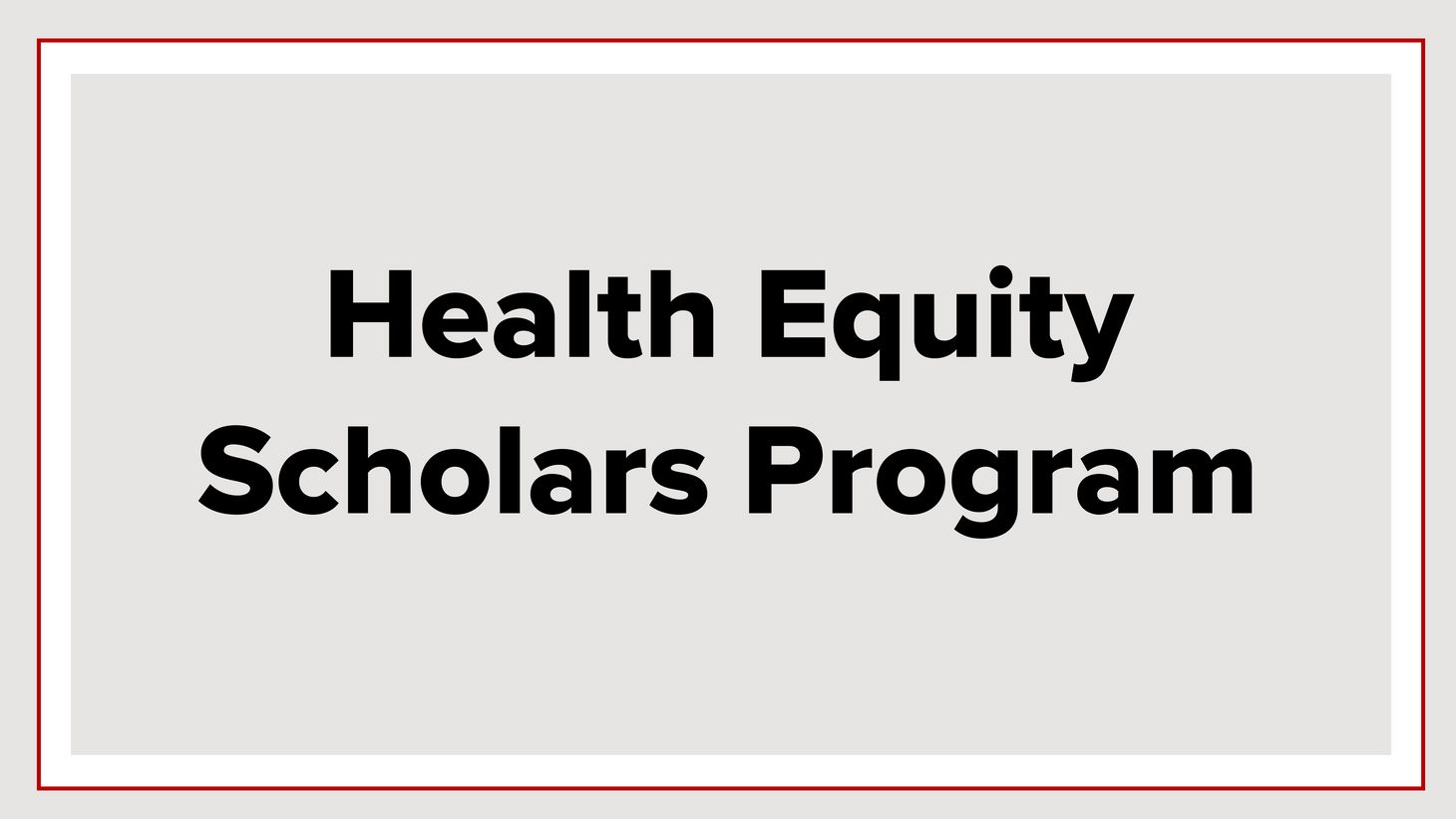 Inaugural cohort of new Health Equity Scholars Program unveiled
Student/faculty partnerships to pursue projects that improve health equity and outcomes in diverse populations
Five interprofessional teams of students and faculty mentors will soon start their work as part of the inaugural cohort of The Ohio State University's new Health Equity Scholars Program.
The program is open to the entire university community through a partnership of the Office of the Chief Wellness Officer, College of Nursing and the Office of Interprofessional Practice and Education serving Ohio State's seven health science colleges and the Wexner Medical Center. Its mission is to "prepare students with advanced education and skills to guide the generation or implementation of evidence to improve health equity in our community."
"Health Equity Scholars are passionate, driven students and faculty who are committing themselves to improving health and well-being in our neighborhoods," said Angela Alston, DNP, MPH, APRN-CNP, assistant professor of clinical nursing and chief diversity officer at Ohio State's College of Nursing. "The pandemic has shined a bright light on inequities that have persisted for far too long, and these teams will be the first through this program to advance projects aimed at helping people live happier, healthier lives in their communities."
The five teams chosen for the first Health Equity Scholars cohort are:
(U – Undergraduate | G – Graduate/Professional)
Initiation and maintenance of a Community Fridge to address health disparities resulting from food insecurity

Students: Courtney Jewell (G) from Speech and Hearing Science, Jevin Litwiler (U) from Health Sciences
Faculty mentor: Dr. Claire Bollinger, School of Health and Rehabilitation Sciences
Develop a training program to equip providers caring for underrepresented OB/GYN patients

Students: Abigail Berk (U) from Biomedical Science, Alexandria Pickett (G) from Medicine
Faculty mentor: Dr. Megan Gregory, Department of Biomedical Informatics
Develop a community-based wellness program working with Partnering in Negating Statistics (P.I.N.S.) for Black Women as part of a research project

Students: Sarah Addison (G) from Medicine and Faith Metlock (U) from Nursing
Faculty mentor: Dr. Timiya Nolan, College of Nursing
Create animations to educate the public about the importance of vision and eye health

Students: Araba Otoo (G) from Optometry and Katie Hsieh (G) from Nursing
Faculty mentor: Dr. Dean VanNasdale, College of Optometry
Address food insecurity by teaching youth about healthy eating in an artistic way

Students: Chikamnele Nkwocha (U) from Biomedical Engineering (pending admission) and Studio Art (double major), Nyah Conway (U) from Medical Anthropology and Spanish (double major)
Faculty mentor: Dr. Christopher Ratcliff, College of Engineering
"I am so inspired by these teams of interprofessional students and faculty and the vision they have for the change they want to see in the world," said Andrea Pfeifle, EdD, PT, FNAP, associate vice chancellor for interprofessional practice and education for Ohio State's health science colleges and the Wexner Medical Center. "These projects have the potential to truly change the trajectory of whole communities, and I cannot wait to watch them succeed."
"This program is the epitome of our college's mission to dream, discover and deliver a healthier world," said Bernadette Melnyk, PhD, APRN-CNP, FAANP, FNAP, FAAN, vice president for health promotion, university chief wellness officer and dean of the College of Nursing. "These talented students and their expert mentors so exemplify the commitment that our fantastic faculty, staff and students share across our university to combat health inequities. I am so very proud of these teams who will embark on innovative work to transform health and improve lives."
The program will formally kick off in early September, shortly after the start of Autumn Semester classes. The scholar teams will engage in monthly learning events while they implement their proposed projects. The program will culminate with the student teams presenting their work at The Ohio State University National Conference on Diversity, Race and Learning in the spring of 2022.