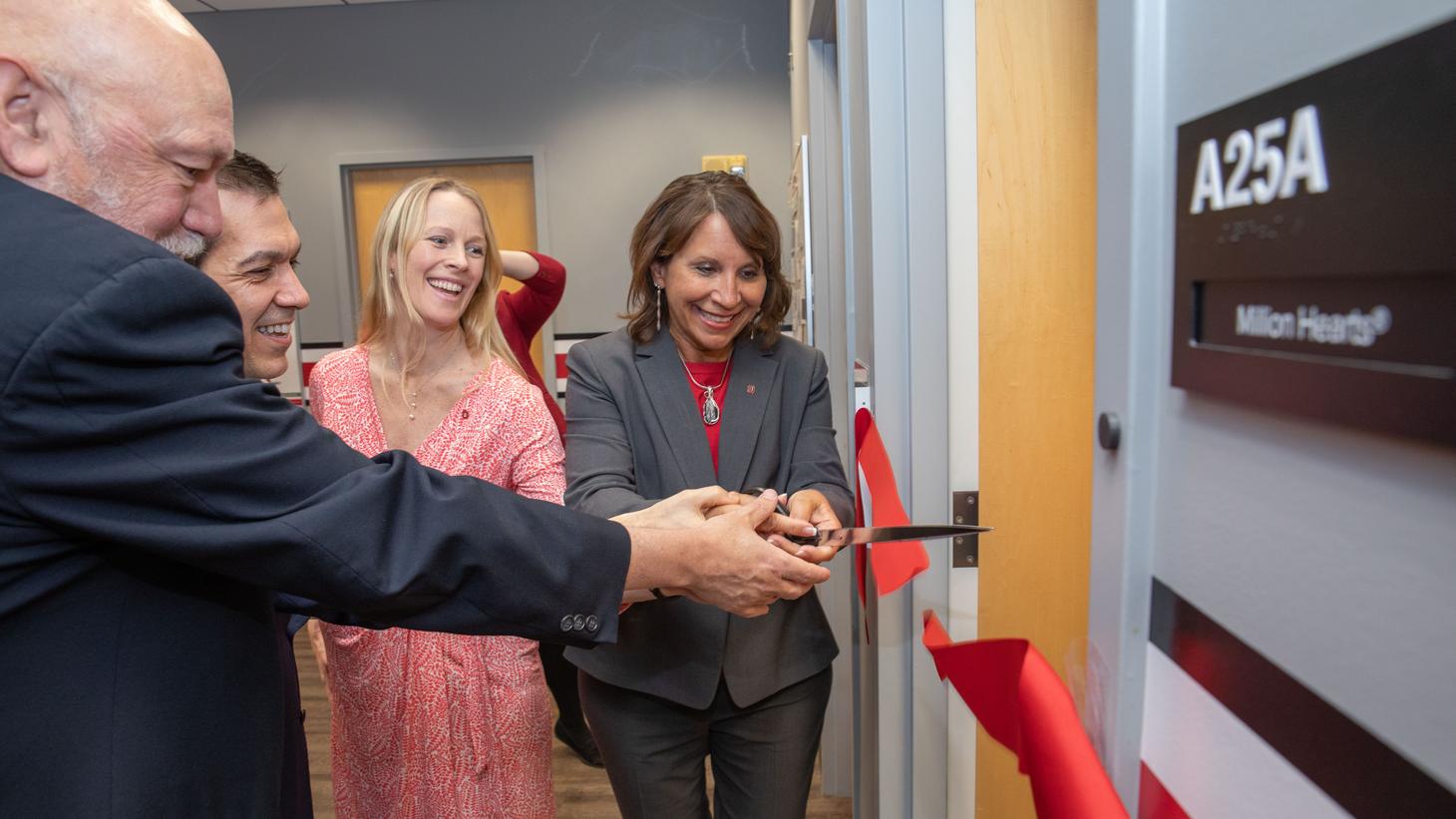 First-of-its-kind clinic opens at The Ohio State University to evaluate new interprofessional model for reducing cardiovascular risk
Partnership using national Million Hearts® initiative strategies aims to help at-risk faculty and staff at Ohio State live healthier lives
COLUMBUS, Ohio – Partners from several of The Ohio State University's health sciences colleges and the Richard M. Ross Heart Hospital cut a ceremonial ribbon today to officially open a first-in-the-nation clinic that features an innovative, evidence-based, interdisciplinary model aimed at decreasing risks for cardiovascular disease in at-risk faculty and staff at Ohio State.
The Million Hearts® Clinic at Ohio State uses evidence-based interventions and education espoused by the national Million Hearts® initiative, an effort co-led by the Centers for Disease Control and Centers for Medicare and Medicaid Services with the explicit goal to prevent one million heart attacks and strokes in the United States by 2022. That includes preventive lifestyle modifications guided by focusing on what the Million Hearts® initiative calls the "ABCS" of care: aspirin therapy, blood pressure control, cholesterol management and smoking cessation. The Ohio State clinic has added a focus on stress reduction to that list because of the known adverse effects of chronic stress on the cardiovascular system. Research shows that focusing on these elements of cardiovascular disease prevention can reduced risk by as much as 80 percent and save more than 100,000 lives every year.
"We are thrilled to pioneer this innovative interprofessional approach to preventive wellness care that we hope can serve as a model nationwide," said Vice President for Health Promotion, University Chief Wellness Officer, and dean of the College of Nursing Bernadette Mazurek Melnyk, PhD, RN, APRN-CNP, FAANP, FNAP, FAAN. "The Colleges of Nursing, Medicine, Pharmacy, and Education and Human Ecology along with the Ross Heart Hospital are coming together to dream, discover, and deliver a brighter and healthier future to improve heart health in our Buckeye family."
"Since its launch, the Million Hearts® initiative has aimed to galvanize and mobilize partners in pursuit of the audacious yet attainable goal of preventing one million heart attacks and strokes," said Janet S. Wright MD, FACC, executive director of the Million Hearts® initiative. "We know that when communities and their health care systems work together, millions of Americans across the country can live longer, healthier lives, free of heart disease and stroke. Finding those at risk and connecting them to care and community resources can take down the nation's number one killer.
"This is what makes the efforts of the partners at The Ohio State University so exciting," Wright continued. "By putting into practice many of the priorities, tools and practices advanced by the Million Hearts® initiative, Ohio State is demonstrating true leadership in cardiovascular disease prevention and a very real commitment to improving health of the university community."
For the pilot, this clinic seeks to engage faculty and staff from Ohio State between the ages of 21-75. Participants can be either employees or spouses of employees and must have at least one of the following risk factors:
Overweight/obesity
Pre-hypertension or hypertension
Pre-diabetes
Nicotine addiction
Elevated cholesterol
A first-degree relative who had an early heart attack or stroke (under the age of 55)
Participants will first take a brief pre-survey about their health, health behaviors and health beliefs. Advanced practice nursing students, who will be overseen by nursing faculty, will then conduct a cardiovascular assessment. Patients will get individualized counseling on ways to reduce their cardiovascular risk according to the Million Hearts® initiative's goals. Participants will self-identify key areas in their life that they want to improve and will receive prescriptions for lifestyle modifications such as exercise, diet, smoking cessation and stress reduction. The participants will then be referred to the other health sciences colleges for individualized coaching in these areas. Follow-up screenings at three- and six-month intervals will allow for comparison of the interventions over time.
"This clinic furthers our focus on proactive well-care rather than reactive sick care," said Kate Gawlik, DNP, RN, APRN-CNP, FAANP, assistant professor of clinical nursing and project manager of the Million Hearts® initiative at Ohio State's College of Nursing. "We are very excited about its potential and about the partnerships, professionals and students involved who will truly help our faculty and staff live healthier lives."
The Million Hearts® Clinic at Ohio State will be offered in two locations (the College of Nursing's Newton Hall and the Physical Activity and Education Services building) on the Columbus campus. The clinic will be offered 1-2 times per month throughout the 2019-2021 academic years.
In 2013, Dr. Bernadette Melnyk founded The National Interprofessional Education and Practice Consortium to Advance Million Hearts®, which now consists of more than 170 universities and organizations who are working together to improve cardiovascular health and well-being under the Million Hearts® initiative philosophy. An educational module built by the Colleges of Nursing, Medicine, and Pharmacy has led to the cardiovascular screening and education of more than 70,000 people nationwide.
---
"The Million Hearts® word and logo marks, and the Be One in a Million Hearts® slogan and logo marks and associated trade dress are owned by the U.S. Department of Health and Human Services (HHS). Use of these marks does not imply endorsement by HHS. Use of the marks also does not necessarily imply that the materials have been reviewed or approved by HHS."
By the Numbers:
Nearly half of all American adults – an estimated 121 million adults – have some form of cardiovascular disease (American Heart Association)
Goal of Million Hearts® initiative: prevent one million heart attacks and strokes in the U.S. by 2022
---
Contact:
Phil Saken, The Ohio State University
847-275-9025
Saken.2@osu.edu