Featured Image

Da'na Langford and the Village of Healing
by Aissatou Diallo
In February 2022, alumna Da'na M. Langford, MS, CNP, ('09 MS) realized her dream of opening a Black woman owned and operated clinic in Euclid, Ohio, with her business partner, Tenisha Gaines. The Village of Healing Center's goal is to decrease racial disparities in healthcare and improve patient outcomes.
Six months since its opening, the Village of Healing Center has seen more than 200 people. The clinic's focus is on Black providers, including a mental health therapist, a certified nurse-midwife and a registered nurse (soon-to-be nurse practitioner), taking care of Black patients. Langford notes, "when you have a provider that looks like you, your outcomes are better, your disparities decrease, your patient compliance is better, your medication adherence is better."
Inspiration for this dream came from many sources, including a trip to West Africa. In 2019, Langford visited West Africa and toured slave dungeons in Ghana. It was a moving experience. "In that moment, being present there, I felt my ancestors talking to me," she said, "telling me that I was destined for this and it was my responsibility." When she returned, she registered the name "Village of Healing."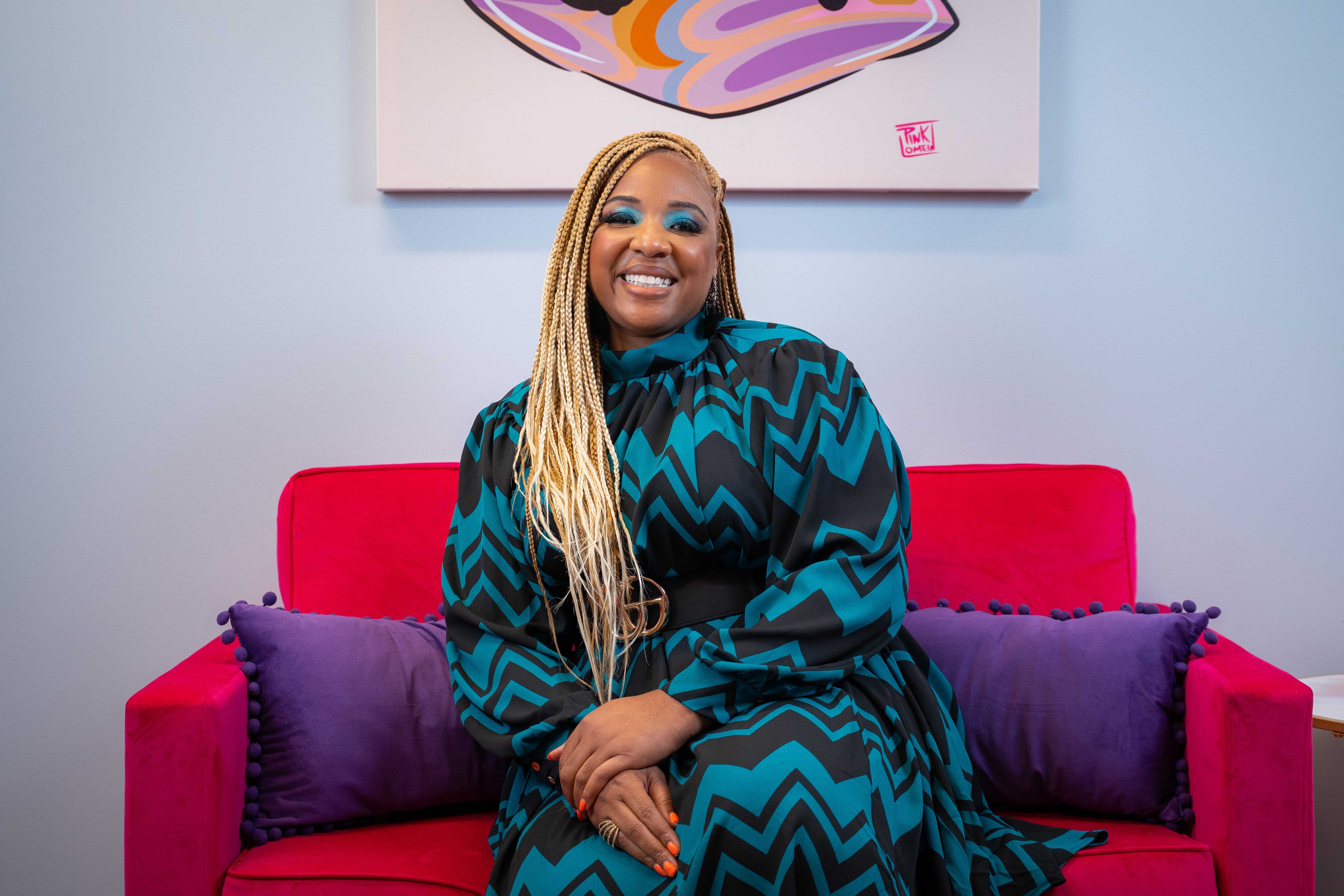 Disparities in healthcare had been evident to Langford since her childhood. She did not come from generational wealth, and she noticed that no one in the doctor's office looked like her except for those sitting at the front desk. For this reason, she did not feel fully comfortable sharing things that related to her medical care with her provider. Langford dreamed of a world where patients saw healthcare providers that resembled them and shared a similar lived experience.
After graduating with a bachelor's degree in sports medicine and while working on pre-requisites for medical school, Langford worked in a women's homeless shelter beside a nurse practitioner. She fell in love with the way the nurse practitioner took care of patients. "It was a care I had never seen before nor had I been given the opportunity to have," recalls Langford. "Here was this homeless population which most people would disregard and she was so compassionate. She was so focused in making sure they got good care." Inspired by this nurse practitioner, Langford decided to pursue a Master of Science in nursing with a specialization in Midwifery and Women's Health from the College of Nursing.
Langford knew that she wanted to be the best midwife in the Black community. While working at a large healthcare center in Cleveland, where she served predominately Black communities, she learned about infant and maternal mortality. It was during this time she met Gaines. According to a study done by the Centers for Disease Control and Prevention (CDC) from 2007 – 2016, college-educated Black women are five times more likely to die of maternal health complications than white women with similar education. Langford was furious to learn that this was destined for Black women. As a nurse-midwife, she realized, "I wasn't making a large enough scale difference. I was making micro changes and I need to make macro changes." Conversations were happening, but there was no action taking place. It was during those infant and maternal mortality meetings that Langford and Gaines decided to create the Village of Healing.
While the exterior of the clinic is unassuming, set in a strip-mall in downtown Euclid, inside the entire clinic is unapologetically Black and filled with color, leaving no wall untouched. An art gallery along one of the walls is filled with artwork created by Black artists. The exam rooms are named after three enslaved women, Anarcha, Lucy and Betsey, who suffered from experimental surgeries done to them in the name of gynecology.
Although gaining support for the center was difficult, Langford admits they have gained a lot of respect. This July, the Village of Healing received the Black Women Impact Grant in the amount of $200,000 over two years from Goldman Sachs' One Million Black Women initiative. They were one of 50 awarded out of 800 organizations. Langford broke down crying when she realized the Village of Healing was nationally recognized. She notes, "it was the first time we felt validated nationally about our work." In December of 2021, Governor DeWine's faith-based initiative also awarded the organization a grant of $250,000 for one year. Langford was excited to be recognized by her own state. "We felt that Ohio was finally seeing that Black people had solutions to this problem."
With all the recognition received, Langford admits that she is not proud yet. "I don't think I'll get to the point of proud yet until I've proven that this works – that this model is what is needed in our community across the board … when we're able to prove that this model works, that's probably going to be my proud moment."
---