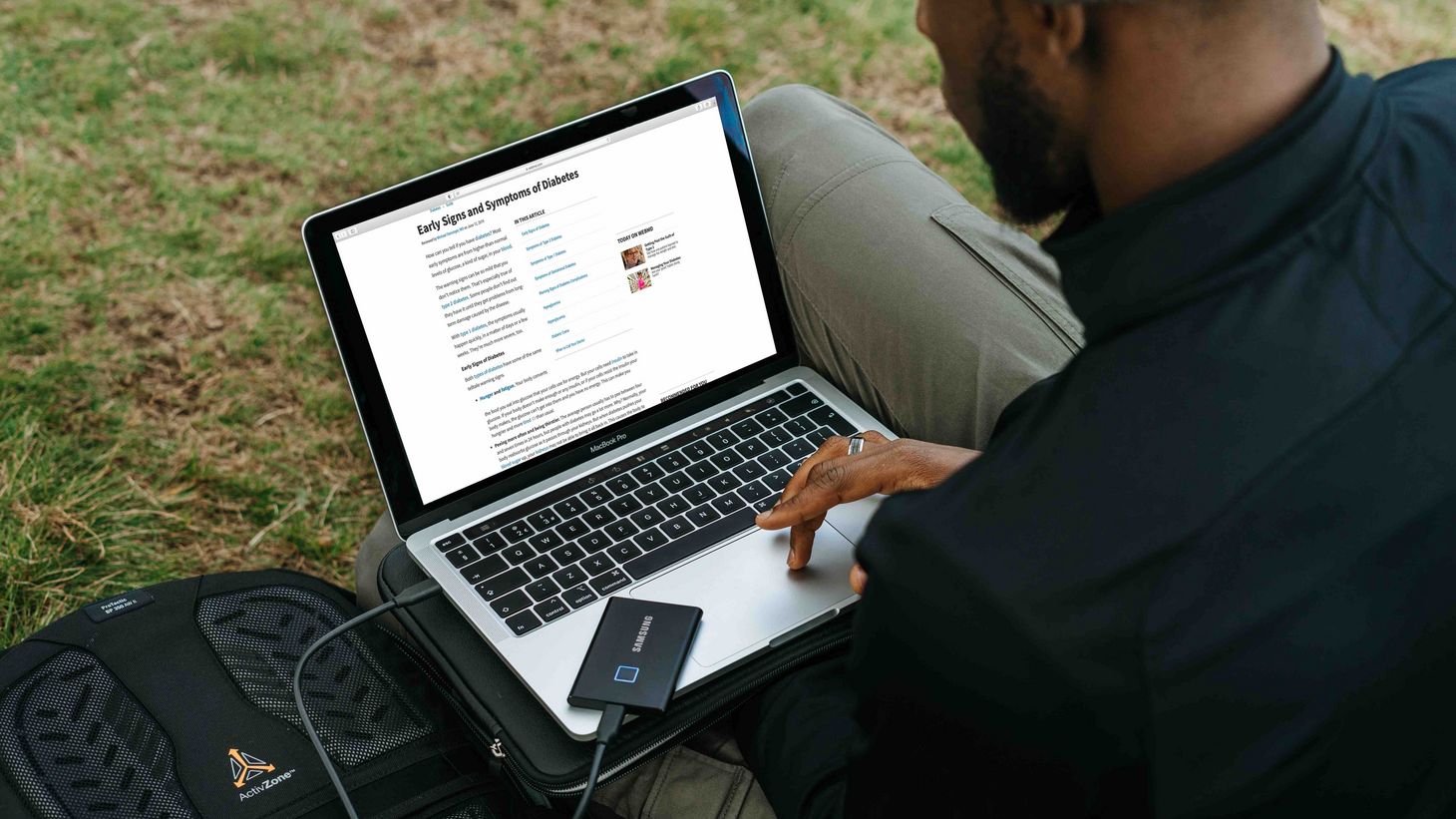 What About Me? Ensuring the Patient Perspective in Evidence-based Practice and Shared Decision Making
By Drs. Jacqueline Hoying and Inga Zadvinskis
While most clinicians readily support evidence-based practice (EBP), many people remain unaware of the essential role of the patient perspective in EBP. Think of EBP like a three-legged stool, with one leg representing best evidence, the second leg representing clinical expertise, and the third leg representing patient and family preferences in decision-making. If you pull one leg out, the structure collapses, and the decision is no longer balanced. Now more than ever, patients and families in the community have free access to healthcare information and "evidence" on the Internet. But is that information trustworthy, and how can people use health information to make smart healthcare decisions with their healthcare provider?
Health literacy is the degree to which individuals can find, understand and use information and services to inform health-related decisions and actions for themselves and others (Office of Disease Prevention and Health Promotion, 2021). Healthy People 2030 revised the definition of health literacy to stress the importance of using information rather than understanding it. Health literacy is essential because it can impact health, quality of life, and even risk of death. For example, a meta-analysis with five pooled studies of over 6,000 patients with heart failure found that patients with inadequate health literacy had a 67% increased risk of dying (mortality) (Fabbri et al., 2020).
While increased health literacy is a public health need, the preferred presentation of health information can vary from person to person. A scoping review that described the information needs of internet users found that requirements for online information vary widely (Wollmann et al., 2021). While most participants emphasized the importance of accuracy of health information and the presentation of both risks and benefits of treatment, there was inconsistency in desire for numerical data; some people felt overloaded with numerical data while others saw numerical data as helpful (Wollmann et al., 2021). Infographics, an eye-catching one-page document to communicate complex evidence-based information, may be an effective tool to improve health information and knowledge uptake in health (Mc Sween-Cadieux et al., 2021).
The age of COVID-19 and its impacts on public health perspective, information, sourcing and disease prevention bring special urgency to this aspect of healthcare as people seek answers to inquiries that affect them and their families. People in the community (i.e., health consumers or non-healthcare workers) need to learn the right questions to assess the trustworthiness of health information websites. Seeking health information from reliable sources and confirming it with healthcare professionals is vital for shared decision-making and optimal health outcomes. Fortunately, the U.S. National Library of Medicine offers a free tutorial to assess internet health information via MedlinePlus.
The Helene Fuld Health Trust National Institute for EBP in Nursing and Healthcare created a Community Core as part of its outreach model to help health information consumers separate fact from fiction. In fact, the Fuld Institute will dedicate a pre-conference track for the community (patients and families) for the first time during its biennial virtual National Summit on September 15 (see below for details).
The full-day pre-conference is divided into two parts. Consumers can register for one session (AM or PM) for $25 or the entire day for $40. You can click on this link for more information and to sign up.
Jacqueline Hoying PhD, RN serves as assistant professor of clinical nursing, director of the MINDSTRONG™ program and director of the Fuld Institute for EBP's Community Core at The Ohio State University College of Nursing. Inga Zadvinskis, PhD, RN serves as assistant director of the Fuld Institute for EBP's Community Core at The Ohio State University College of Nursing.
Pre-conference details
To begin the day, Dr. Kasey Boehmer from the Mayo Clinic will discuss how living with a chronic health condition changes how you see yourself, a term she calls "biographical disruption." She will ask community members to reflect on their sense of self and prioritize personal values, an essential component of patient preferences within EBP. Dr. Elaine Finucane, a midwife, Cochrane fellow and research associate in the Centre for Health Evaluation, Methodology Research and Evidence Synthesis (CHEMRES) from Ireland, will explain how health consumers created The People's Trial study from conceptualization to dissemination, which taught them principles of controlled research design. Dr. Finucane will also share a new Mythbusters website called iHealthFacts that checks health claims. Finally, Missy Creed, who serves as consumer health librarian at The Ohio State University Wexner Medical Center will co-lead a session with Dr. Zadvinskis about determining the trustworthiness of online health information.
In the afternoon session, internationally-renowned researcher Dr. Dawn Stacey from the University of Ottawa (Canada) will discuss how she created user-friendly tools to support patients' involvement in healthcare decisions. She will be joined by Maureen Smith, chair of the Cochrane Consumer Network Executive. Together, they will explain how patients and families see their role in shared decision-making for health. They will lead a fun breakout session to teach people how using a simple tool can make decisions easier.
---
The Fuld Institute for EBP is a national hub for forming, teaching, and disseminating best practices to improve healthcare quality, safety, costs, and patient outcomes. The Fuld comprises four Cores: Clinical (teaching clinicians to use EBP), Academic (helping faculty to teach EBP), Implementation Science (studying the uptake of EB interventions in practice), and the Community (supporting patients/families to use evidence).
About Fuld Institute for EBP | Fuld Institute for EBP (osu.edu)
The mission of the Community Core is to improve public health through evidence, and its tagline is "health evidence for everyone." Local and state-level community leaders of the Community Core Advisory Board (CCAB) guide the work of the Community Core.
Community Core | Fuld Institute for EBP (osu.edu)
---
Fabbri, M., Murad, M. H., Wennberg, A. M., Turcano, P., Erwin, P. J., Alahdab, F., Berti, A., Manemann, S. M., Yost, K. J., Finney Rutten, L. J., & Roger, V. L. (2020, Jun). Health literacy and outcomes among patients with heart failure: A systematic review and meta-analysis. JACC Heart Failure, 8(6), 451-460. https://doi.org/10.1016/j.jchf.2019.11.007
Mc Sween-Cadieux, E., Chabot, C., Fillol, A., Saha, T., & Dagenais, C. (2021). Use of infographics as a health-related knowledge translation tool: Protocol for a scoping review. BMJ Open, 11(6), e046117. https://doi.org/10.1136/bmjopen-2020-046117
Office of Disease Prevention and Health Promotion. (2021). Health literacy in healthy people 2030. U.S. Department of Health and Human Services. https://health.gov/our-work/national-health-initiatives/healthy-people/healthy-people-2030/health-literacy-healthy-people-2030
Wollmann, K., der Keylen, P. v., Tomandl, J., Meerpohl, J. J., Sofroniou, M., Maun, A., & Voigt-Radloff, S. (2021, August 1). The information needs of internet users and their requirements for online health information—A scoping review of qualitative and quantitative studies. Patient Educ Couns, 104(8), 1904-1932. https://doi.org/https://doi.org/10.1016/j.pec.2021.01.020