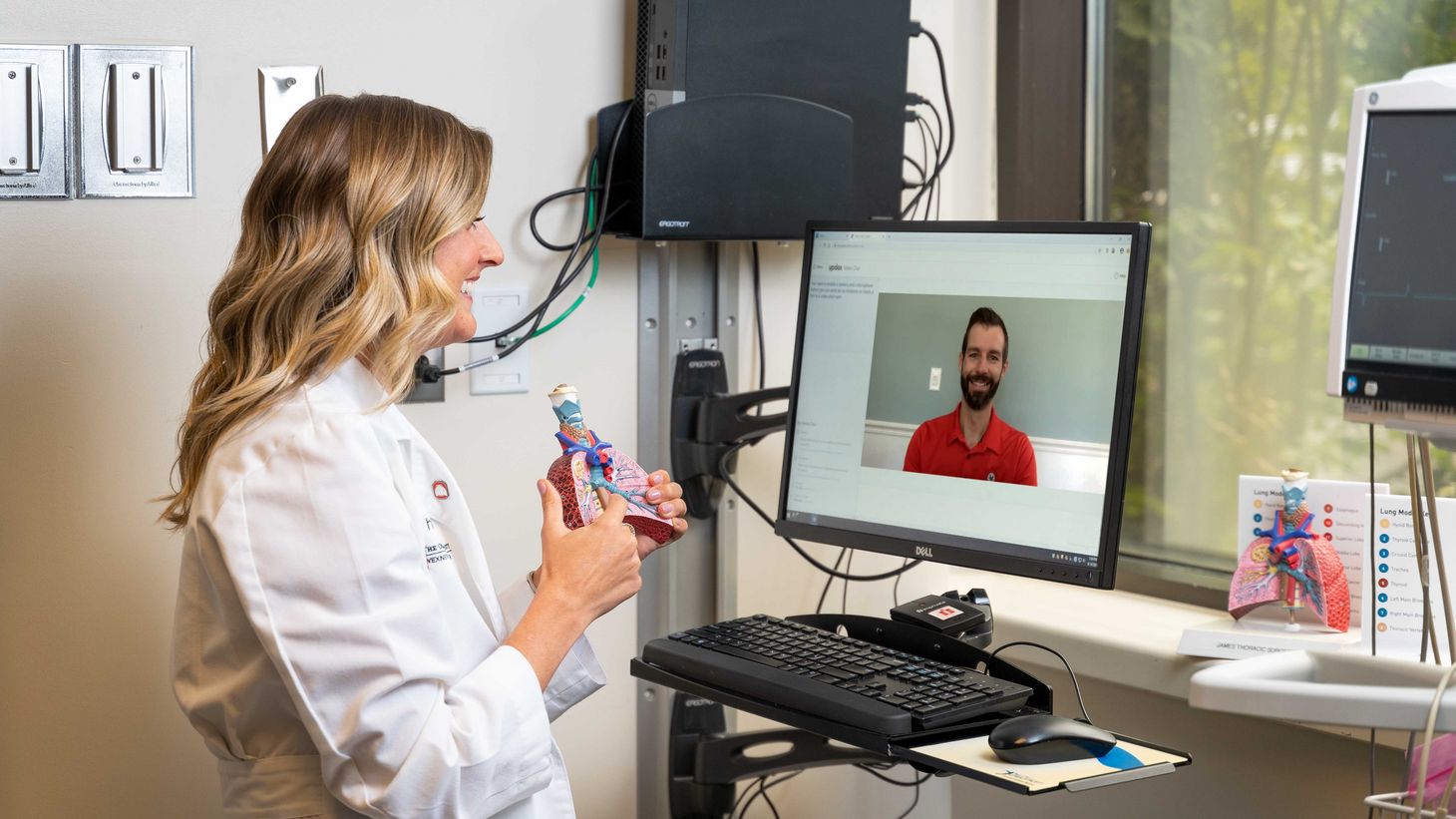 Telehealth Rises to the Challenge
---
A note from College of Nursing Dean Bernadette Melnyk:
We at The Ohio State University College of Nursing believe that evidence, empowerment and innovation can lead to awesome change for the better in our healthcare system, clinical practice and policy that benefit our patients and families as well as communities. We are launching this monthly series of thought leadership pieces to challenge thinking, address policy issues relevant to education and advocate for evidence-based practices that transform health and improve lives. We so look forward to sharing these thought-provoking and impactful articles with you every month!
---
by Pat Ford-Roegner
In the 1960s, NASA launched the use of telehealth to monitor astronauts' vital signs. Later, mental health counselors embraced the use of telehealth sessions.
Despite its strong historical track record, though, many policymakers have questioned telehealth's widespread usefulness for years. They cite the public's often-expressed reticence to share information via new technology and the need to devote limited funding resources to other diagnosis and treatment tools.
COVID-19 may now be bending the public perception curve toward telehealth. Patients with minor ailments or those wanting to know if their symptoms could be caused by the virus have been willing to forgo crowded waiting rooms, long waits for appointments with their primary care providers and fears of new devices to give virtual visits a try. The utilization rate has been impressive.
Teladoc Health – a U.S.-based multinational telemedicine and virtual healthcare company – reports running 2.8 million total virtual visits in the second quarter of 2020, tripling the number from 2019. A recent U.S. Department of Health and Human Services report of Medicare fee-for-service claims from January to June 2020 showed that the share of Medicare services accessed via telehealth jumped from 0.1 percent in February to almost 44 percent in April. The Centers for Medicare and Medicaid may well permanently expand telehealth coverage. Congress is considering bills to extend coverage and to fund studies measuring telehealth's impact on the future of patient-centered care.
Foundations are calling for research to study the impact of telehealth models on federally qualified health centers, rural health centers and home health care. Funding streams can shape the future of telehealth by addressing underserved communities, veteran care, homebound populations, racial health disparities and mental health services. As the pandemic and our society's reaction to it evolves, care is needed to bridge the gap between the haves and have-nots in using technology to deliver health care.
Telenursing is a key component of telehealth. The first documented telenursing event occurred in 1974 when Mary Quinn, RN, provided remote nursing care to patients at Boston's Logan Airport. In 1997 the American Nurses Association (ANA) published a definition along with professional guidelines.
Nurses engaged in telenursing practice continue to assess, plan, intervene and evaluate the outcomes of nursing care using technologies such as the Internet, personal computers, telephones, digital assessment tools and telemonitoring equipment.
New resources could provide clinical and educational leaders in nursing with new opportunities. The Ohio State University is well ahead of the game and could emerge as a nationwide leader with a seat at the telehealth policy tables inside and outside of government. The Mary Wiedle Hamilton Advanced Health Assessment Simulation Lab at Ohio State's College of Nursing includes a telehealth services portal for student practice. The college's curricula incorporates telehealth across the spectrum of care delivery experiences based on "evidence that virtual delivery of care is correlated with improved access to care, positive health outcomes, cost savings and patient satisfaction."
How will the nation's clinical community adapt to the new challenges and opportunities for telehealth? With a portal into patients' lives, nurses and other healthcare practitioners can assimilate what they are learning to improve the quality of care and make patient-centered care a reality. Stay connected on this evolution with Ohio State and your professional organizations!
Pat Ford-Roegner, RN, MSW, FAAN has previously served as Region IV director at the U.S. Department of Health and Human Services, chief executive officer at the American Academy of Nursing and health policy expert for Amplify Public Affairs.
---
Telehealth facts for the College of Nursing's Total Health and Wellness at The Ohio State University Wexner Medical Center East Hospital, our nurse practitioner-led comprehensive care facility and a Federally Qualified Health Center:
Before COVID-19/telehealth, the no-show rate averaged around 28% for established patients and 45% for new patients. In June and July of 2020, the no show rate for established patients has averaged 9.5% and the new patient appointment no-show rate in May was 18%. It is speculated that transportation was the biggest barrier for patients and the primary reason for missing appointments.

"Patients are appreciative that they do not have to come into the office and put their health at risk. They genuinely feel cared for and safe. I look forward to the time that I will be able to really see them and share a hug, but for now this is an excellent way to provide primary care," said Candy Rinehart, DNP, APRN-CNP, ADM-BC, FAANP, CEO and director of Total Health and Wellness.

Total Health and Wellness did not provide telehealth before the pandemic because it was not reimbursable. However, with the present payment structure, especially with Medicare and Medicaid, they are being reimbursed at nearly the same fee for service as before. With the decreased no-show rate and fuller provider schedules, Total Health and Wellness is able to continue its services and maintain staff and providers.
---
Read about the emergence and future potential impact of telehealth in Health Affairs: Telehealth Should Be Expanded—If It Can Address Today's Health Care Challenges
---