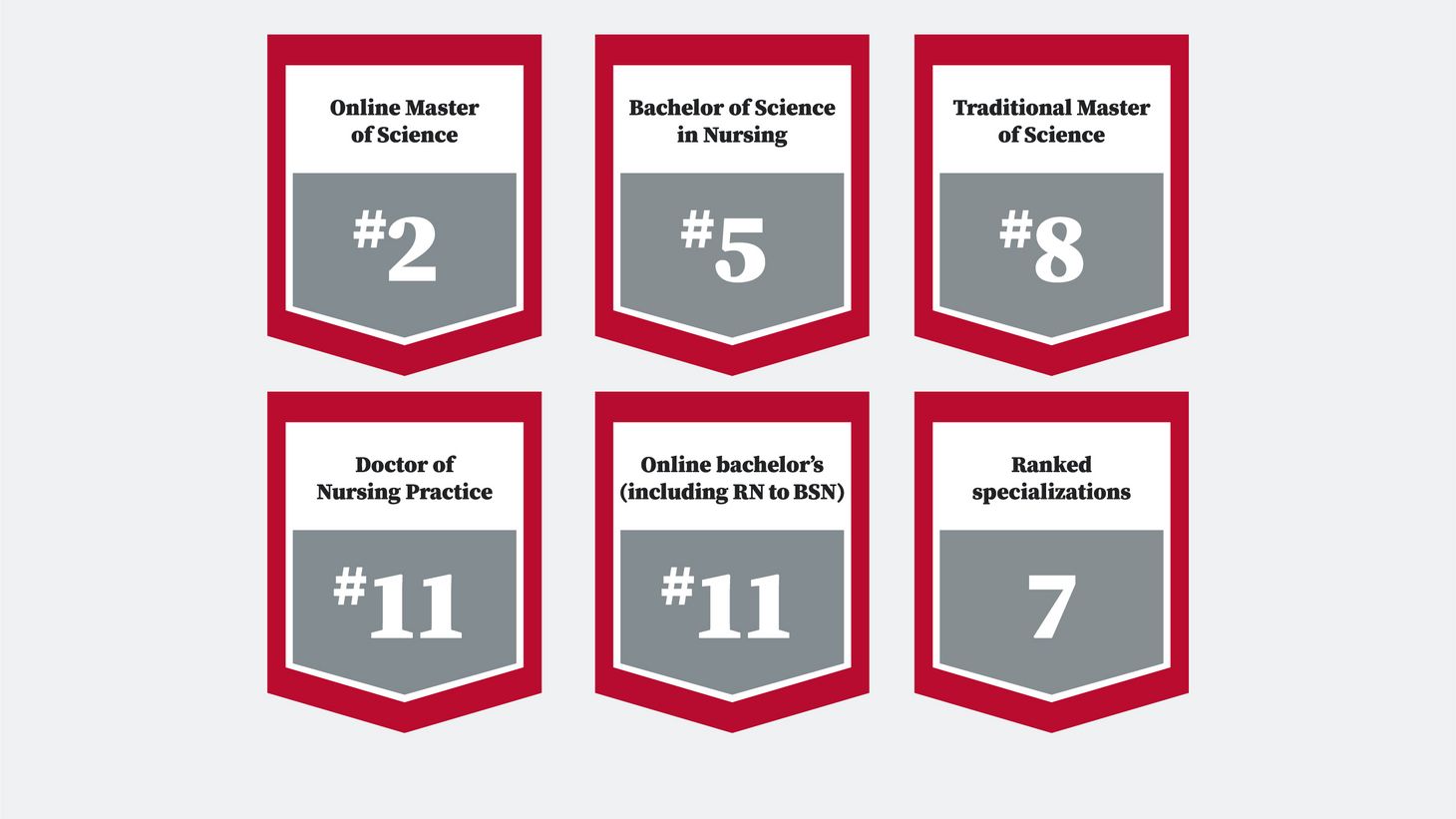 Master of Science, Doctor of Nursing Practice rank among best graduate nursing programs in the nation
U.S. News & World Report again places Ohio State among America's premier programs
New rankings of the nation's best graduate schools released this morning by U.S. News & World Report find The Ohio State University College of Nursing's Master of Science and Doctor of Nursing Practice (DNP) again ranked among the nation's very best. The rankings also reveal several graduate specializations that place among America's finest tracks.
The college's in-person Master of Science program ranked #8 in the nation (#2 among public institutions), the fifth consecutive year placing among the country's top ten. The following specializations were also highly ranked:
Adult Gerontology Acute Care: #7
Family: #7
Psychiatric/Mental Health: #7
The DNP program ranked #11 (#6 among public institutions), which also marks the fifth consecutive year for the DNP to place among the nation's top 20. The following specializations also earned high marks:
Administration/management: #3
Leadership: #3
Family: #8
"The rise in rankings of our outstanding academic programs is a testament to the tactics we implemented as part of our bold ambitious strategic plans during the past decade " said Bernadette Melnyk, PhD, APRN-CNP, FAANP, FNAP, FAAN, vice president for health promotion, university chief wellness officer and dean of the College of Nursing. "Our world-class faculty, staff, preceptors and partners provide our awesome students with the tools, knowledge and confidence they need to be evidence-based practitioners and leaders who dream, discover and deliver a healthier, more just world for all."
"Our programs are informed by innovative and passionate faculty who deliver instruction that is relevant, experiential and beneficial to healthcare systems everywhere," said Cindy Anderson, PhD, APRN-CNP, ANEF, FAHA, FNAP, FAAN, professor and senior associate dean for academic affairs and educational innovation at the College of Nursing. "When our students graduate, they are prepared to not only provide the highest quality of nursing care to patients across the lifespan, but also to influence and transform healthcare delivery to improve population health."
In January 2023, U.S. News & World Report released rankings for online nursing programs that also placed Ohio State's offerings among the nation's best. The College of Nursing's online Master of Science ranked #2 nationally, its online Family Nurse Practitioner specialization #2 (first among public institutions) and the university's online bachelor's programs (for which the college's RN to BSN comprises the highest enrollment) #11. In September 2022, the college's Bachelor of Science in Nursing (BSN) ranked #5 overall and #2 among public institutions.