Featured Image

COVID-19 Challenges Inspire Solutions
Johnson & Johnson Nursing's blog recently featured nurse innovators pioneering COVID-19 solutions across the nation. Several of them are College of Nursing graduates.
by Olivia DeFine
As Master of Healthcare Innovation (MHI) graduate students, fellow classmates and coworkers Jordan Bope, MHI, RN, Anne Pontillo, MHI, CCRN, Justin Kelly, MHI, CCRN, RHIA, and Kori Fenner, MHI, OCN, devised a plan for a virtual rounding tool to be used at The Ohio State University Comprehensive Cancer Center – Arthur G. James Cancer Hospital and Richard J. Solove Research Institute. The tool helps families connect with their loved ones' healthcare providers from home and engage in important conversations without being present. Although they developed this group project before the COVID-19 pandemic, they quickly adapted "Real Talk Real Time" to serve COVID-19 patients and their families.
In a recent interview, Bope commented, "The COVID-19 pandemic has highlighted how innovative we really are, but also highlighted how outdated some of our systems are. I would love to see us grasp this progress and stay with it and push for new and exciting things."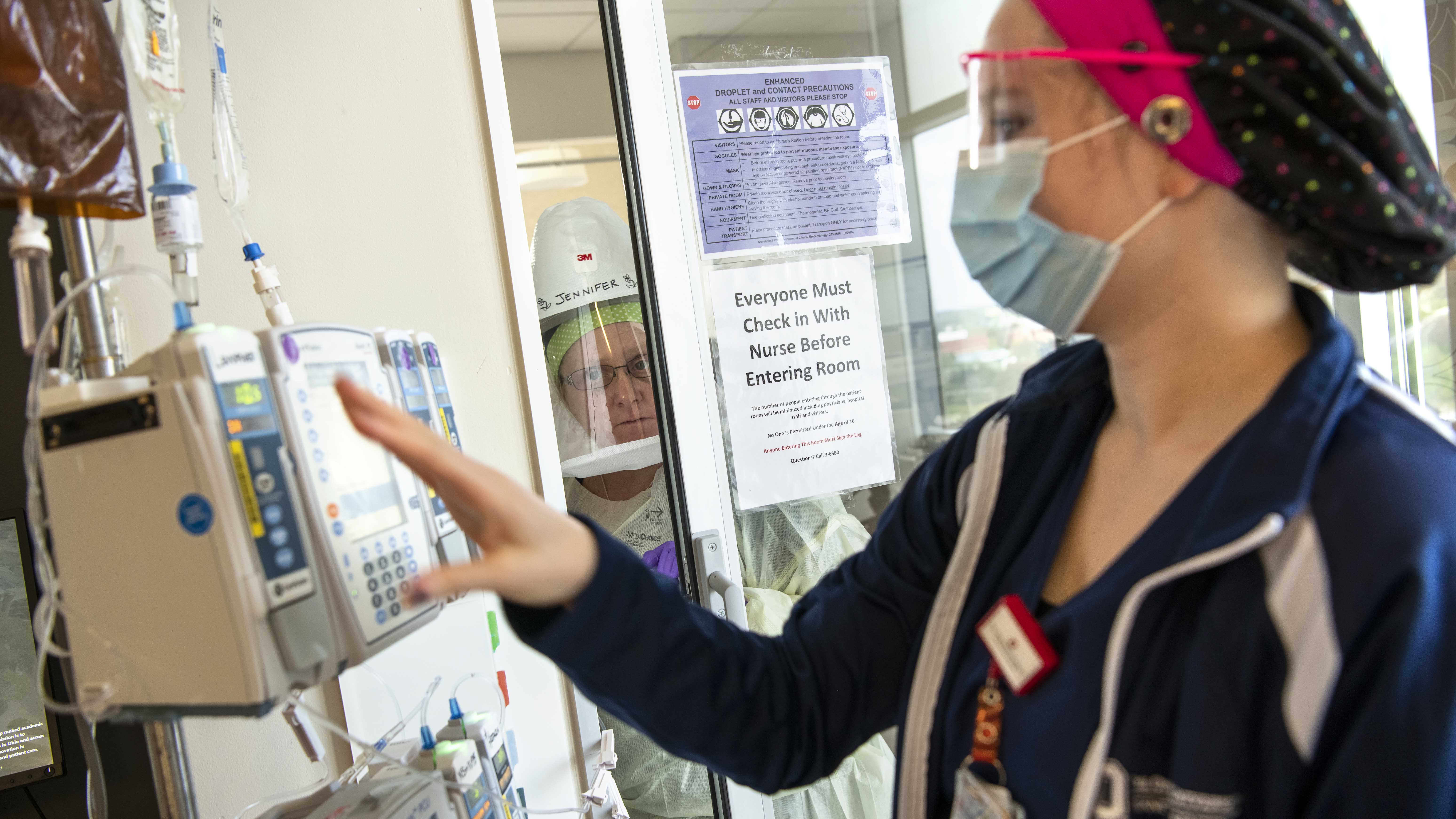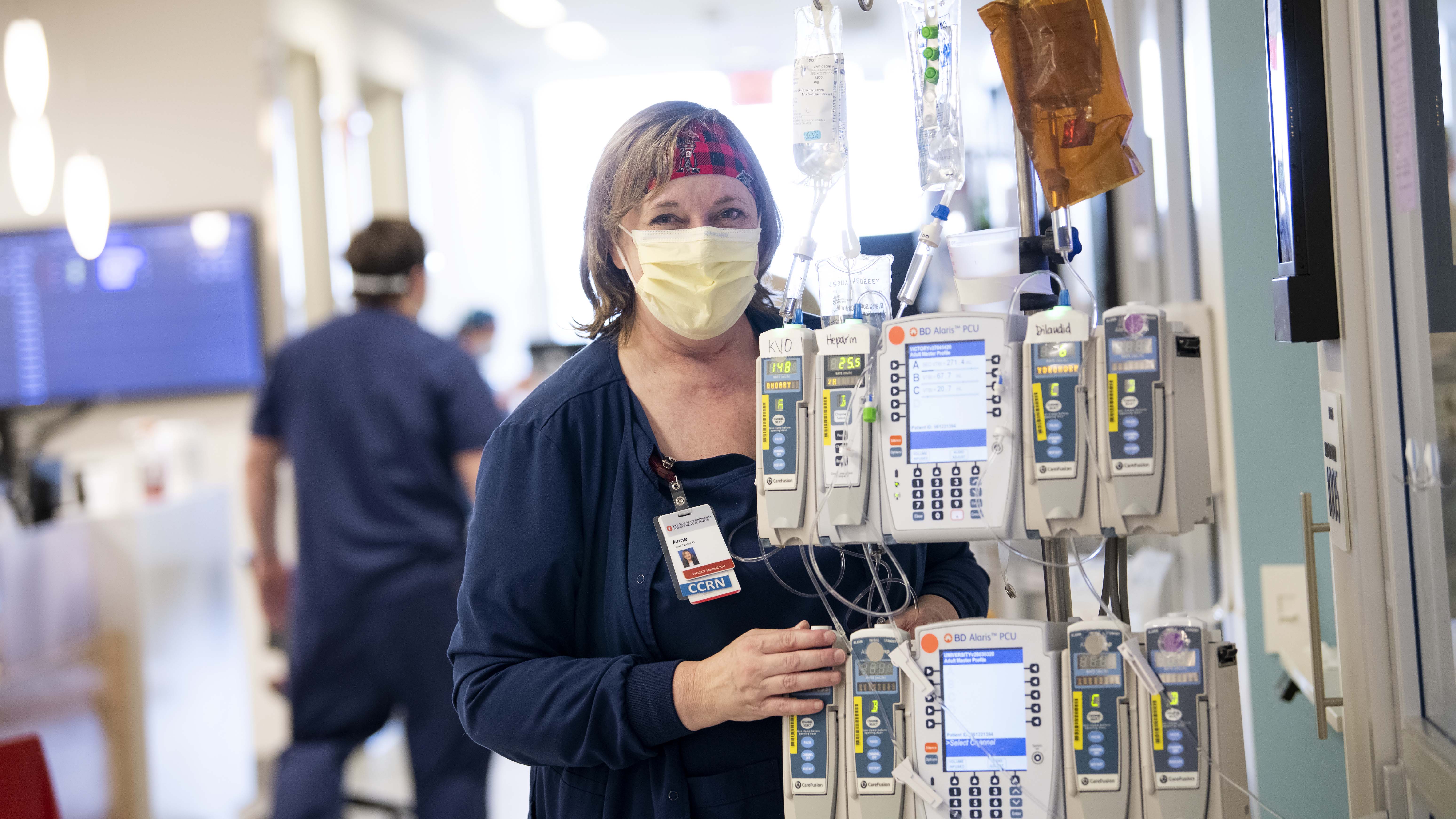 Meanwhile, another team of nurses at The Ohio State University Wexner Medical Center became increasingly aware of the shortage of personal protective equipment (PPE) caused by the influx of hospitalized patients across the nation due to the COVID-19 pandemic. Along with the shortage of PPE, COVID-19 also threatened healthcare workers with an amplified risk of exposure to the virus. In response to these problems a dedicated nurse team, including College of Nursing alumni Laureen G. Jones, MSN, RN, APRN-CNS, AGCNS-BC, PCCN, Anne Pontillo, MHI, RN, CCRN, and Levi Wynn, BSN, RN, set out to save PPE and minimize opportunities for exposure. This meant finding a way to put IV pumps outside of the patients' rooms, thus reducing both the risk of exposure and use of PPE because nurses would not need to enter as often.
Over many weeks and plenty of trial and error, the team found the ideal combination of tubing length, alarm limits and volumes, occlusion pressure limits, proper flushing of lines, proper securement of the lines to prevent a trip hazard or potential line removal and reliable power supply. Eventually, the technique was approved by hospital leadership and a trial period began. During the two-week trial period, it is estimated that 22 sets of PPE per patient per 24 hours were saved, resulting in 4,446 sets of PPE saved in two weeks.
"COVID-19 has opened our eyes in terms of innovative thinking in healthcare," said Laureen Jones, and the team agreed. "It is amazing how resourceful a nurse can be when faced with a precarious situation. As innovation has always been forefront in healthcare, COVID-19 has given a new meaning to the term 'necessity is the mother of invention!' Through outstanding collaboration among bedside nursing, nursing education and management, physician teams, senior nursing leadership, the department of pharmacy, supply chain and many others, great innovations in the MICU were realized and staff and patient safety prevailed."