Featured Image

Katherine "Kitty" Kisker ('66, '67 MS) Selected for 2019 Distinguished Service Award
by Chelsea Schmitz
Over five decades.
That is how long Kitty Kisker ('66, '67 MS) has served The Ohio State University as a faculty member, advisor and volunteer leader. From beginning her nursing studies at Ohio State in 1963 to her continued service in several capacities, Kisker has always found a way to help and support others.
The Ohio State University honored Kisker with the 2019 Distinguished Service Award for her dedication to service. Established by the Board of Trustees in 1952, this award recognizes individuals who have rendered exceptional service to the university. Awards are not made on the basis of long, faithful or loyal service alone, but rather for service that is truly distinguished.
Kisker began her relationship with Ohio State in 1963, when she enrolled as an undergraduate nursing transfer student. Immediately, she started getting involved. She joined the residence hall government and helped create the constitution for the South Campus Student Association for bi-gender residence hall student governance. Kisker was selected for the honor society Mortar Board and is still active with this organization today.
"I had a very happy and meaningful undergraduate experience," Kisker said. "It was enriched by being taught by caring faculty, getting to know not only my group of classmates, but also being able to interact with students from so many other disciplines and areas of interest."
This involvement is, in part, what led to her continued commitment of service to the university. Upon earning her bachelor's degree in 1966 and master's degree in 1967, she accepted a faculty position with the college in 1968. Kisker taught undergraduate students for several years, guiding their clinical experiences at (what is now) The Ohio State University Wexner Medical Center Dodd Rehabilitation Hospital before assuming the role of director of student affairs in the College of Nursing in 1985.
"Kitty was one of the best instructors I had during my undergraduate studies," Kathleen Binzel Bringardner ('78, '80 MS) said. "Her animated lectures and stories made the nursing subjects come alive. I was a nursing instructor for several years at an associate degree program and I tried to model my teaching style after Kitty's. We are better nurses because of her teaching, and through her, have touched many lives."
Kisker's love for nurturing and mentoring students expanded beyond the classroom. She served as the faculty advisor for Nursing Student Council, Alpha Tau Delta, Chimes, Mortar Board and Ohio Staters Inc. In addition, she served as an advocate for students through her numerous contributions to academic affairs, which included coordinating the university's Committee on Academic Misconduct from 1993 to 2002.
"I remember Kitty Kisker as being a nurturing and inspirational leader," Jeanette Newman Lepinski ('73) said. "She was never too busy to talk to a student or explain and clarify points when a student did not understand."
Since retiring, Kisker looks back fondly on her time spent at Ohio State. She co-chaired the College of Nursing Alumni Society Scholarship Committee from its inception until it reached its goal of raising $1 million by the college's centennial. She currently serves on the University's Alumni Advisory Council.
"I love what I have done with the university and the time I have invested," Kisker said. "I'm very appreciative of those that put my name forward for this award. It's a wonderful recognition that I did not seek. I'm still overwhelmed by it."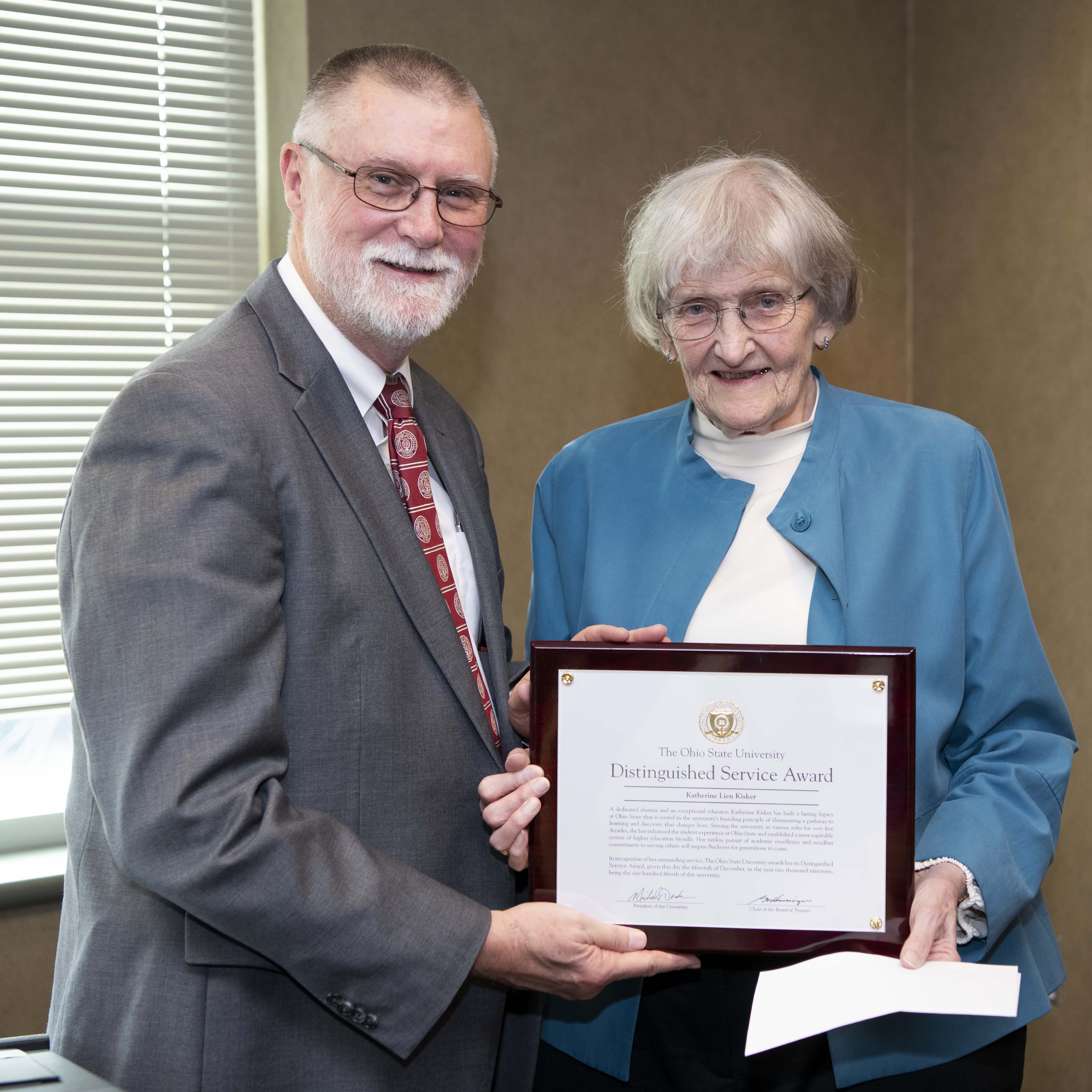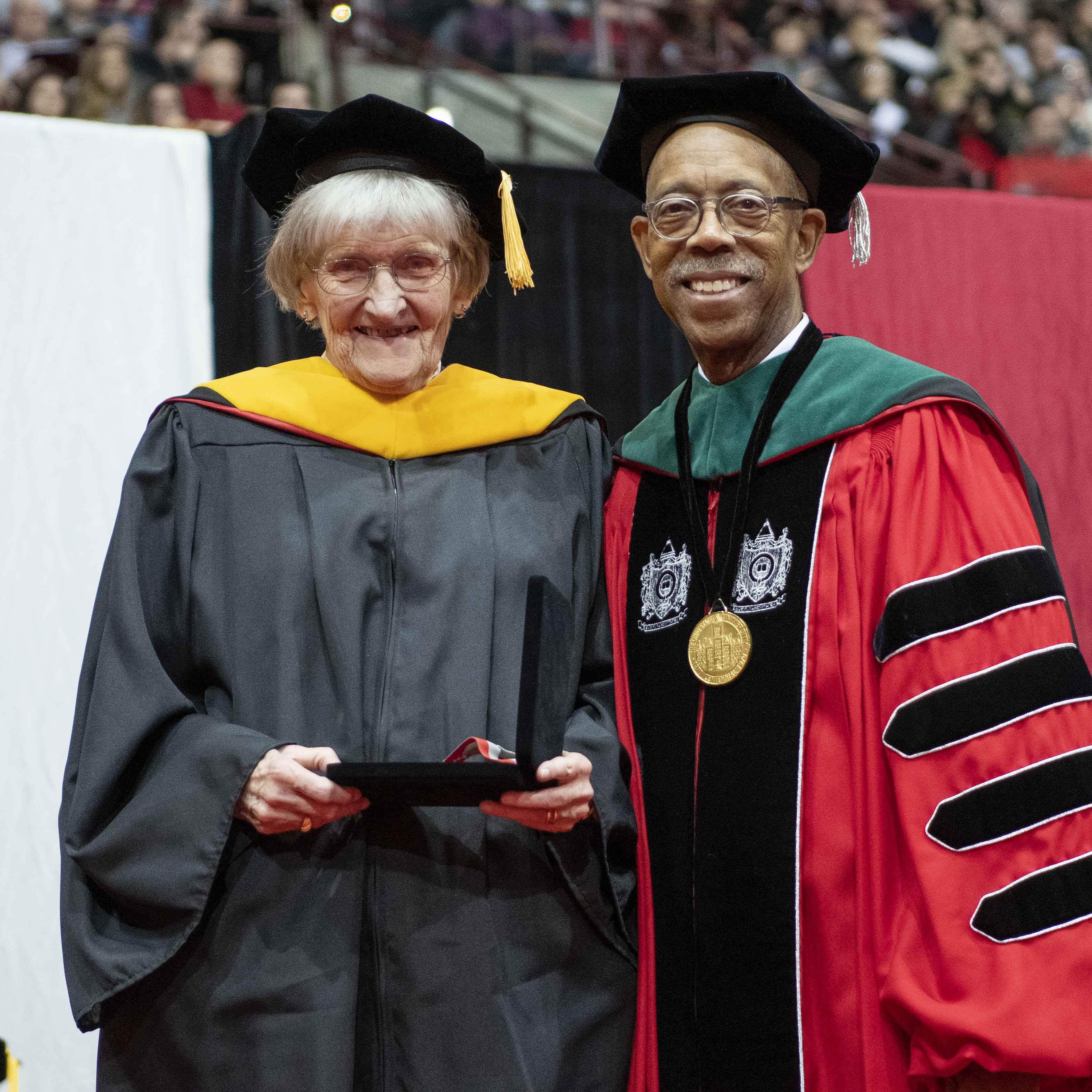 ---
In 2000, Kitty Kisker and Carol Kennedy-Jones (BSN '67, MS '70) came together as co-chairs and set a goal to raise $1 million in endowed funds in support of nursing scholarships by the college's centennial in 2014. They accomplished and surpassed this goal.
To date, The Ohio State University College of Nursing Endowed Scholarship Fund (fund #645280) has raised $1.5 million, awarding roughly $68,000 annually to nursing students.
If you would like to support this fund, please visit go.osu.edu/conscholarship.