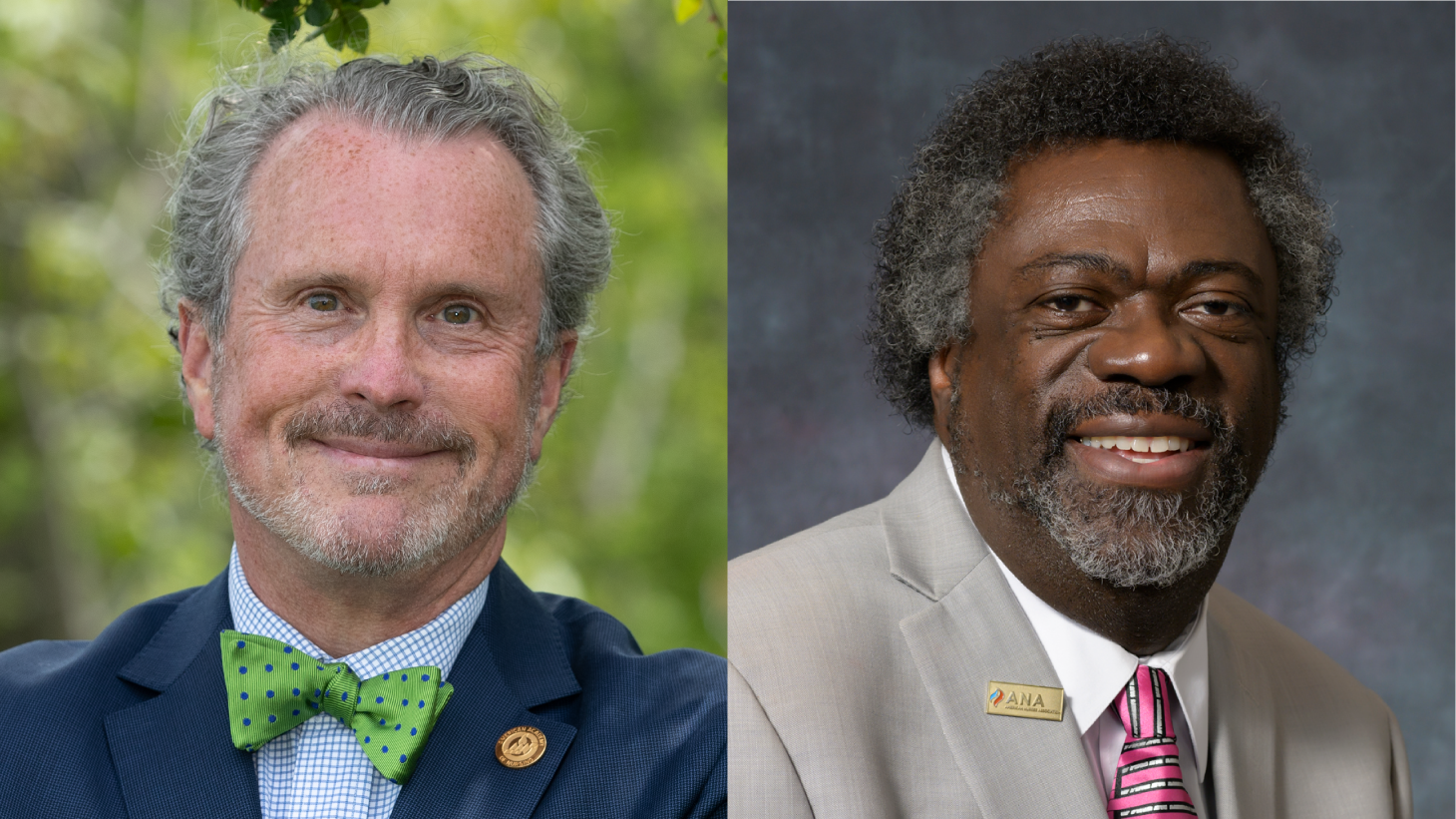 Advocacy for All Nurses: Q&A with National Nursing Leadership
Nurses have demonstrated unparalleled courage, compassion and care during the COVID-19 pandemic. In the face of the challenges of the last two years, there is much conversation about how the healthcare landscape can and must change. That may include an influx of men joining the nursing profession. A recent article from U.S. News & World Report says that, "Data from the U.S. Bureau of Labor Statistics indicates just 8.9% of the country's 2.7 million registered nurses in 2011 were male. By 2015, men accounted for 10.6% of a workforce approximately 3 million strong. Last year, the data indicates, 13% of the country's 3.2 million registered nurses were male."
For this month's Transformative Solutions in Healthcare piece, former American Academy of Nursing CEO Pat Ford-Roegner posed questions to historic leaders at two of the nation's foremost nursing advocacy organizations: Ernest Grant, PhD, RN, FAAN, the first male president of the American Nurses Association (ANA), and Kenneth R. White, PhD, APRN, FACHE, FAAN, the first male president of the American Academy of Nursing's (AAN) Board of Directors.
What are the major policy issues facing nursing today? How have those issues changed/been modified because of the pandemic?
White: One of the major issues currently facing the profession is the retention of valuable nurses in their current positions and strengthening the workforce for the future. Nurse well-being and mental health has come to the forefront as a result of the pandemic, with a record number of younger (below the age of 40) nurses leaving the profession in the past two years (Health Affairs). The COVID-19 pandemic has shown the courageous dedication of nurses to ensure high quality care for all patients and communities served, yet they have experienced great moral, emotional, ethical and physical distress. It is well known that patient health is linked to the well-being of their clinicians. In order to place the patient at the center of care delivery, policies must equally support providers and systems. Throughout the pandemic, the Academy has been working to advance policy solutions supportive of care providers, health literacy and optimizing work environments so the health system can take care of its workforce.
The last two years have shown how woefully unprepared our country is for public health emergencies especially amongst our most vulnerable populations. The Academy supports policy solutions such as the PREVENT Pandemics Act, which presents a clear path forward to make critical changes and improve public health preparedness capabilities for future emergencies. This bill specifically addresses health equity through the social determinants of health and tracking disparities in preparedness and response, in addition to outlining advancements in biosurveillance, public health data collection and coordination, federal and state preparedness and the national stockpile. These are crucial areas in need of attention as nurses navigate current and future challenges. As we are entering an endemic reality, the Academy is also working to ensure the waivers instituted during the public health emergency are made permanent. These waivers have allowed registered advanced practice nurses to perform at the full scope of their licensure and have expanded telehealth coverage throughout the pandemic.
Grant: Even as the COVID-19 pandemic wanes, the ANA boldly continues its advocacy efforts calling for a whole-of-government approach that utilizes all available authorities to ensure we have a strong nursing workforce today and in the future. Unfortunately, nurses are still being impacted by unchecked work environment challenges that predate COVID-19 and impact the nursing profession daily. Nurses' working conditions are high-risk due to injuries on the job, exposure to infectious diseases, staffing concerns and many other stressors. Nurses must have safe work environments, competitive compensation, shared decision-making, full practice authority, continuous professional development and safe reporting structures without fear of retribution. It is imperative that the Administration and all other stakeholders utilize all available authorities to address the work environment challenges. Nurses cannot solve many of the longstanding challenges facing the profession alone, and it is not only our burden to carry.
How has the pandemic influenced nursing leadership?
Grant: The pandemic undoubtedly shined a much bigger light on the nursing profession. Specifically, regarding nurse leaders, we are witnessing in real-time their unmatched leadership skills, clinical expertise and ingenuity as they lead interprofessional teams during the pandemic. However, even nurse leaders experience the same stressors that their staff experience. During their time in leadership under the pandemic, the top three challenges among nurse leaders were staffing, burnout and turnover. Nurse at all levels must be supported and protected.
White: The pandemic has challenged the healthcare system, its providers, public trust and patient empowerment. Nurse leaders have been charged with not only managing an increase in the number of patients, the needs of their families and communities, but also the well-being of the nurses under their charge. Leading with moral courage and authenticity in the face of a global crisis has exhausted so many in the field. Remaining flexible, responding quickly as new information is presented and using innovative strategies have been the cornerstones of their impact. We will be faced with the pandemic's far-reaching implications for many years to come. Nurse leaders must have champions who will support their direction as well as professional development so their essential work continues. By upholding nurses, we uphold the health of the nation.
What do you see as the major initiative for your organization now and in the future?
Grant: ANA calls for transformational action that demonstrates the value of nursing care. Again, this must include intentional and sustainable solutions to support nurses at all levels. It's time for leaders to address the underlying issues of the culture and environments in which nurses work every day. If we wish to emerge from this pandemic and thrive as a nation, we need a nursing workforce at peak health and wellness now and for the future. We must all heed the lessons that we've learned over the past three years.
White: The Academy has increasingly focused on advancing equity – within our systems, profession and within the Academy itself. Our current mission, improving health and achieving health equity by impacting policy through nursing leadership, innovation and science, guides us in our work. Through our Council for the Advancement of Nursing Science (CANS), we are working to advance inclusion in the design and implementation of nursing research. The Institute of Nursing Leadership provides access to resources and workshops that bolster nurses' ability to lead in turbulent times. We are also revamping the Academy's Edge Runners program, which highlights nurse-designed models of care that are innovative and scalable on a national level.
Of course, the Academy, as a policy organization, is also amplifying our efforts, through the work of the Expert Panels, to make an impact on and influence federal policies that will improve health and advance health equity. Recently, the Academy has commented on multiple National Institutes of Health strategic plans to ensure equity, diversity and inclusion are key components of their work moving forward. We have released policy publications on the importance of universal palliative care access, a topic close to my heart as a palliative care nurse, as well as a consensus paper examining the social determinants of health.
Through our membership on the National Commission to Address Racism in Nursing, the Academy is also supporting ways for the profession to increase inclusion while addressing the harm caused by historical policies and practices. The Academy firmly believes in rooting our organization's work in justice, equity, diversity and inclusion.
Is the current shortage of nurses substantially different than in the past? In what way(s)?
White: The current nursing shortage, in a way, is unique because of the rates of younger nurses (under the age of 40) leaving the profession. Previous reports on the profession's shortages focused primarily on the rates of retirement and the vacuum of knowledge these retirements would create. However, now we are refocusing efforts on recruiting individuals to the profession and finding ways to support the mental health and well-being of those already practicing. This two-track effort – recruitment and retention – is imperative to addressing shortages.
Grant: It might feel different, yet the nurse workforce shortage is not a new phenomenon. This is a decades-long challenge that has been exacerbated by the COVID-19 pandemic. This isn't just a "numbers" issue. Nurses are quitting their jobs because of the unchecked problems in their work environment. I urge leaders and policymakers to think beyond just the numbers. It's important to consider the types of nurses required to meet patient demand and their specific competencies. Healthcare systems need well-educated, geographically well-distributed and well-utilized entry-level and graduate-prepared nurses for practice in a wide spectrum of settings and organizations. This includes advanced clinical specialties, positions in academia, business settings, health policy and more. When nurses leave their position – or worse, the profession altogether – the maximum potential of patient advocacy and invaluable knowledge of the intricacies that nurses hold about healthcare delivery system is compromised.
In 1970, only 2.7% of nurses were men; today, men comprise 13% of the nursing workforce. What has been the biggest challenge and advantage in your career as a nurse?
Grant: There are many stereotypes about men in nursing and I have experienced them all and faced the challenge of proving myself as a highly skilled nurse. Fortunately, you don't hear the antiquated stereotypes and misconceptions as much anymore. People know: Men can provide quality, safe patient care and that you can be masculine and still care. As a registered nurse for more than 45 years, I can attest to the fact that the nursing profession is changing both in terms of acceptance and assimilation of nurses who are men. In my role, I've had the advantage and honor to open doors for other men. It's a privilege to do so.
White: It is a privilege to be a nurse. I am often asked how long I have been a "male nurse" and my response is that for the male part, all my life, and for the nurse part, not as long. The biggest challenge and also advantage has been demonstrating that compassionate caring is at the heart of nursing. Doors have not always been open to men in nursing, and I am grateful as the first man to be President of the American Academy of Nursing. I am grateful to stand on the shoulders of men and women in nursing who came before me.
Do you believe attitudes toward men in nursing have changed? What do you think is encouraging more men to pursue careers in nursing? Have recruitment efforts changed?
White: I do believe attitudes and beliefs about men in nursing have changed for the better. I believe that people in general who have experienced excellent nursing care are grateful for it, regardless of the gender of the nurse. Nursing is an attractive career option for job security, the many options for nursing practice and the opportunity to advance in one's career. It is also a wise economic decision, as nurse salaries have continued to rise. Focused recruitment efforts have helped, along with awareness campaigns depicting men in nursing.
Grant: Men are joining the nursing profession because they see the difference that they make in the lives of so many people. A career in nursing ticks so many boxes and allows you to combine science with a passion for helping others in need. It's time to deliberately recruit more men into the nursing profession to further dispel many stereotypes of men in nursing. I encourage men in nursing to visit K-12 public and private schools and take every opportunity to be thought of or seen as a model nurse within their community such as neighborhood gatherings, in their houses of worship and local civic organizations. Men have been historically underrepresented in the nursing profession, and the nursing workforce should reflect the patient population it serves. Encouraging more men to enter the nursing profession can also help address the current nursing shortage crisis by providing a more diverse group of healthcare advocates for patients.
Dr. White, as the first male president of the AAN Board of Directors, what would your message be to young men consider nursing as a career path?
White: Nursing is a great joy in my life. I am deeply honored to serve patients, students and communities and have found being a part of this profession extremely fulfilling. I would encourage men interested in the profession to follow their calling: I did not become a nurse until later in life and am deeply honored to serve the Academy as its President today. The culture within the profession has definitely shifted since the early days of my career. Nursing is more inclusive and welcoming.
Dr. Grant, as the first male president of the ANA, what would your message be to young men consider nursing as a career path?
Grant: Connect with your guidance counselors and request information about health occupation programs, specifically nursing programs and curriculum. In those programs, boys and young men can obtain more exposure to nursing or apply for admission into a baccalaureate program. I firmly believe that to be successful in this endeavor, efforts should begin early, starting at the grade school level by letting boys see men who are nurses. We must reinforce the impact of becoming a nurse. There are so many possibilities of having a fulfilling career that allows you to explore science, research, technology and many other facets of the healthcare delivery system.
---
Ernest Grant is the 36th president of the American Nurses Association (ANA), the nation's largest nurses organization representing the interests of the nation's 4.3 million registered nurses. He has more than 30 years of nursing experience, is an internationally recognized burn-care and fire-safety expert and is frequently sought out for his expertise as a clinician and educator. Grant earned his BSN from North Carolina Central University and his MSN and PhD degrees from the University of North Carolina at Greensboro.
Kenneth R. White is president of the American Academy of Nursing (AAN) Board of Directors and dean of the School of Nursing at MGH Institute of Health Professions. White received his BSN, MSN and PhD degrees from Virginia Commonwealth University. He also holds a Master of Public Health degree in health administration from the University of Oklahoma and a Post-MS Certificate as an Adult/Gerontology Acute Care Nurse Practitioner. In his work as a certified nurse practitioner, he also holds specialty certification in hospice and palliative care.