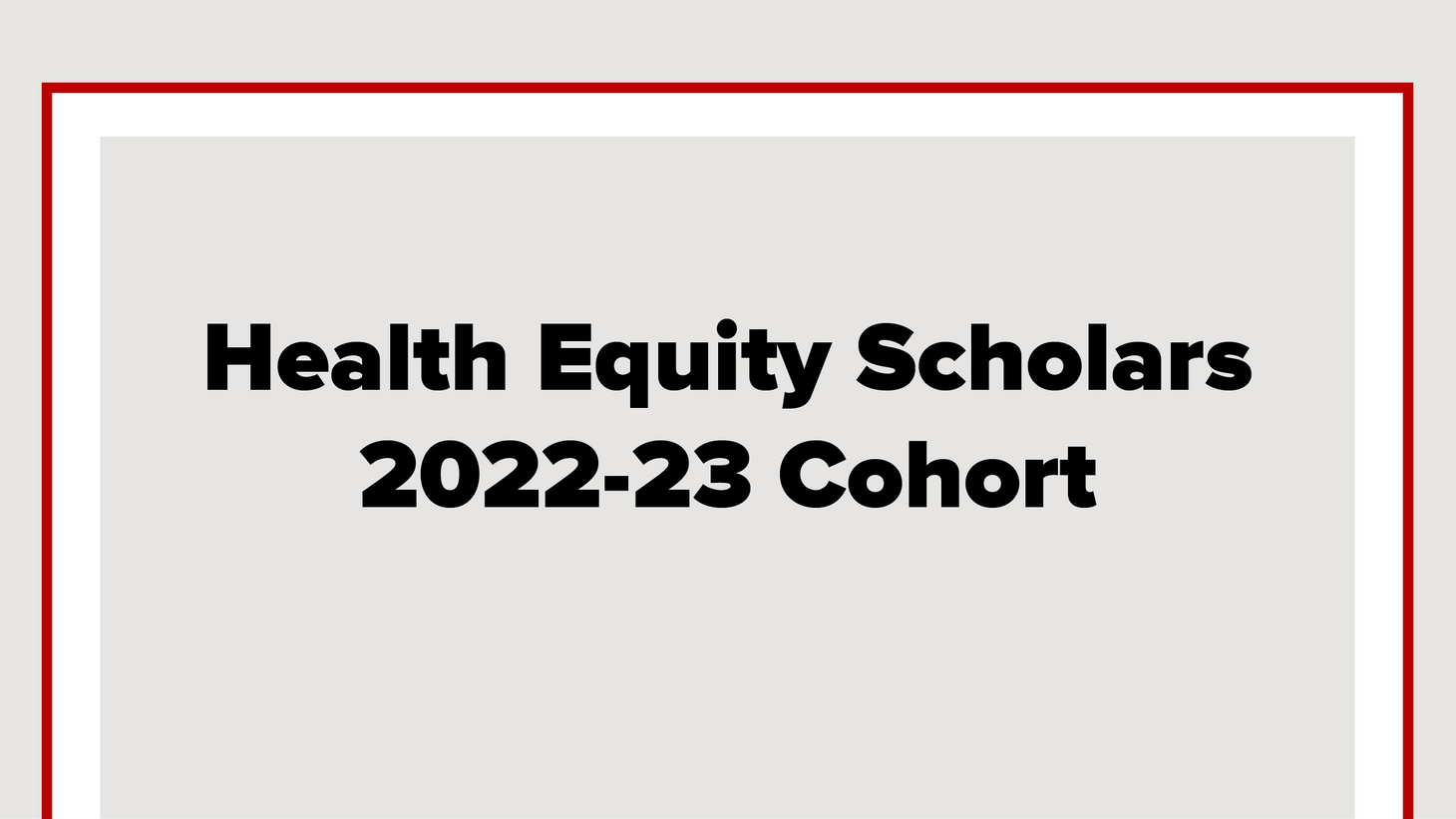 New cohort of Health Equity Scholars Program announced
Six projects chosen to improve health equity and outcomes in diverse populations
Six interdisciplinary teams of students and faculty mentors have been selected for the second cohort of The Ohio State University's Health Equity Scholars Program to begin in autumn 2022.
The program, which debuted in the 2021-22 academic year, is hosted by the Office of the Chief Wellness Officer, College of Nursing and The Ohio State University Office of Interprofessional Practice and Education. It is open to the entire university community with the stated purpose of "providing interprofessional undergraduate and graduate students with an opportunity to expand upon their knowledge and skills to improve health outcomes in diverse populations through a lens of equity and inclusion."
"We are so impressed and inspired by the passion projects that the students and faculty mentors in this cohort are pursuing," said Angela Alston, DNP, MPH, APRN-CNP, assistant professor of clinical nursing and chief diversity officer at Ohio State's College of Nursing.
"The pandemic further exposed long-standing inequities in care and access that must be corrected, and these projects address several of those inequities from innovative and optimistic angles," added Andrea Pfeifle, EdD, PT, FNAP, associate vice chancellor for interprofessional practice and education for Ohio State's health science colleges and the Wexner Medical Center. "We cannot wait to see the impact that this cohort has on our community."
The six projects chosen for the second cohort of the program are:
(U – Undergraduate | G – Graduate/Professional)
Hidden in Plain Sight: Educating Nurses and Physicians on Sex Trafficking Signs in Diverse Patient Populations

Students: Isaiah Boateng (U), Biomedical Science major in the College of Medicine; Diana Appiagyei (U), Microbiology major in the College of Arts and Sciences
Faculty mentor: Jacquelyn Meshelemiah, PhD, College of Social Work

Historical Structural Racism, Neighborhood Disinvestment and Psychological Distress among Central Ohio Residents

Students: Diewo Camara (U), Public Health Sociology major in the College of Public Health; Xueting Xia (G), Statistics major in the College of Arts and Sciences
Faculty mentor: Jesse J. Plascak, PhD, College of Medicine

CONTEXT: Promoting an Intersectional View Using a Dashboard to Support Provider Engagement with Patient Social Determinants of Health and Perceived Biases

Students: Emmanuel Long (U), Medical Anthropology major in the College of Arts and Sciences; Leslie Aguilar Ramos (U), Public Health Sociology major in the College of Public Health
Faculty mentor: Naleef Fareed, PhD, MBA, Department of Biomedical Informatics

Experiences of Transgender, Nonbinary and Gender-Expansive (TGE) Individuals with Elevated Breast/Chest Cancer Risk

Students: Kaleb Masterson (G), Epidemiology major in the College of Public Health; Sanjana Duvvuri (U), Systems and Behavioral Neuroscience major in the College of Arts and Sciences
Faculty mentor: Tasleem Padamsee, PhD, College of Public Health

From Awareness to Action: Self-Advocacy Education to Address Racial and Ethnic Discrimination in Obstetric Healthcare

Students: Hayat Mekonen (U), Environmental Public Health major in the College of Public Health; Deborah Fadoju (G), Doctor of Medicine major in the College of Medicine
Faculty mentor: Kamilah Dixon, MD, MA, The Ohio State University Wexner Medical Center

Increasing Veterinary Health Literacy for Improved Health Equity in Pets

Students: Ariana Parquette (U), Public Health – Environmental Specialization major in the College of Public Health; Jeremiah Cox (G), Veterinary Public Health major in the College of Veterinary Medicine
Faculty mentor: Rebecca Garabed, VMD, MPVM, PhD, College of Veterinary Medicine
The CONTEXT pilot will represent a new "first" for the Health Equity Scholars program: It will be sponsored by the program's new partner, CareSource. The nationally-recognized non-profit h

ealth plan, based in Dayton, provides coverage to more than two million members. It has developed several programs that focus on social determinants of health, using a holistic model of care that breaks down barriers of clinical treatment and social qualities that can lead to poorer health outcomes. In working with the CONTEXT team, CareSource will provide support from its health equity and quality staff, exposure to health equity efforts at the state level and a chance for the team to present its final presentation to CareSource and Ohio Department of Medicaid leadership to further amplify and extend the reach of its work.
"CareSource is proud to support Emmanuel Long, Leslie Ramos and faculty member Dr. Naleef Fareed, as they pursue a framework in understanding how biases affect social determinants of health," said Steve Ringel, Ohio market president for CareSource. "We are looking forward to the long-term positive impact this project has on the community and how our partnership with Ohio State will build a knowledge base critical to ending racial disparities in healthcare."
"The important work of transforming health and improving lives – especially in communities that have faced inequities and hardship for far too long – has never been more critical," said Bernadette Melnyk, PhD, APRN-CNP, FAANP, FNAP, FAAN, vice president for health promotion, university chief wellness officer and dean of the College of Nursing. "These passionate students and faculty so embody our purpose to dream, discover and deliver a healthier world everywhere, and we are so excited to support them in pursuit of these projects."
The cohort formally begins its work in early September, shortly after the start of Autumn Semester classes. The scholar teams will engage in monthly educational sessions while they pursue implementation of their projects. The program culminates with the Health Equity Scholars presenting their work at The Ohio State University National Conference on Diversity, Race and Learning in the spring of 2023.
About CareSource
CareSource is a non-profit, nationally-recognized managed care organization with over two million members. Headquartered in Dayton, Ohio since its founding in 1989, CareSource administers one of the largest Medicaid managed care plans in the U.S. The organization offers health insurance, including Medicaid, Health Insurance Marketplace, Medicare Advantage and dual-eligible programs. Through its network of health plans, CareSource serves members in Arkansas, Georgia, Indiana, Kentucky, Ohio and West Virginia. The company is leading the way in serving populations with complex needs and extended its presence into 12 additional states with the acquisition of The Columbus Organization, a trusted partner to health care agencies and provider organizations in improving coordination and support for individuals with intellectual/developmental disabilities and behavioral health challenges through its staffing, quality improvement and care coordination services. As a mission-driven organization, CareSource is transforming health care with innovative programs that address the social determinants of health, health equity, prevention and access to care. For more, visit www.caresource.com, follow @caresource on Twitter, or like CareSource on Facebook.