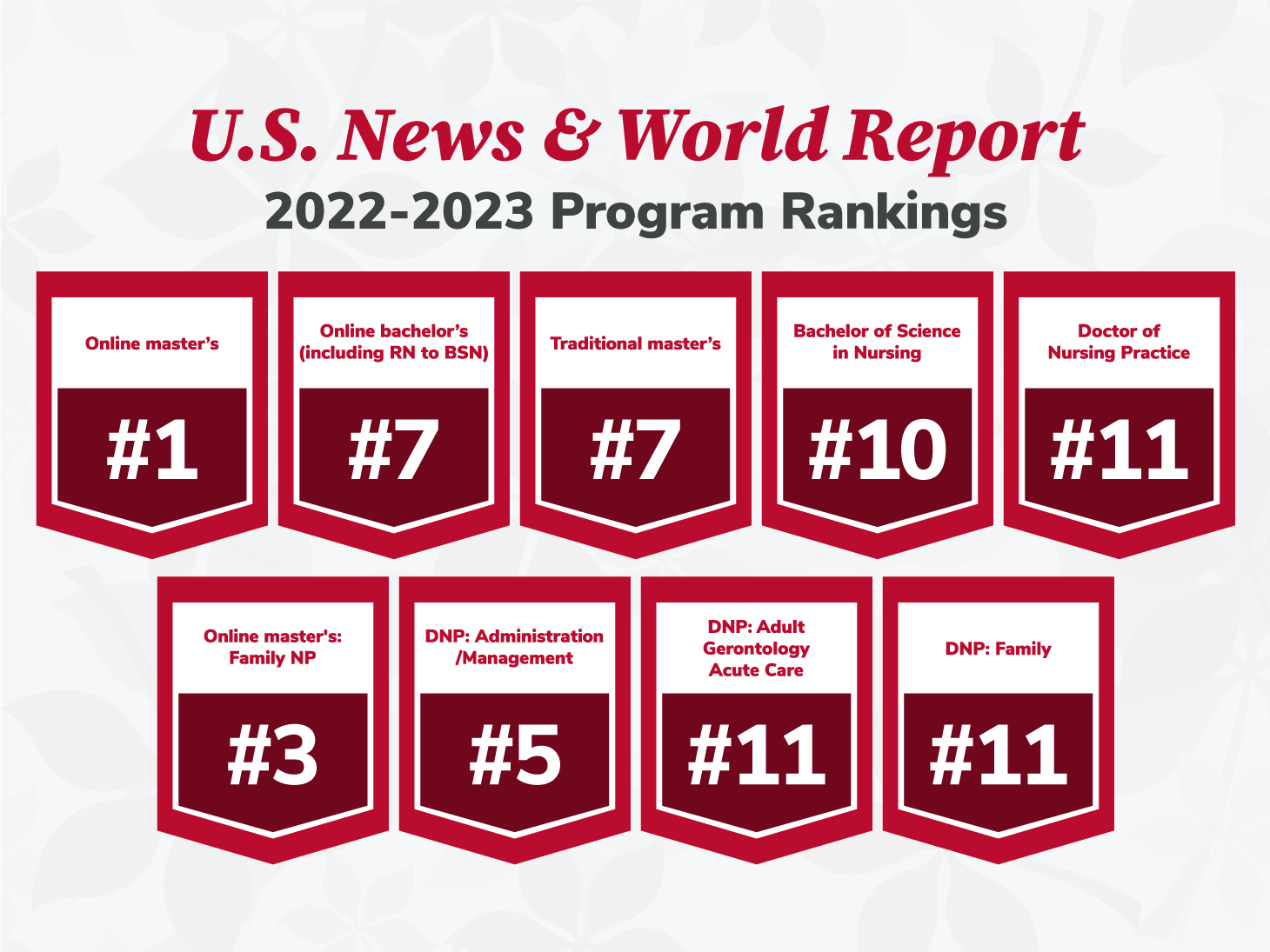 College of Nursing's master's and DNP again named among premier graduate nursing programs in America
New rankings of nation's best graduate schools released
U.S. News & World Report today released its 2023 rankings of the best graduate schools in the country, with The Ohio State University College of Nursing again placing in the top tier for its master's and Doctor of Nursing Practice (DNP) programs.
The college's campus-based Master of Science degree program ranked #7 (second among public institutions), and its DNP ranked #11 (5th among public institutions). This is the fourth consecutive year for the master's to rank in the nation's top 10 and the DNP to rank in the nation's top 20.
"These sustained top rankings recognize our world-class faculty, preceptors, staff, students and partners and the high-quality academic programs we are committed to offering," said Bernadette Melnyk, PhD, APRN-CNP, FAANP, FNAP, FAAN, vice president for health promotion, university chief wellness officer and dean of the College of Nursing. "Buckeye Nurses are prepared to be healthcare leaders, evidence-based decision-makers, innovators and change agents who are ready to transform health and improve lives in a variety of ways. We could not be more proud of the work they do and the passion with which they serve."
Three of the college's DNP specializations also earned honors as among the premier programs in the country. The DNP's Administration/Management specialty ranks #5, Adult Gerontology Acute Care #11 and Family #11.
"Our programs prepare graduates to provide the highest level of nursing care to patients across the lifespan and influence healthcare delivery in a variety of settings including hospitals, clinics and the community," said Cindy Anderson, PhD, APRN-CNP, ANEF, FAHA, FNAP, FAAN, professor and senior associate dean for academic affairs and educational innovation at the College of Nursing. "The exceptional education our students experience reflects evidence-based and innovative instruction combined with experiential learning, preparing them to address the complexities of healthcare delivery now and into the future, benefitting communities everywhere."
In January 2022, U.S. News & World Report ranked the College of Nursing's online programs among the nation's very best, including online master's (#1), Family Nurse Practitioner specialization (#3) and online bachelor's, including the RN to BSN program (#7). The publication released its first-ever Bachelor of Science in Nursing rankings in September 2021, placing Ohio State's sought-after program #10 in the country.