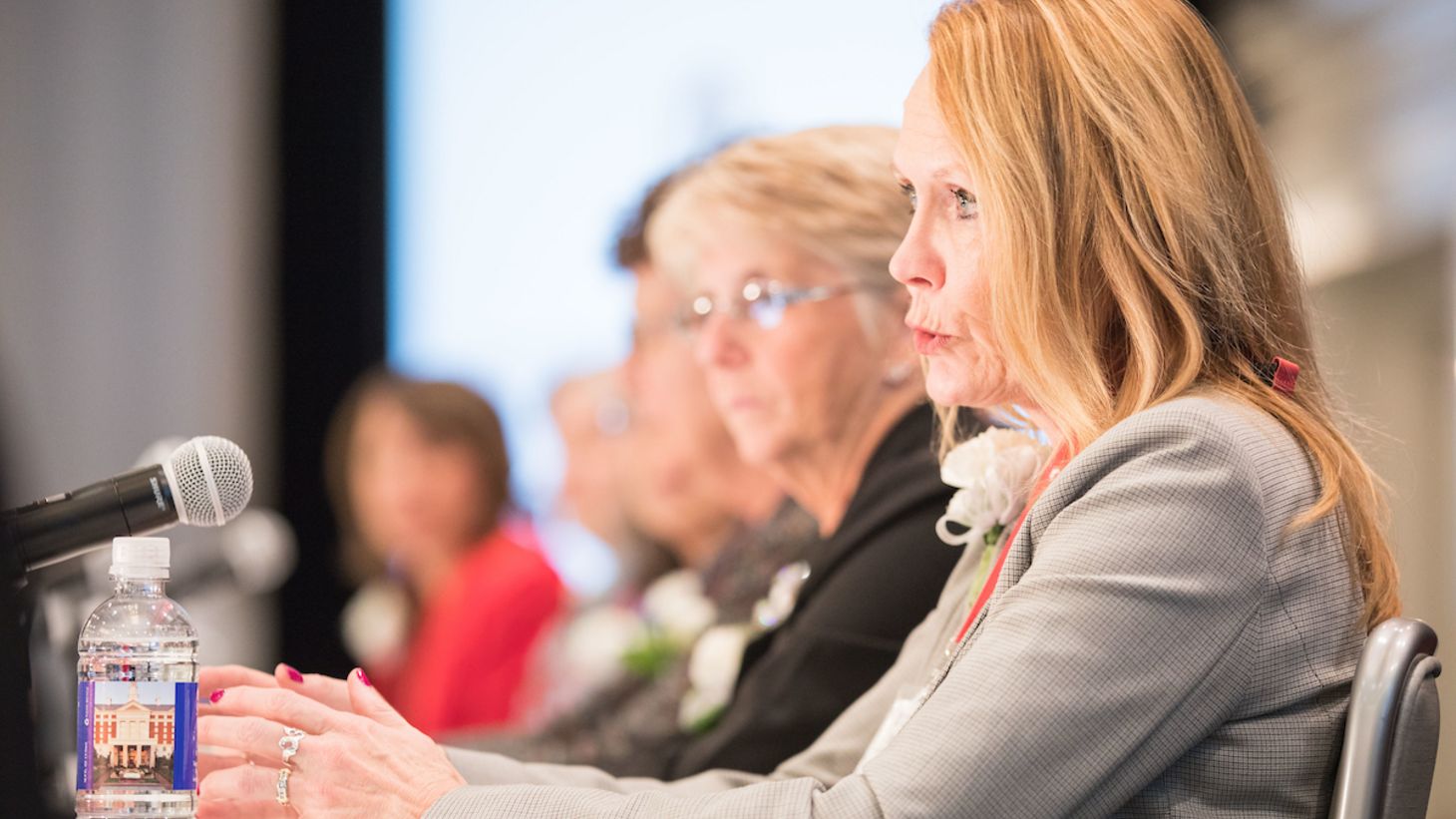 Nurses in Leadership: Using Their Voices to Transform Healthcare
by Pat Ford-Roegner
"We realize the importance of our voices only when we are silenced."
~Malala Yousafzai, at age 17 the youngest recipient of the Nobel Peace Prize
In 2010, the Institute of Medicine of the National Academies, in partnership with the Robert Wood Johnson Foundation (RWJF), released the much-anticipated report, The Future of Nursing: Leading Change, Advancing Health. One of its four clear messages was, "Nurses should be full partners in designing healthcare in the United States." The report went on to call for nurses "to serve actively on advisory boards on which policy decisions are made to advance health systems and improve patient care."
To implement that report's recommendations, the AARP Foundation, AARP and RWJF and AARP created the Campaign for Action, bringing together major nursing organizations, their affiliates and many significant friends of nursing. This led to formation of the Nurse on Boards Coalition (NOBC). In 2014, NOBC announced a goal of ensuring at least 10,000 board seats would be filled by nurses in 2020. NOBC called for diverse partners to join with NOBC to make this happen. The Ohio State University College of Nursing was one of the first to become a NOBC strategic partner because of Dean Bernadette Melnyk's visionary leadership.
On January 19, 2021, NOBC executive director Laurie Benson and board chair Kim Cleveland announced that the goal had been reached and exceeded: 10,000 board seats had been filled by nurses! NOBC's work continues by seeking more board opportunities for nurses, utilizing its database of more than 24,000 nurse applicants. They align their work with the goals of the recent follow-up study, The Future of Nursing 2020-2030 Report: Charting a Path to Achieve Health Equity.
Here are a few examples where Ohio State nurse leaders have stepped up to the proverbial plate:
Sharon Tucker, PhD, APRN-CNS, FNAP, FAAN serves as president of the Midwest Nursing Research Society (MNRS), with Diane Von Ah, PhD, RN, FAAN serving as treasurer;
Candy Rinehart, DNP, APRN-CNP, FAANP, CEO of the Total Health and Wellness Federally Qualified Health Center (FQHC), is a member of the Ohio's Board of Nursing; and
Karen Patricia Williams, PhD, Director of the Martha S. Pitzer Center for Women, Children and Youth, serves on the Board of the philanthropic Delta Foundation of Greater Columbus.
Additionally, 74 current faculty and alumni are Fellows of the prestigious American Academy of Nursing (AAN), shaping nursing and health policy at the national level.
Board appointments are just one significant way that nurses' voices are being heard. Nurses are also choosing to run for elective office. In a recent American Nurse article, former Maine state legislator and congressional candidate Darlene Curley, EdD, RN, FAAN made it clear that she wants more nurses in public office. As assistant professor at the Center for Health Policy at Columbia University's School of Nursing, she researched with alarm the decline in the number of nurse state legislators.
In 2010, 97 nurses held public office in 39 states. But by 2022, there were only 76 nurses holding such positions in 36 states. The 2022 elections brought good news with re-elections and several new legislative and executive branch officials.
In Ohio, first-term State Representative Rachel Baker, PhD, MSW, RN joined the ranks to serve the people of House District 27. She wants to use her voice to improve access to quality healthcare and increase good-paying jobs for working families to promote their ability to lead happy and healthy lives.
Another notable winner in 2022 is Sara Rodriguez, MSN, MPH, RN, who became Wisconsin's first nurse Lieutenant Governor. She is passionate about public health. Lt. Gov. Rodriguez decided to run when she saw "how politics would trump reason, science, common sense and even basic decency."
At the national level, third-term U.S. Rep. Lauren Underwood, MSN, MPH, RN (D-IL) keeps defying odds by winning in a tough district. As the youngest member of the U.S. House of Representatives, Lauren is also the first woman, first woman of color and first millennial to represent the 14th District in Illinois. Rep. Underwood has led the way to address maternal and child health issues in Congress.
Nurses considering a run for office often ask, "But where do I begin?" In 2021, Lisa Summers, PhD, RN and Kimberly Gordon, DNP, veteran nurse activists, founded a non-partisan, non-profit group to help nurses who want to seek public office. Healing Politics seeks "to inspire, motivate, recruit and train nurses and midwives to run for elected office up and down the ballot while building a culture of civic engagement within the professions." Healing Politics will hold its inaugural "Campaign School for Nurses and Midwives" on May 24-27, hosted by Polis: Center for Politics at Duke University's Sanford School of Public Policy in Durham, North Carolina. Summers and Gordon pledge to use this event to de-mystify running for public office for nurse candidates.
Nurses at all levels would be wise to offer their full support – including financial support – to their colleagues who have stepped up to seek influential board appointments or to run for powerful public offices. Work with your national nursing organizations. Volunteer for governmental affairs committees. Get to know your elected officials. Use social media to express your opinion on key health issues.
The nursing experience offers much to improve the lives of all of us. Raise your voice!
Pat Ford-Roegner, MSW, RN, FAAN has previously served as Region IV director at the U.S. Department of Health and Human Services, chief executive officer at the American Academy of Nursing and health policy expert for Amplify Public Affairs.
---
Ohio State College of Nursing faculty in leadership
The following list represents some of the national leadership that our faculty provide:
Cindy Anderson, PhD, APRN-CNP, ANEF, FAHA, FNAP, FAAN
Medical Advisory Board, Preeclampsia Foundation
National Advisor Council, Robert Wood Johnson Foundation Harold Amos Medical Faculty Development Program
Susie Breitenstein, PhD, RN, FNAP, FAAN
The Ohio State Early Head Start Partnership Board
Board of Directors, Global Implementation Society
Editorial Board, Global Implementation Research and Applications
Deena Chisolm, PhD
Columbus Board of Health
Chair of the Board of Directors, Health Policy Institute of Ohio
Sheryl Justice, PhD
Urinary Tract Infection Global Alliance
Chyongchiou J. Lin, PhD, MS
Community Advisory Board for research projects led by Kathy Wright, PhD, APRN-CNS
Jodi McDaniel, PhD, RN
Allied Health & Nursing Advisory Board of Champaign County
Dianne Morrison-Beedy, PhD, RN, FNAP, FAANP, FAAN
Niagara University Board of Trustees
Board of Directors, FNINR: Friends of the National Institute of Nursing Research
Board member, Fulbright Association Central Ohio Chapter
Karen O. Moss, PhD, RN, CNL
African American Alzheimer's and Wellness Association
Timiya Nolan, PhD, APRN-CNP
Editorial Board, Oncology Nursing Forum
Editorial Board, Journal of Cancer Survivorship
Tara O'Brien, PhD, RN, CNE:
Board of Directors, Kidney Donor Conversations
Brittany Punches, PhD, RN, CEN, FAEN
Director at Large, Ohio Emergency Nurses Association Board of Directors
Editorial Board, Journal of American College of Emergency Physicians Open
Laureen Smith, PhD, RN, FAAN
Editorial Panel, Journal of School Nursing
Finance Committee, MNRS
Sharon Tucker, PhD, APRN-CNS, FNAP, FAAN
President, MNRS
Chair of Practice Committee, American Holistic Nurses Association
Associate Editor, Worldviews on Evidence-Based Nursing
Editorial Board Member, Journal of Nursing Care Quality
Diane Von Ah, PhD, RN, FAAN
MNRS: Treasurer, Finance Chair, MNRS Society Executive Team Member and MNRS Foundation Board Executive Team Member
Advisory Board, Supportive and Palliative Care PDQ, National Institutes of Health/National Cancer Institute
Karen Patricia Williams, PhD
Delta Foundation of Greater Columbus
Central Area Executive Committee, The Links Incorporated
Editorial Board, Journal of Cancer Education
New Construction Committee Member, Trinity Baptist Church