Featured Image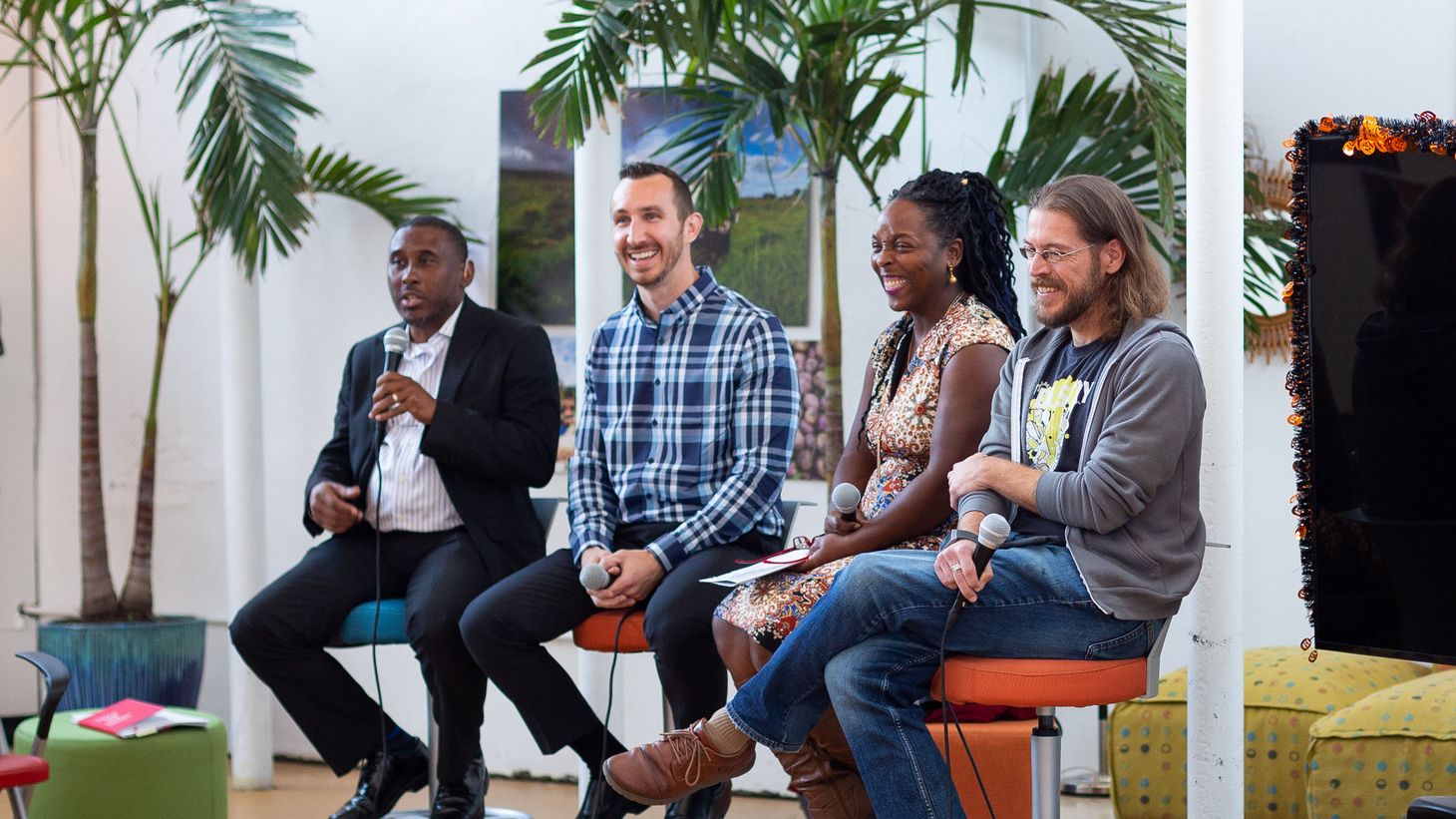 Calling all Columbus professionals!
Keep an eye out for our next event! 
Last October we threw another End of the Year Bash at The STEAM Factory! The theme was The Future of Work.
The event was from 11 a.m. –  5 p.m. at The STEAM Factory at 400 W. Rich St. on October 28 discussing The Future of Work with Columbus' top entrepreneurs and businesses. The Starting Line provides Columbus professionals with access to the tools, education and network needed to make informed decisions about taking the first steps to starting their business.
This event hit capacity last year! Be sure to stay in the know about all our events by signing up to receive emails.
Why
Recognizing that many professionals in Columbus have great ideas to contribute, we want to make sure that you have the resources, knowledge and confidence to get started. Through a collaboration with the Create Columbus Commission, The Ohio State University College of Nursing's Innovation Studio is partnering with some of Columbus' top local businesses that have been founded by a young professional to provide insight and resources to Columbus' professionals.
What
The Starting Line brings prototyping tools, designers, programmers, lawyers, entrepreneurs and much more to local businesses that have been founded by young professionals and delivers mini entrepreneurship boot camps to help you take the first few steps to start your business. You'll hear firsthand about what drove these founders to entrepreneurship and how they found success.
Need to talk to a lawyer? Check. 
Need to 3D print a prototype? Check.
How about advice from a programmer? Check.
2019 Agenda
11:00 – 11:45 a.m. 
The Future of Columbus Small Business
Henry Golatt, Derek Dehart, Tom Eveland, Haleema Shafeek
11:45 a.m. – 12:30 p.m.
Creating an Infrastructure for the Future of Work
Lars Johansson, Grant Schneider, Kris Howell
12:30 – 1:00 p.m. 
Lunch
1:00 – 1:45 p.m.
The Future Role of Advanced Degrees
Roman Holowinsky, Katie Sasso, Kevin Croxall, Rob Littleton
1:45 – 2:15 p.m.
Being a Creative in the Future
Anna Hetzel, Marshall Shorts, Partick Torres, Julie Martin, Danielle Evans
2:15 – 2:45 p.m.
Story Telling: Past, Present and Future
Haley Boehning
2:45 – 3:30 p.m.
Funding Your Future
Jill Raderstorf, Britney Hamberg, Michael Kindrat-Pratt
3:30 – 3:45 p.m.
Break
3:45 – 4:15 p.m.
Legal Considerations to Ensure You Thrive in the Future
Kate Ball
4:15 – 5:00 p.m.
Building Your Own Future
Jay Clouse
5:00 – 6:30  
The One and Only Starting Line Networking Happy Hour at Land Grant Brewing Company
Who
If you found this page, The Starting Line was built for you. We are looking for entrepreneurs (aspiring or actual) who need a little help to get started or push past a plateau. The Starting Line is a great place to plug into Columbus' thriving entrepreneurial ecosystem and can help bring your business to life. Check back often for updates to the schedule and event details. 
How
The Starting Line is powered by The Innovation Studio at The Ohio State University College of Nursing, a moveable maker space that fosters interprofessional innovation across campus. Why nursing you may ask? As the largest healthcare profession, nurses consistently innovate at the bedside to improve patient outcomes. Thanks to the generosity of Gary and Connie Sharpe, and the Create Columbus Commission, we're able to leverage the Innovation Studio and its team to bring the Starting Line to our community.
How to get involved
Want to get involved as a starting line mentor? Contact our chief innovation officer, Tim Raderstorf, at raderstorf.3@osu.edu for details.
What's the catch?
Sorry, not going to find anything here. You live in a community unlike any other. Our only ask is for you to participate, be respectful and create something great in Columbus. Now get to it!
The Starting Line is Proudly Powered by The Innovation Studio
Visit the Innovation Studio webpage for details.
Recent News
The Ohio State University is turning to students for creative ideas to keep its campuses safe and healthy, and is offering a financial incentive to make it worth their while. The Saf
A recent TEDxColumbus talk on innovation and nursing was given by Tim Raderstorf, DNP, RN. Tim is a nurse, teacher, and Chief Innovation Officer at Ohio State University, and co-author of the