Image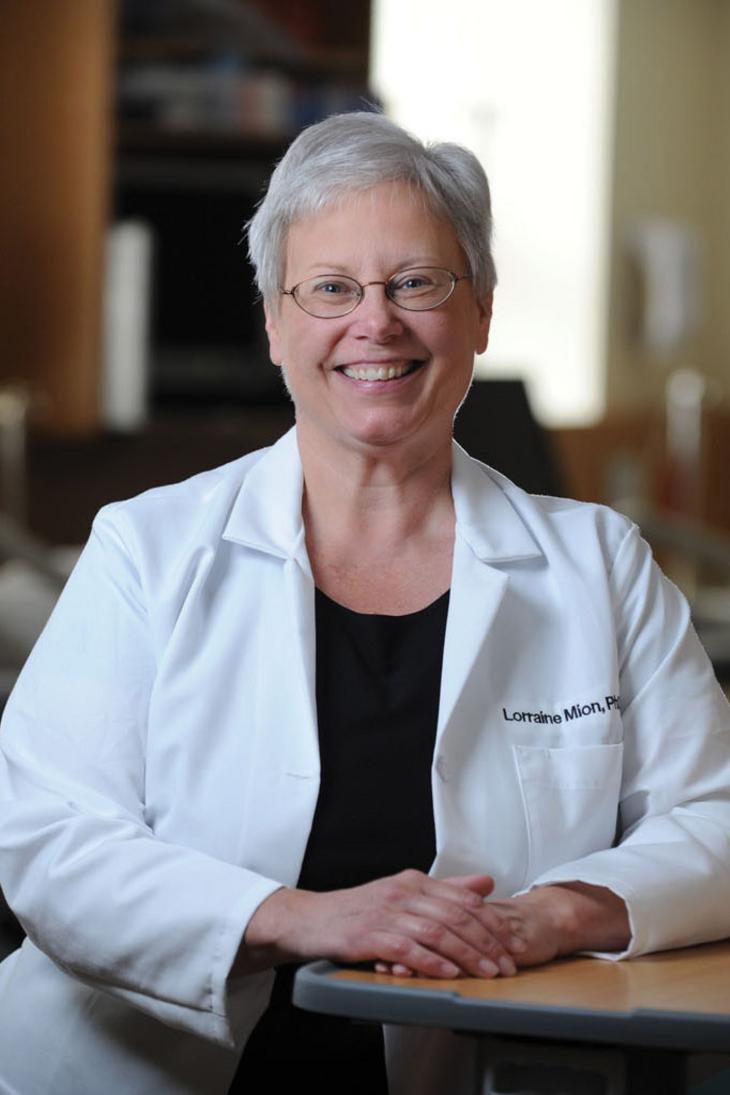 Credentials
PhD, RN, FAAN
Director, Center for Healthy Aging, Self-Management and Complex Care
Address (Line 2)
1585 Neil Avenue
Research Interest
Lorraine Mion's research has focused on acute care geriatrics as well as implementation and quality improvement science. Her primary areas of interest are in hospital falls, delirium, and physical restraints. Secondary areas of interest are use of technology to address the physical, cognitive and social needs of older adults. The findings of her research have the potential of improving care processes and outcomes of older adults in a variety of settings.
List of published works in MyBibliography: https://www.ncbi.nlm.nih.gov/sites/myncbi/1fwBShktogtQh/bibliography/47426211/public/?sort=date&direction=descending
Hospital Falls

Mion LC, Chandler AM, Waters T, et al. Is it possible to identify risks for injurious falls in hospitalized patients? Jt Comm J Qual Patient Saf 2012; 38(9):408-413. PMID: 23002493. PMCID: PMC3547233

Shorr RI, Chandler AM, Mion LC, Waters TM, Liu M, Daniels MJ, Kessler LA, Miller ST. Increasing bed alarm use to prevent falls in hospitalized patients: A cluster-randomized trial. Ann Intern Med 2012; 157(10):692-699. doi: 10.7326/0003-4819-157-10-201211200-00005. PMID:23165660. PMCID: PMC3549269

Staggs VS, Mion LC, Shorr RI. Assisted and unassisted falls: Different events, different outcomes, different implications for quality of hospital care. Joint Commission Journal on Quality and Patient Safety 2014; 40(8):358-364. PMCID: PMC4276137

Staggs VS, Mion LC, Shorr RI. Consistent differences in medical unit fall rates: Implications for research and practice. J Am Geriatr Soc 2015; 63(5): 983-7. PMCID: PMC4439336

Physical restraints, Delirium, Dementia

Mion LC, Minnick AF, Leipzig R, Catrambone C, Johnson ME. Patient-initiated device disruption in intensive care units: A national prevalence study. Critical Care Medicine 2007; 35:2714-2720.
Mion LC, Sandhu SK, Khan RH, et al. Effect of situational and clinical variables on the likelihood of physicians ordering physical restraints. J Am Geriatr Soc 2010; 58:1279-1288.

Fick DM, Steis MR, Mion LC, Walls JL. Computerized decision support for delirium superimposed on dementia in older adults: A pilot study. Journal of Gerontological Nursing 2011; 37(4): 39-47 (doi:10.3928/00989134-20100930-01). PMCID: PMC3071445.

Solberg LM, Plummer CE, Mays KN, Mion LC. A quality improvement program to increase nurses' detection of delirium on an acute medical unit. Geriatric Nursing 2013; 34:75-79.

Implementation, Quality and Safety

Amato S, Resan M, Mion LC. The feasibility, reliability and clinical utility of the Agitated Behavior Scale in brain injured rehabilitation patients. Rehabilitation Nursing 2012; 37(1): 19-23.
Jesse MA, Mion LC. Is evidence guiding practice? Reported versus observed adherence to contact precautions: A pilot study. American Journal of Infection Control 2013 Nov; 41(11):965-970. doi:10.106/j.ajic.2013.05.005

Cawthon C, Mion LC, Willens DE, Roumie CL, Kripalani S. Implementing routine health literacy assessment in hospital and primary care patients. Joint Commission Journal of Quality and Patient Safety 2014; 40(2): 68-76.

Kalayjian E, Bringman D, Naughton A, Bond S, Sarver W, Mion LC. Improving adherence to screening colonoscopy preparation and appointments: A multicomponent quality improvement program. Gastroenterol Nurs 2015; 80(2):195-203.

Stollfdorf DP, Mion LC, Jones CB. A survey of hospitals that participated in a statewide collaborative to implement and sustain rapid response teams. J Healthc Qual 2016; 38(4):2012-212.

Acute Care Geriatrics

Maxwell CA, Mion LC, Dietrich MS, Fallon WF, Minnick A. Hospitals' adoption of targeted cognitive and functional status quality indicators for vulnerable elders. Journal of Nursing Care Quality 2014 Oct-Dec; 29(4):354-362.
Maxwell CA, Miller RS, Dietrich MS, Mion LC, Minnick A. The aging of America: A comprehensive look at over 25,000 geriatric trauma admissions to United States hospitals. Am Surg 2015; 81(6):630-636.

2009-2011, R01 AG033005. CMS nonpayment for nosocomial injury and risk of falls in hospitals. National Institutes of Health, National Institute on Aging. (PI Shorr, Role: Co-investigator).

2010-2012, R21 HL096581. Brief assessment of health literacy and association with cardiovascular outcomes. National Institutes of Health, National Heart, Lung and Blood Institute. (PI Kripalani, Role: Co-investigator).

2010-2015, R01 NR011042. Early nurse detection of delirium superimposed on dementia – END DSD. (PI Fick, Role: Co-investigator).

2016, R56 AG051799. Fall prevention in high- and low-fall hospital nursing units. (PI Shorr, Role: Co-investigator).

2016-2017, R21 AG050483. Socially assistive robotic architecture for elder care. (Role: Co-PI)

News
Grants support transformative research in healthcare across the lifespan
The Ohio State University College of Nursing announced today that faculty researchers at the college received approximately $10.7 million in grant funding during fiscal year 2019. That compares to $6.9 million granted for fiscal year 2018.
College of Nursing launches new programs to educate RNs for primary care settings
The Ohio State University College of Nursing hosted an event for current and future registered nurses (RNs) on Thursday to promote new programs aimed at preparing RNs for enhanced roles in primary care settings.
Calendar