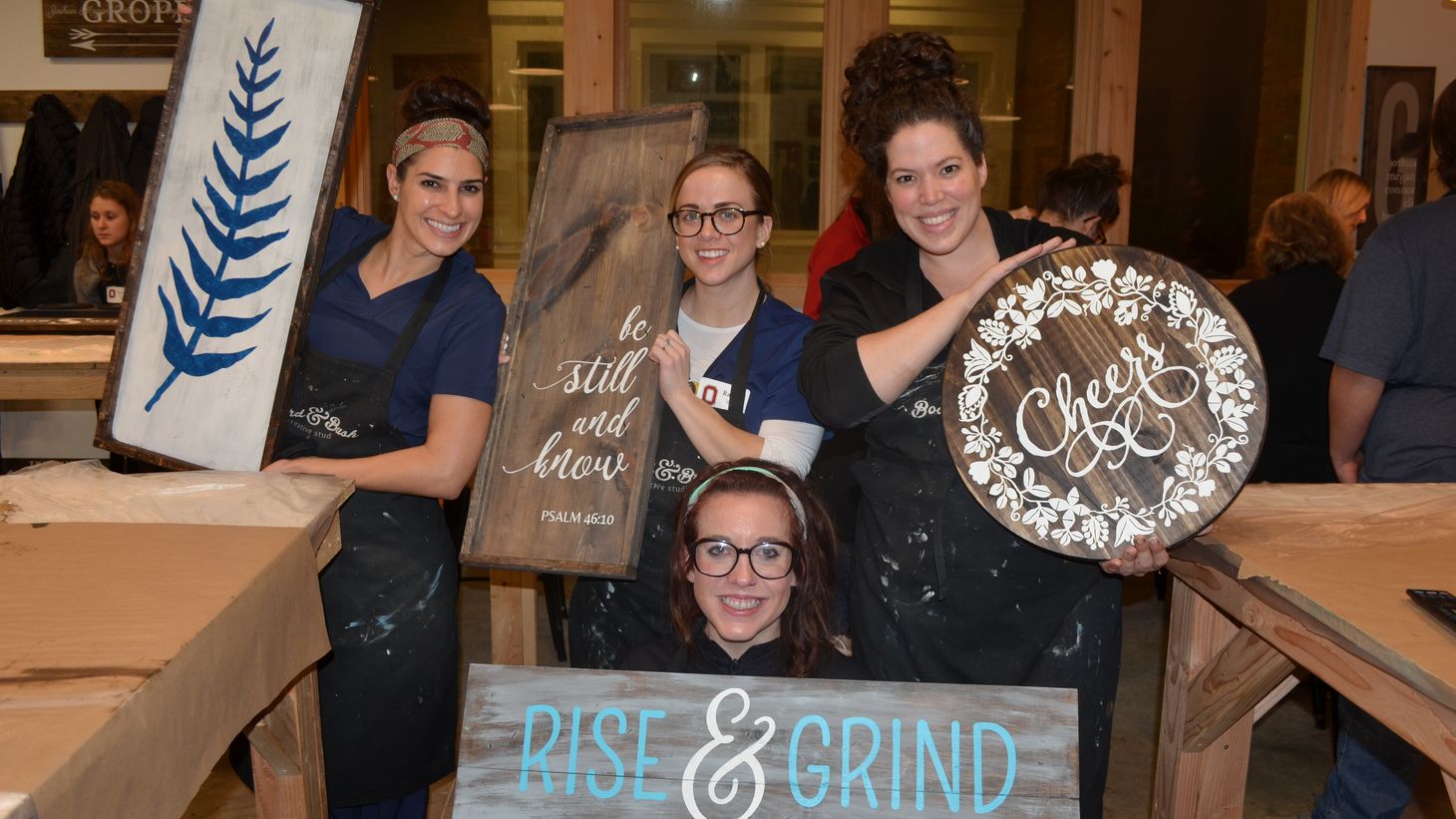 Thursday, February 6, 2020
6:30 - 9:30 p.m.
Board and Brush Creative Studio
160 W. Main St., Suite E
New Albany, OH 43054
Hone your inner DIY design skills, and join the College of Nursing at Board & Brush for a fun, hands-on wood sign workshop! Choose your wood sign from a gallery of 100+ designs, and with the help of an experienced instructor, distress and sand the wood, assemble the boards, and apply your stain and paints to complete your custom masterpiece.
Cost
$40 registration includes refreshments, instruction and supplies for one wood sign ($70 value).
Registration
Sustaining and life members of the Nursing Alumni Society will have early access to register for this event. As space is limited, it is advised that you call in as soon as registration opens. Due to limited class size, only one guest is permitted per alumnus/na. Guests must be at least 16 years of age to participate.
Registration will be completed on a first-come, first-served based on the following call-in registration schedule:
Nursing Alumni Society Alumni sustaining and life members*: Please call 800-762-5646 beginning Tuesday, January 7 at 9:00 am.
If time slots remain, registration will open to all College of Nursing Alumni regardless of society membership on Wednesday, January 8 at 9:00 am. Alumni may call 800-762-5646 to register.
*Not a sustaining member of the Nursing Alumni Society? You may become a member by donating $25 to any College of Nursing fund when you call into register on this date.
Registered guests will be provided a link to request the board design of their choosing.
Parking
A large, complimentary parking lot is located behind the building.
Questions?
Contact U'Raiyah Alexander, advancement program assistant, at alexander.687@osu.edu or 614-292-2658.