Featured Image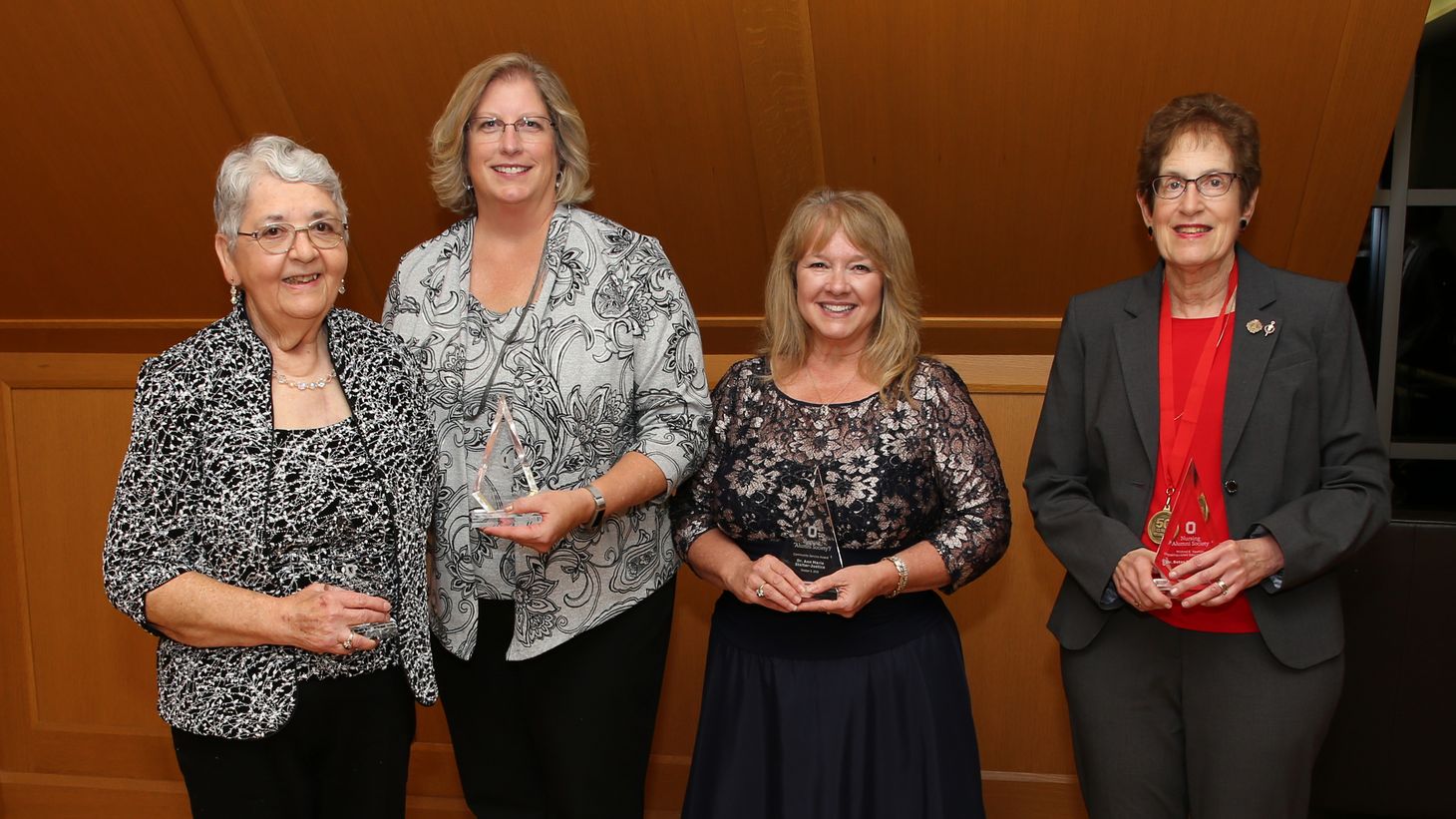 The following graduates from the College of Nursing have been recognized by their peers for having accomplished great success in both their professional careers and their community volunteer activities. Congratulations to all of this year's winners!
Distinguished Alumna Award

Linda K. Amos, RN, EdD, FAAN
BSN 1962, MS 1964

Linda K. Amos was born and raised on a farm in Van Buren, Ohio. She earned her EdD from Boston University School of Education in Boston, Massachusetts, and her BS and MS in nursing from The Ohio State University in Columbus, Ohio. She devoted more than 55 years to nursing education, 20 of which were spent as dean of the College of Nursing at the University of Utah, and six years at Boston University School of Nursing. She began her teaching career at the University of New Mexico. She served as president of the American Association of Colleges of Nursing (AACN) and was the founding chair of the Commission on Collegiate Nursing Education (CCNE). She served as associate vice president of the University of Utah Health Sciences Center with responsibilities for interdisciplinary, space and facilities construction.

Amos is a Fellow in the American Academy of Nursing and the recipient of several awards and recognitions including the Mary Tolle Wright Leadership award from Sigma Theta Tau, International Sister Bernadette Armiger Award from AACN Women of Distinction Award from the Assistance League of Utah and the Lawrence and Delores Weaver Service Award from the University of Utah College of Pharmacy. She held the Dotty and Keith Barnes Presidential Endowed Chair in Nursing at the University of Utah. As associate vice president, she oversaw the construction of six new buildings which have won over 12 regional and national awards. Amos has received recognition from the American Institute of Architects and the American Builders and Contractors Association. An annual University of Utah recognition program established the Linda K. Amos Outstanding Woman of the Year Award.

Amos retired to a rural community in Northeast Texas and spends two to three days a week working as a volunteer grant writer for the Family Peace Project, Inc. and serving as the president of their board of directors.

Community Service Award

Ann Marie Stalter-Justice, PhD, RN
PhD 2009

Ann Stalter earned both her BSN and MSN degrees at Wright State University (1983; 1994). In 2009, she earned a PhD in Nursing from The Ohio State University in Columbus, Ohio. In 2016, she earned another master's degree in education, certification in distance learning for healthcare professionals and certification as an instructional designer for online learning. She is also Quality Matters Certified for Higher Education. Her almost 20-year teaching history includes experience in a variety of teaching platforms.

From 2007 to December 2015, she served Wright State's program as the RN-BSN director. In that time, she was a QSEN pilot school champion and integrated QSEN into a redesigned online program. She is published in a variety of peer-reviewed journals and has been accepted for presentation at numerous national and several international conferences.

Her scientific effort at advancing the science of systems-level thinking has included a concept analysis, two integrative reviews, development of a model and two descriptive studies. Each leverage RN-BSN nurses to lead the new healthcare delivery system and to advance the quality and safety of patient care across health systems. She has designed a virtual resource center within the QSEN organization allowing nurses across the world to understand system-based practice.

Since her graduation from Ohio State in 2009, she has significantly contributed her time, talent and actions to improve the health and safety of various communities through advocacy, education and policy change. She serves as the Research Chair for Association of Community Health Nursing Educators, The Beavercreek Township Zoning Board, Dayton Chapter of the American Red Cross, and Sigma Theta Tau International, and the National Organization for Albinism and Hypopigmentation, (NOAH).

Distinguished Recent Alumna Award

Rebecca Taylor, DNP, MBA, RN, NEA-BC, CPHQ, CPPS
DNP 2014

As a nurse for over three decades, Rebecca Taylor has served in progressive nursing leadership roles in the acute-care environment. Her initial clinical expertise was as a critical care nurse and charge nurse for 15 years, laying the foundation for future leadership roles.

In her most recent position, just after graduating from The Ohio State University College of Nursing's DNP program in 2014, she was director of Quality & Decision Support at ProMedica and was responsible for broad oversight of the health system's acute-care quality infrastructure.

Prior to joining ProMedica, Taylor served as director of clinical and organizational operations at St. Luke's Hospital in Maumee, Ohio. During her 14 years as a leader, she was responsible for a variety of nursing and non-nursing services and lead the startup of the hospital's first Diabetes & Wound Care Clinic.

Taylor received her BSN from the University of Toledo, MBA from the University of Findlay and DNP from The Ohio State University. Since graduating from Ohio State, she has precepted two DNP nursing students through their capstone journeys and also joined Lourdes University in Sylvania, Ohio, as adjunct faculty in the nursing program.

She is a member of the American Organization of Nurse Executives, Ohio Organization of Nurse Executives (OONE) and the local chapter Toledo Area Organization of Nurse Executives. Taylor is currently serving on the OONE board and has chaired the evidence-based practice subcommittee for the past two years. Additionally, she was a regional examiner in 2017 for the Partnership for Excellence - Malcom Baldrige Board of Examiners. Taylor holds several certifications, including AACN certification as a nurse executive advanced – board certified, certified professional in healthcare quality and certified professional in patient safety.

Mildred E. Newton Distinguished Educator Award

Betsy Dennis Frank, PhD, RN, ANEF
BSN 1968

Betsy Dennis Frank received her BSN from The Ohio State University in 1968, her MN from the University of Washington in 1970, and her PhD from the University of Utah in 1982. Throughout over 40 years as a nurse educator, she has taught at New Mexico State-Alamogordo, Wright State University, the University of New Mexico and for the past 24 years, at Indiana State University. She retired from full-time teaching seven years ago but in retirement teaches one course a semester online in the RN to BSN program. In addition, she serves as associate director for the National League for Nursing Commission for Nursing Education Accreditation.

She has published numerous articles and book chapters. Her passion for nursing education led to a co-authored text, Pathways to a Nursing Education Career: Educating the Next Generation of Nurses. This textbook was nationally recognized by the Journal of Nursing Education with the 2012 Top Teaching Tools Award, and recently was published in a second edition.

Frank has held leadership roles in several professional nursing organizations including chair of two different advisory councils in the National League for Nursing, treasurer for the Council for Graduate Education in Nursing Education, and Region Nine Coordinator of Sigma Theta Tau International.

Because of her leadership and scholarly activities, she has received local, regional and national recognition. At Indiana State University, she received the Caleb Mills Distinguished Teaching Award, the Distinguished Service Award and the President's Medal. At the regional level, she received the MNRS Nursing Education Section Advancement of Science Award. Nationally, she was inducted as a charter member of the Academy of Nurse Educator Fellows and received the National League for Nursing's Excellence in Nursing Education award.